NPU: 'We all are in an equal situation facing this common threat'
April 22, 2020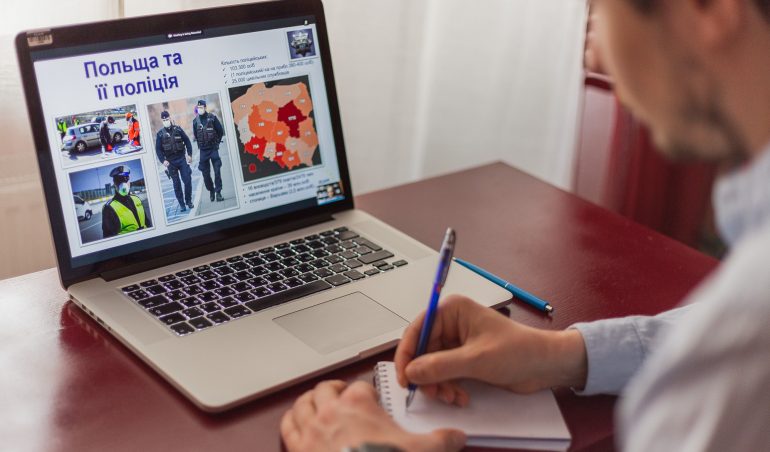 After a specific request from the Human Rights Compliance Department of National Police of Ukraine, three international advisors from the European Union Advisory Mission (EUAM) hosted a webinar last week.
Even though quarantined, two police officers from Poland and Finland and one prosecutor from Lithuania were able to reach out different reach out officers from Human Rights Departments of NPU to exchange their own experience and share about activities and practices of EU Law Enforcement Agencies during COVID-19.
Based in Kharkiv, Mykolaiv, Zaporizhzhia, Rivne, Uzhgorod, Kyiv, Ternopil and Kropyvnytskyi, those Ukrainian police officers are used to collaborate in person with EUAM specialists around events and other trainings. Together, they work on promoting and following human rights in the activities of the police. In light of the ongoing pandemic in Ukraine, they decided to collaborate this time through a webinar facilitated by Kharkiv field office. How can police officers work with the population during this lockdown? And how can they adapt to these new work conditions and implement internal quarantine measures? Andrii Bozhkov, Special Assignments Senior Inspector in the Human Rights Department in Kharkiv, confides his experiences about the police work in this very special time and shares his insights on this new way of collaborating with EUAM in this teleworking mode.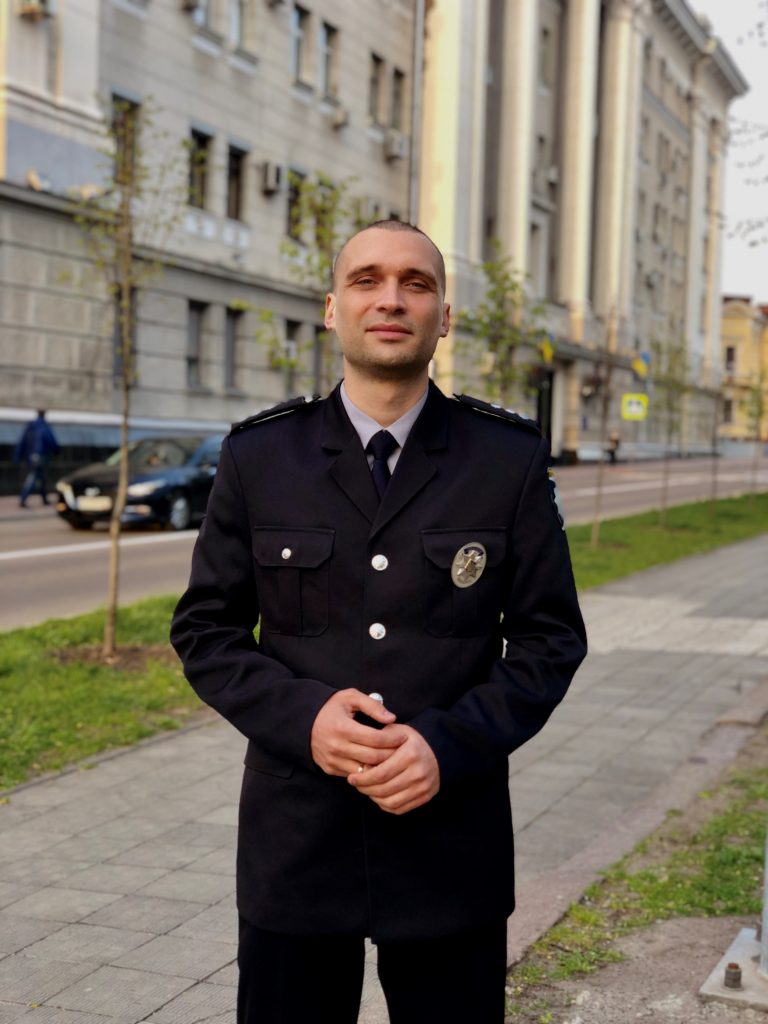 Why did the Human Rights Compliance Department request for experience-sharing from EUAM colleagues?
Andrii Bozhkov: In this fight against the COVID-19 pandemic, the representatives of the world community are forced to make decisions, which lead to certain restrictions of citizens' rights and freedoms. Though unpopular, these decisions are necessary to ensure proper public health situation. Unfortunately, Ukraine is of no exception. The NPU, as the central executive body, is entrusted with the functions to monitor the implementation of such decisions.
While we fulfil the tasks assigned to us, it is extremely important for us not to lose our fellow citizens' trust in us. Therefore, we are very interested in the experience of other countries, especially European countries, in establishing effective police cooperation with communities, conducting public outreach, explaining importance and necessity of the established restrictions that we must control now and overcoming reputation risks faced by law enforcement agencies of our countries.
What is your overall impression of this webinar with EUAM?
AB: It was a very unusual feeling… This is perhaps the first joint event with partners from other countries, where I had the feeling that we all, regardless of the capabilities of the countries, living standards or mentality of the nation, are in an equal situation facing this common threat. In the fight against it and in the forefront, we have first of all human qualities and ability of the authorities and population to trust each other.
—
"I was pleasantly surprised by citizens' attitude towards the requirements to wear protective masks and self-isolation recommendations" 
—
AB: Our meeting with EUAM colleagues provided us with very interesting examples which require in-depth study. I was interested in Lithuania's examples of collecting materials based on citizens' applications/claims submitted online and police communication system 3/5. It takes several days to analyze the received information and consider the possibility to implement such experience shared by colleagues from other countries in our law enforcement system. I am sure that the information we received at this webinar will be used to the maximum extent possible in the activities of the Human Rights Compliance Department.
So far, what is the current situation in Kharkiv Region during COVID-19 pandemic?
AB: As of now, we do not have a critical number of confirmed cases in Kharkiv Region. However, certain quarantine measures and emergency situation regime are in place here as well as throughout the country. I was pleasantly surprised by citizens' attitude towards the requirements to wear protective masks and self-isolation recommendations, considering our citizens' attitude towards personal freedom. In the streets of Kharkiv, I see a significantly smaller number of vehicles and citizens, most of them have personal protective equipment. Also, the information from police reports and checkpoints indicates low level of social conflicts and citizens' rational attitude towards quarantine measures due to tolerant, professional communication between police officers and citizens. We know and believe in social responsibility of our citizens and rely on this national trait – our ability to unite when faced with a common threat.
In this temporarily teleworking mode, what do you expect from your cooperation with EUAM teams during this pandemic?
AB: I'm sure and I know that all our joint projects with the Mission will be able to keep going in this online communication format. There are, of course, differences and maybe there is some lack of non-verbal communication between the participants. But I also want to underline the positive side of this communication format: all participant are at their own locations and in their comfort zone, and, of course, it helps to save time needed to adapt to the venue and environment.
The world is changing and if we want to do something useful for our country and we are confident in the success of our ideas, we must find new ways to implement them. And we can do this with the help of online training, webinars and online meetings. With the support of EUAM Kharkiv field office, we have started an online training course for the instructors of first medical aid for the units at the NPU in Kharkiv Region. With this knowledge, it will be easier for future instructors to master the practical course that will begin at the end of the quarantine.