"Ratification of the Istanbul convention is an important step towards the EU accession"
May 24, 2023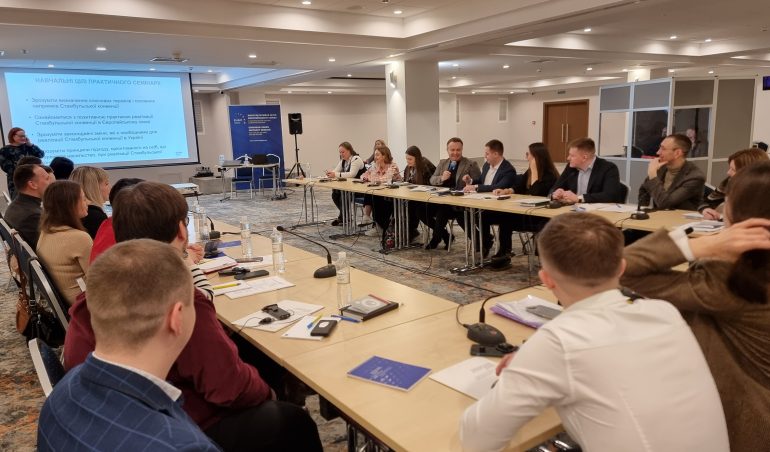 Last July, the government of Ukraine ratified the Council of Europe convention on preventing and combating violence against women and domestic violence, the so-called Istanbul convention.
To support the implementation of the convention, EUAM Ukraine started a project with the office of the Parliament Commissioner for Human Rights, providing workshops on the content of the convention as well as good European practices on its implementation. Between December 2022 and May 2023, the Mission organised four workshops with altogether 72 participants from the Ombudsman's office.
"Ratification of the Istanbul convention is an important step towards the EU accession", says Mykhailo Spasov, the Representative of the Commissioner for Equal Rights and Freedoms, Rights of National Minorities, Political and Religious Beliefs. "The Ombudsman's office will play a crucial role in monitoring and ensuring compliance with the convention's provisions and advocating for its implementation in Ukraine."
During the workshops, EUAM advisers Anne Maki-Rahkola and Joseph Clemmesen conducted sessions on European best practices in implementing the convention and victim-centred approach, which should lay the basis for the work with survivors of violence.
The workshops were organised in cooperation with Ukrainian Women Lawyers Association, "JurFem". JurFem's specialist Marta Pavlyshyn provided a session on the legislative aspects in the implementation of the Istanbul convention. According to Ms. Pavlyshyn, it is important to analyse the existing gaps in the legislation. "We still have issues regarding accountability for sexual harassment and stalking. The implementation of the Istanbul convention does not end with the passing of the bill. It is completed when the norms work in real life. Thus, the implementation also involves trainings for police officers, prosecutors, lawyers as well as state officials, such as the Ombudsman's representatives, how to apply these norms accordingly," Pavlyshyn concluded.