Leadership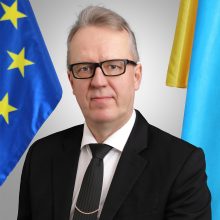 Antti Juhani Hartikainen
Head of Mission
Antti Hartikainen has held various senior positions within the Finnish civil service for over 20 years, chiefly at the Ministry of the Interior. He was appointed Director General of the Finnish Customs in 2012 and held this post until joining EUAM as Head of Mission on 1 July 2019. In addition, Mr Hartikainen has amassed significant international experience in the Balkans and the EU neighborhood regions, focusing in particular on border management.
Following stints in senior advisory positions at the EU Police Mission in Bosnia and Herzegovina (2002-04), and the EU Special Representative for the South Caucasus and Georgia (2005), he served as Deputy Head of Mission at the European Union Border Assistance Mission to Moldova and Ukraine from 2005 to 2007. He was then Team Leader and Advisor on Integrated Border Management for the EU Advisory Group to the Republic of Armenia, and Head of Mission for the EU Integrated Border Management Assistance Mission in Libya from 2013-15.
Mr Hartikainen has previously worked in Ukraine, most recently as High Level Expert on Border Management for the High Level Technical and Political Assistance Integrated Border Management Project in Ukraine. He is a graduate of the National Defence University in Helsinki, and apart from his native tongue, he is a fluent speaker of both English and Russian.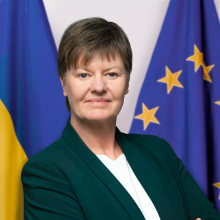 Maura O'Sullivan
Deputy Head of Mission
Maura O'Sullivan has divided her career between law enforcement work in her native Ireland, and international missions, mainly civilian missions of the European Union. She initially graduated as a police officer with 'An Garda Siochana', Ireland's national police force. From 2001 to 2003, she was a lecturer in legal and police studies at the Garda Training College, and later joined its International Department, working in the Europol National Unit and International Coordination Department, and during which time she embarked on her first international mission – as Chief of Reporting with the EU Police Mission (EUPM) in Bosnia in 2006. She also served as an Operations/Planning Officer with EULEX Kosovo in 2008-09.
Since 2010, she has focused exclusively on her international career, first working on a voluntary basis with the International Women's Association in Georgia, before being appointed as Deputy Head of Field Office at the EU Monitoring Mission (EUMM) in Georgia in 2012. This was the first of two posts she held at EUMM, where she would later work as Deputy Head of Operations, the post she held immediately before moving to EUAM. In between, she was a Police Advisor at the OSCE Mission to Skopje in 2015-17, and with her extensive expertise in training and community policing, in 2017-18 she was valued member of EUAM's Community Policing Unit, working as community policing advisor. In 2019-23 she took the position of the EUAM Chief of Staff.
In 2015, she completed a Master's Degree in International Studies. Prior to joining the police she had completed a Bachelor's Degree in European Studies.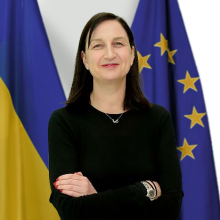 Lynn Sheehan
Head of Operations
Lynn Sheehan practised as a solicitor in her native Ireland until 2004 specialising in EU law, competition law and international trade. During this time she lectured at the Law School of the Law Society of Ireland (the professional training body for solicitors in Ireland) and was both an internal and external examiner in EU law.  Lynn has an MA in European Studies from the Universidad Autonoma de Barcelona and an LLM in European Law from the College of Europe in Bruges.  She was admitted to the Roll of Solicitors in Ireland in 1999.
Since commencing her overseas career Lynn has worked in the Balkans, Myanmar, Palestine, Niger and Ukraine.  In 2006 Lynn was appointed by the High Representative to Bosnia and Herzegovina (BiH) as an international member of the High Judicial and Prosecutorial Council of BiH which, inter alia, had the task of overseeing the reform of the justice sector in BiH post the war of 1992-1995.  From 2008-2012 she served as Head of the Legal Unit of the International Civilian Office/EUSR in Kosovo which was tasked with supervising the independence of Kosovo after its declaration of independence in February 2008.  Lynn commenced her work in Common Security and Defence Policy missions in 2012 and has served as Head of the Rule of Law Section of EUPOL COPPS in Palestine and Chief of Staff at EUCAP Sahel Niger.  She worked as Deputy Head of Operations at EUAM Ukraine from 2016-2020 and in October 2022 she returned to EUAM as Head of Operations.