Tackling corruption within Ukraine's police service
April 16, 2021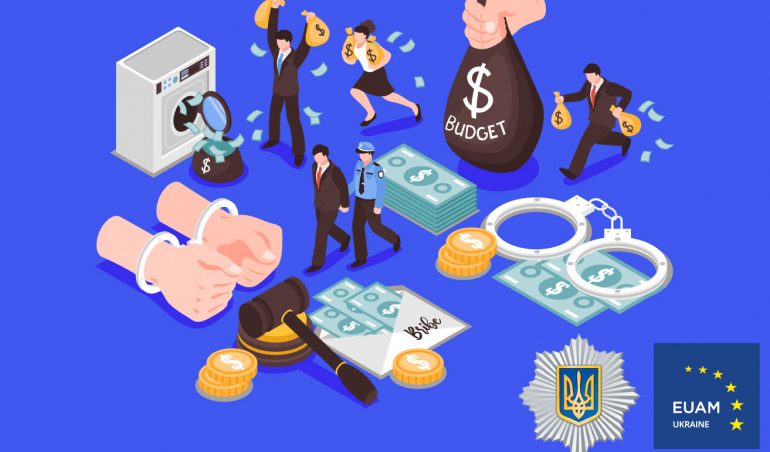 EUAM Adviser shares his vision on the future role of anti-corruption officers to develop corruption-free police.
Between February and April 2021, the National Police (NPU) and the National Agency for the Prevention of Corruption (NAPC) organised six workshops for newly recruited anti-corruption officers from all over the country, in charge of the police monitoring and compliance with the anti-corruption legislation. In Lviv, Rivne, Kyiv, Kharkiv, Dnipro and Mykolaiv, 245 police officers were trained with the support of the EU Advisory Mission (EUAM)'s experts from the Anti-Corruption section.
How to minimise the risk of corruption among police officers? And how do you activate the whistleblowing system to fight against corruption? Senior Adviser on Anti-Corruption Jozsef Gyulai from Hungary here shares with us his EU best practices and explains how his pilot project with NPU could be spread to the other Ukrainian law-enforcement agencies.
The workshops organised by your joint initiative put together units authorised to prevent and detect corruption within NPU. What are these units exactly and what do they do?
Jozsef Gyulai: The main task of anti-corruption officers at MD NPUs and independent structural divisions of NPU is to prevent corruption within the organisation. Their daily duties include a wide range of activities, i.e. monitoring and compliance with anti-corruption restrictions envisaged by the Law On Prevention of Corruption, work with corruption whistle-blowers and participate in the corruption risks management procedure.
The positions at NPU's Anti-corruption Units were filled at the end of December 2020, beginning of January 2021. NPU and EUAM agreed to organise training sessions for authorised units and the parties agreed to involve NAPC as the institution responsible for the development of the anti-corruption policy in Ukraine, in order to facilitate the functioning of such important tools like corruption whistle-blowers' protection and corruption risks assessment process in all regions of Ukraine.
Six training sessions were organised in Lviv, Rivne, Kyiv, Kharkiv, Dnipro and Mykolaiv in February-April 2021 for newly recruited anti-corruption officers from all over the country. In total 245 police officers from authorized units and HR divisions of MDNPUs and interregional territorial bodies of Internal Security, Strategic Investigation, Patrol Police, Police Security Departments participated. EUAM not only supported these events by sharing best EU practices but IT equipment was also provided for the special units
What is the role of EUAM to support NPU in this fight against corruption?
J.G.: NPU is our main partner as the biggest law enforcement agency in Ukraine. The workshops are organised in order to guide newly recruited staff and familiarise participants with EU best practices. We would like to continue the close relationship with the authorised units on the central level and in EUAM Field Offices in Lviv, Kharkiv, Odesa and Mariupol as well, through anti-corruption focal points. EUAM Anti-corruption experts participate in NPU's Corruption Risk Assessment Commissions, contributing to the development and implementation of an anti-corruption program in the police. We also have just finished the preparations for 'Corruption is an expensive dish', an awareness-raising campaign within the police.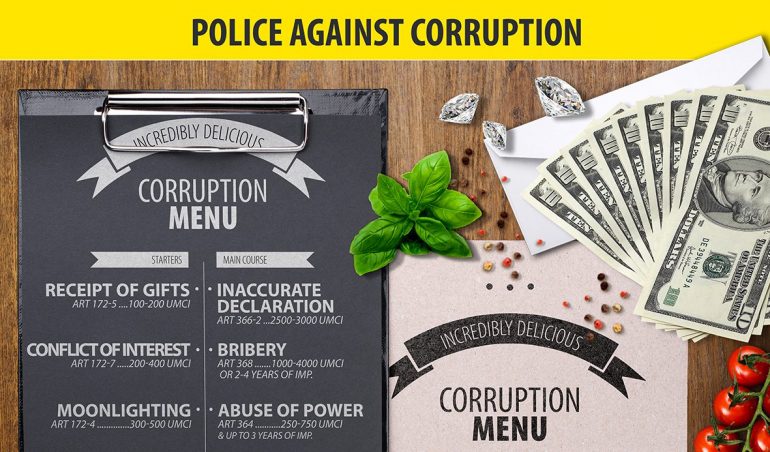 According to you, what good experience from EU countries are relevant to the Ukrainian reality?
During our workshops, two EUAM's international anti-corruption experts shared best practices from European countries on how to prevent and detect corruption within the police in the most effective way possible. In addition to presenting Romanian and Hungarian anti-corruption architecture and give examples of tactics and methods, they shared their practical guidance on how to assess corruption risks and build integrity within the police institution and what could be the future role of anti-corruption officers to develop a corruption-free, value-based law enforcement agency.
Compared with other EU countries, what is the state of play in Ukraine?
J.G.: It is very hard to evaluate the level of corruption as there are no exact methods to make these comparisons. For example, the United Nations Office on Drugs and Crime (UNODC) and the Council of Europe's Group of States against Corruption (GRECO) do not have the mandate to measure the occurrence of corrupt practices in their individual member States. So comparing one country to the other can be misleading.
"I personally do not like generalisation when someone labels Ukraine with negative terms, e.g. 'the most corrupt nation in Europe'." (EUAM Senior Adviser on Anti-Corruption Jozsef Gyulai)
Frankly speaking, I personally do not like generalisation when someone labels Ukraine with negative terms, e.g. "the most corrupt nation in Europe". We have a given complex situation and our task is to assess and improve this with all of our possible efforts. We work and cooperate with dedicated colleagues from the Ukrainian civilian security sector and civil society organisations with honesty and integrity and we all want to have a more effective and transparent service tomorrow as it was yesterday.
Why is this fight against corruption so crucial?
J.G.: We have heard several times how corruption lowers the efficiency of public services, erodes solidarity and ethical values of society and affects the economy. Let me just mention the latter since everyone knows how devastating corruption is on public trust. According to a study presented by the Center for Economic Strategy think tank in late 2019, the cost of corruption in Ukraine could total $8.6 billion a year in lost investment, tax payments, and other revenue-raising opportunities — that's 7.6 per cent of Ukrainian's growth.
We could imagine how this money could improve the standard of living of citizens of Ukraine. This country is the second largest in Europe and I would like to see its economy and public services worthy of its size and ability to provide excellent security to the citizens in every aspect. That is why we are here and that is in Europe's interest as well.
NPU works as a pilot for your section before working with other law-enforcement agencies. Can you tell us more about this?
J.G.: EUAM's aim to further support NAPC, NPU and other law enforcement agencies efforts to maintain the professionalism of the anti-corruption officers with strategic advice and developing the corruption prevention mechanism at their bodies. We would like to have a long-term effect on the organisations at the central and regional levels so that we are not only ready to participate in similar workshops for different counterparts but also develop a comprehensive education program for future officers.
NAPC's aim is to introduce a standard anti-corruption profession into the education system and EUAM wishes to support this. But first of all, we all hope that the Parliament adopts the National Anti-corruption Strategy in the near future and we will be part of its implementation. It is a very important step forward to develop the anti-corruption architecture in the country.
On a daily basis, how can we all support this corruption prevention?
J.G.: Everyone can be part of this process. I see appreciation from Ukrainian citizens towards the international, regardless of their position or social status. Ukrainians would like to be part of the EU family and develop their society based on the same democratic values. We have to support this process with our professional knowledge and be a good example to respect rule of law. To conclude, I will quote the EU High Representative for Foreign Affairs and Security Policy/Vice-President of the European Commission (HR/VP) Josep Borrell: "The rule of law is key for Ukraine's overall reform efforts to succeed. Maintaining and continuing the success of reforms, including the independence of the judiciary, anti-corruption and law-enforcement agencies, is crucial."