National Police of Ukraine gets ready to help Ukrainians turn seat belt use into a habit
March 17, 2021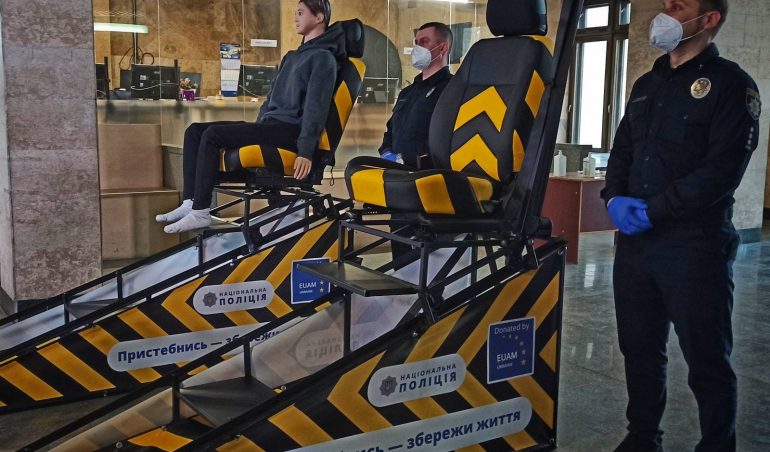 As a part of a new campaign to encourage more Ukrainians to buckle up, police officers will guide drivers and passengers on the road, man road traffic accident-themed displays in cities across Ukraine, and teach school pupils how to protect themselves when riding in the back seat of a car.
17 March 2021, Kyiv — Today, the National Police of Ukraine (NPU) join forces with the European Union Advisory Mission Ukraine (EUAM Ukraine) in launching a new road traffic safety initiative, the 'Buckle Up — Don't Get Terrified' campaign. The campaign was announced during a joint press conference hosted by the police and EUAM Ukraine. It aims to raise awareness about the risk of injury and death caused by neglecting seat belt use, and to encourage Ukrainians to buckle up when riding in a car, even as back seat passengers. The campaign targets adult car users and school children from 8 to 16 years of age.
The campaign runs from 17 March to mid-May 2021, starting in Kyiv and its suburbs and gradually expanding to other regional cities, including Odesa, Mariupol, Lviv, and Kharkiv. The activities in each region will continue for three weeks following the regional campaign launch week.
According to the survey* 'Perception and use of seat belts by car drivers and passengers', encompassing five Ukrainian cities in December 2020, 95% of respondents agree that it's important to wear seat belts to survive in case of a car crash. However, not all remember to do so. While 82% of respondents state they use seat belts in the front passenger seat, only 52% say that they do this every time. The drivers' numbers are even lower – 48% declare they buckle up at least sometimes and only 39% claim to wear a seat belt during every ride. The most worrying numbers are the back seat passengers'. As little as 26% say they buckle up in the back seat, while only 12% have a habit to do so every time. On top, researchers point out that the discrepancy between the declared perception of the seat belts' importance and their actual use can be even larger.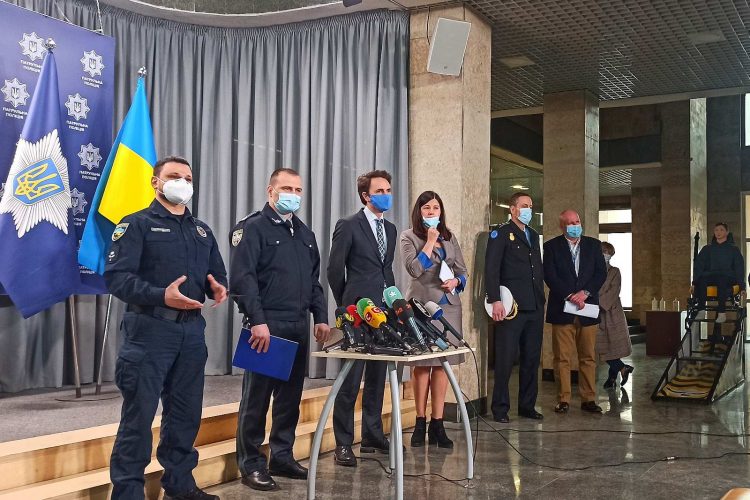 'Over the past year, 31,974 people were injured and 3,541 died in car accidents in Ukraine. These figures could be substantially lower if people always wore seat belts. Seat belts offer effective and simple-to-use protection, available in all cars. By neglecting to fasten their seat belts, people increase the risk of being ejected from a car by 30-fold as well as suffering fatal injuries resulting from the physical impact. Therefore, we have decided to launch a campaign, which we believe will contribute to making travelling by car safer for everyone. Our goal is to remind people that staying safe in the car is not a personal matter but passengers' and drivers' responsibility to one another. We are grateful to our partners from the European Union Advisory Mission Ukraine who assisted us in making this campaign happen. Hopefully, together we will succeed in forming a new, safe habit of always buckling up,' said Oleksii Biloshytskyi, First Deputy Chief of the NPU Patrol Police.
'Road traffic safety is a constant concern of the EU member states. We know from experience that information campaigns in conjunction with increased police enforcement are the most effective measure to make vehicle occupants fasten their seat belts. It takes time but it works. According to various sources, less than 50% of vehicle occupants buckle up on the roads and streets of Ukraine. In contrast, in many EU countries, this percentage is in the 80s and 90s. There is also an important economic dimension to road traffic safety: Car crashes cost countries 1-3% of their annual GDP depending on their development level. Therefore, by promoting the consistent use of seat belts as an essential and lifesaving habit, a country also invests in its economic development, which is a priority in the EU-Ukrainian co-operation,' stated Fredrik Wesslau, Deputy Head of the European Union Advisory Mission in Ukraine.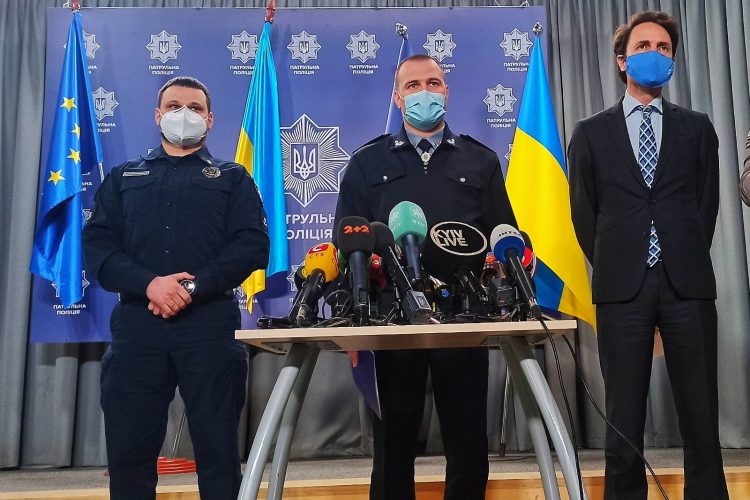 To remind Ukrainians about the importance of always buckling up, even when seated in the back seat, the creators of the campaign have turned to an unusual combination of horror and humour. The campaign will use popular horror film tropes to fight the preconception that the back seat is safe and unbuckled passengers have nothing to fear there.
These harmful preconceptions will also be countered by real-life means. As a part of the campaign, the public will be able to safely discover what exactly happens to people in a car in the event of a collision. Collision simulators will be installed in accident-themed demo zones open to the public in the regional cities' popular locations on spring weekends. There, visitors will be able to talk to police officers and learn why fastening one's seat belt is critical. The list of the participating cities and the demo zone's hours of operation will be published shortly on the campaign's website: https://seatbelts.patrolpolice.gov.ua.
Besides, during this spring, police officers will guide and offer advice to motorists on the road and in shopping mall parking lots. For the young audience, awareness-raising school classes will be held, during which police officers will speak about and show the importance of using seat belts. Information about campaign activities and various informative and educational materials (e.g., videos, articles, and infographics) will be available on the campaign's website.
The campaign is supported by several partners throughout Ukraine. The Centre for Democracy and Rule of Law has become the campaign's media partner. Also, among the partners are the Association of Responsible Transporters; Uklon, one of Ukraine's established ride-hailing services, as well as the SOCAR and UPG gas station networks which support the campaign in all covered regions, and KLO who is the campaign's partner in Kyiv and the Kyiv region.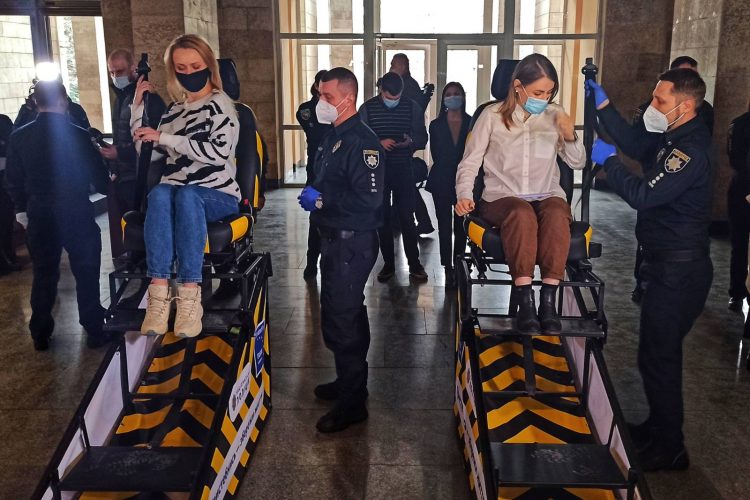 *"Perception and use of seat belts by drivers and passengers", Gradus Research, December 2020, 1,000 respondents aged 18-50 in Kyiv, Lviv, Mariupol, Odesa, and Kharkiv.
For additional information please contact:
Patrol Police of Ukraine
Roman Martyniuk
Mobile: 096-28-48-402
E-mail: press@patrol.police.gov.ua
European Union Advisory Mission in Ukraine
Spokesperson Liudmyla Bortok
Mobile:      +380 674 054 484
E-mail:      ppio@euam-ukraine.eu
Website:    www.euam-ukraine.eu