Community Safety Strategy: EUAM meets new counterparts in Donetsk region
July 16, 2021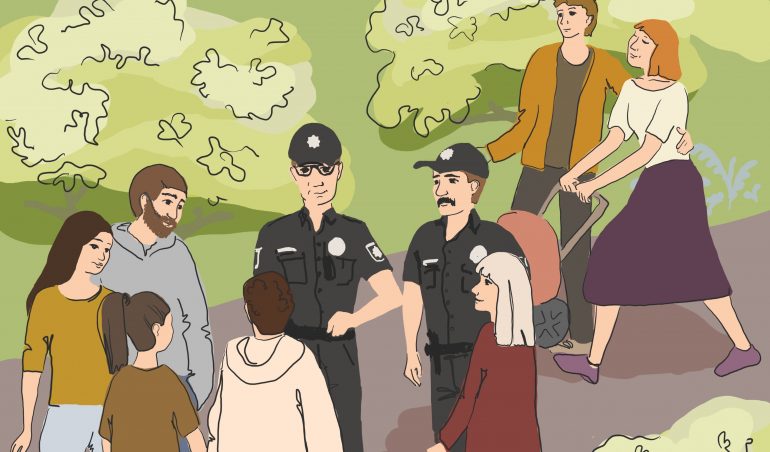 Last week, the EU Advisory Mission (EUAM) Field Office in Mariupol conducted an extensive working visit in the north of Donetsk region. In Kramatorsk, Lyman and Svyatohirsk, EUAM experts met with local territorial communities and launched a working group on domestic violence.
For the newly created office in Mariupol, this was the first comprehensive visit in the region to promote the community safety strategy. The initiative involved numerous partners and aimed at building up a more sustainable presence of EUAM in the region.
For the first time, representatives of the Donetsk Regional State Administration, the Main Department of National Police (MD-NPU), Patrol police battalion for Kramatorsk and Sloviansk, Prosecutor's office in Donetsk region, judges, NGOs and representatives from the United Nations Development Programme (UNDP) and the United Nations Population Fund (UNFPA) came together in Kramatorsk to discuss domestic violence. The meeting was initiated and facilitated by EUAM and hosted by the Donetsk Regional State Administration. The discussion helped to assess the existing procedural gaps for all the involved parties. As a result, possible ways forward for future projects, such as information campaigns and training, were identified.
The next meeting working group meeting is planned for September or October this year.
EUAM first established contacts with territorial communities of Lyman and Sviatohirsk while conducting an assessment of tourist police activities and challenges for community safety. Two round tables on community safety were conducted in Lyman and Sviatohirsk with local authorities, NGOs, representatives of businesses and police in order to gather a comprehensive overview of existing challenges both from the law enforcement and the civil society. Local communities shared their perspectives on challenges during the tourist season and indicated that assistance for improving community safety in the region is important. EUAM will continue cooperating with both territorial communities and providing strategic advice on good governance.