To avoid global food crisis, 20 million tonnes of grains must leave Ukraine in less than three months – EUAM Ukraine facilitates tackling logistical challenges at the Ukrainian border
June 01, 2022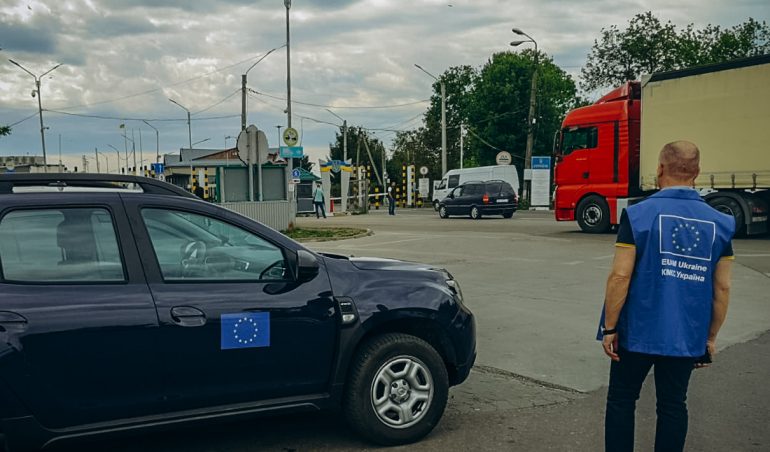 The unjustified Russian aggression not only causes human suffering and material damages it also blocks Ukrainian ports. The international community needs to figure out how to prevent a global food crisis. In current circumstances where Russian invasion has closed Ukrainian ports, this is no less than a task that requires a superhero.
Ukraine has to transport to the European Union 20 million tons of grain in less than three months. Otherwise, there would be no available storage space for the fresh crops, which would hit the struggling economy even harder.  According to the Ministry of Agrarian Policy and Food Ukrainian farmers have already completed sowing of spring cereals and legumes on more than 10 million hectares despite war. This is 75% of last year´s figures.
Implementing 'Solidarity Lanes'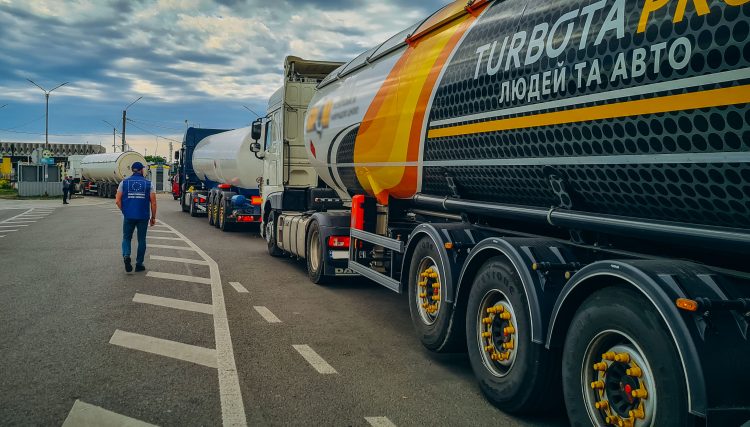 EUAM mission member checks fuel trucks queue near the Ukrainian-Romanian border
On May 12th, the European Commission unveiled an ambitious action plan to establish alternative logistics routes called 'Solidarity Lanes'. Its main idea is to facilitate Ukraine's agricultural export and bilateral trade with the EU when maritime transport corridors are obstructed by the Russian military.
Together with Ukrainian and European partners, the European Union Advisory Mission (EUAM) Ukraine is playing an important role in implementing 'Solidarity Lanes'.
Ukraine needs one million trucks to transport grains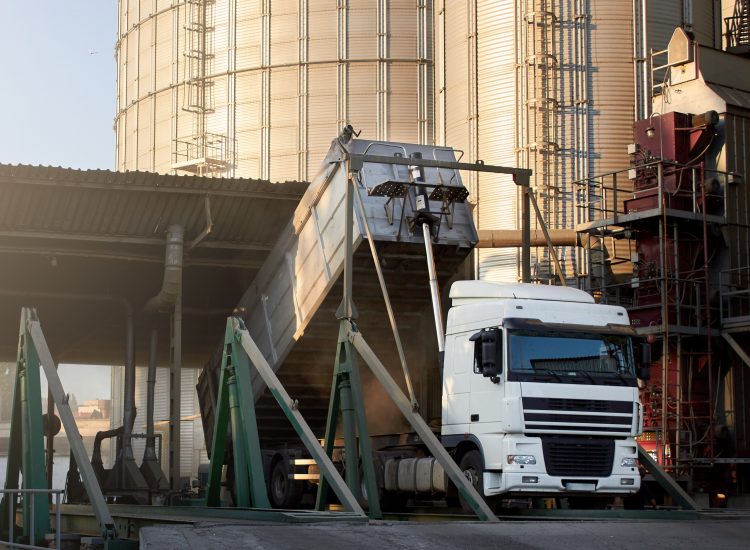 Unloading grain truck at elevator on elevating hydraulic platform unloader. Grain crops transshipment at sea terminal at seaport.
"With Odesa and other major ports blocked, Ukraine needs one million trucks to transport grains or 10,000 trucks per day, which means that customs facilitation procedures are required," counts EUAM Strategic Customs Adviser Dorel Fronea. He is part of the Border Support Activity (BSA) team of EUAM experts deployed to the Ukrainian-Romanian border. As a former leading customs officer, Dorel Fronea understands the scope of work needed.
"When we discuss 'Solidarity Lanes' with our partners, we review bottlenecks at the border crossing points (BCPs) and logistics, capacities of transport networks, including railways, and interlinking of storage facilities on both sides," Dorel Fronea notes. He is confident that the Mission can play a vital role in implementing 'Solidarity Lanes' with its partners – the Delegation of the European Union to Ukraine, the European Border and Coast Guard Agency ("Frontex"), the International Organization for Migration and others.
EUAM facilitates high-level customs consultations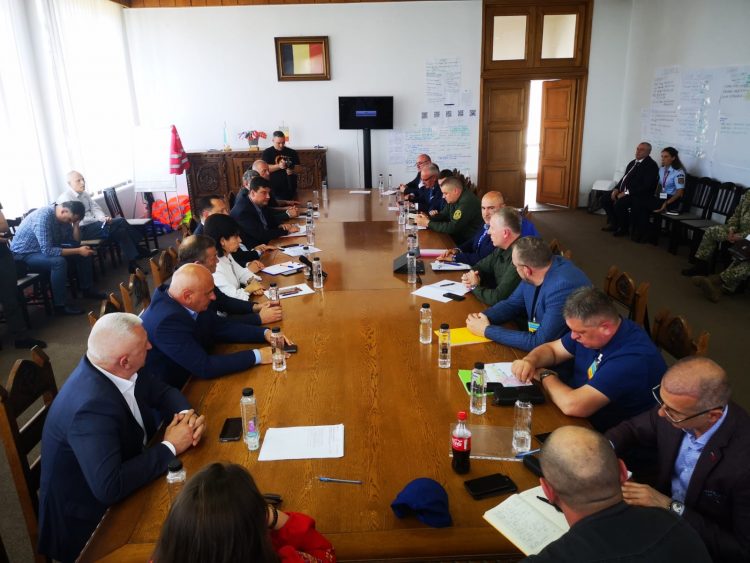 High-level consultations between the Ukrainian and Romanian sides, facilitated by the EUAM, May 2022
One of the concrete examples of such work is facilitating high-level customs consultations between the Romanian and Ukrainian officials to expand the flow of goods via new and existing transport corridors. "Siret-Porubne" Border Crossing Point – the main gateway for cargo, including grain trucks, is the continuous focus of the attention. Based on the advice of EUAM experts, there is a plan to open additional border crossings in the area for the passenger traffic, freeing up this major BCP.
The EUAM will deliver an 'EU – UA Solidarity Lanes Concept Note' in the near future, representing its vision and proposing a sustainable way forward. Settlement of the dedicated Customs Working Group with the Ukrainian (advised by EUAM), Romanian, Slovakian and Polish Customs Authorities will be part of the concept.
EUAM facilitates coordination of stakeholders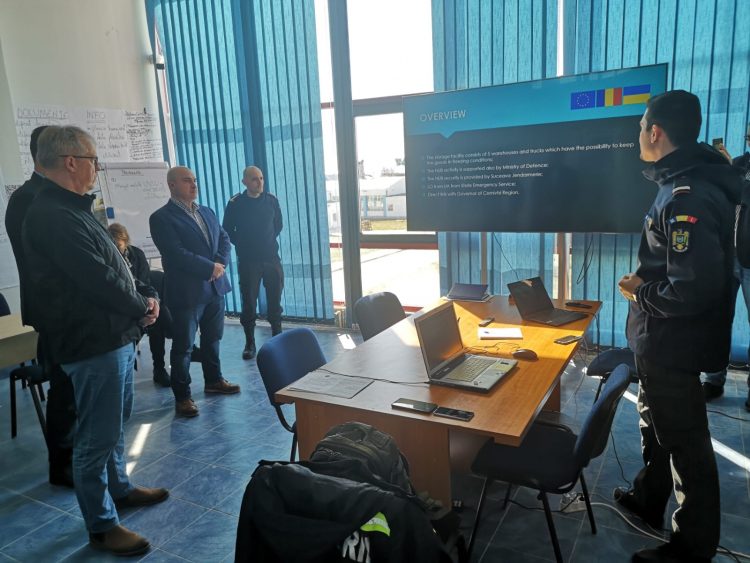 Head of Mission Antti Hartikainen and EUAM expert Dorel Fronea discuss the situation on "Siret-Porubne" BCP with Romanian officials
"This kind of work brings genuine added value, and we are proud to  help  our Ukrainian friends and partners," emphasizes  Joerg Einemann, EUAM Head of Integrated Border Management (IBM) unit, who is leading the Mission's Border Support Activities. Before the Russian invasion, the Mission's mandate included advice and operational support to IBM inter-agency cooperation in the fight against organised and cross-border crime. The updated mandate, swiftly adopted by the Council of the EU in March, has enabled the EUAM to facilitate coordination of international (primarily EU) and Ukrainian stakeholders (State Customs Service, State Border Guard Service, National Police).
For this purpose, the Mission's Border Support office set up five teams consisting of international and Ukrainian mission members covering border-crossing points between Ukraine and the EU member states of Poland, Romania and Slovakia.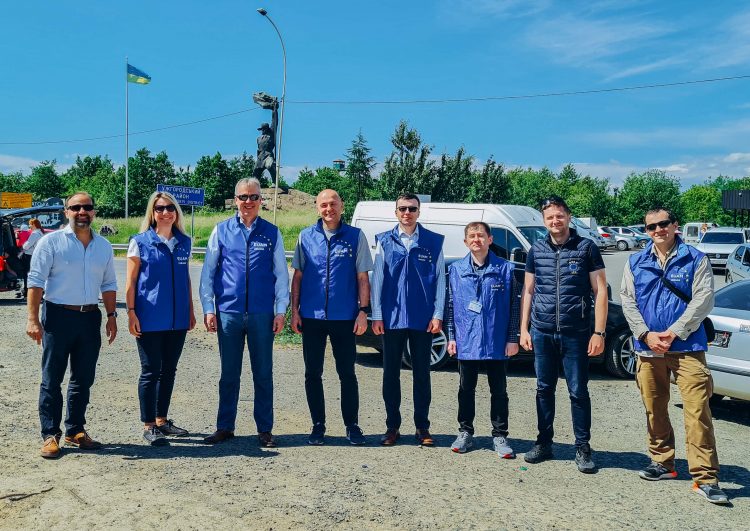 Head of Mission Antti Hartikainen meets with EUAM team on the Ukrainian-Slovakian border in Uzhgorod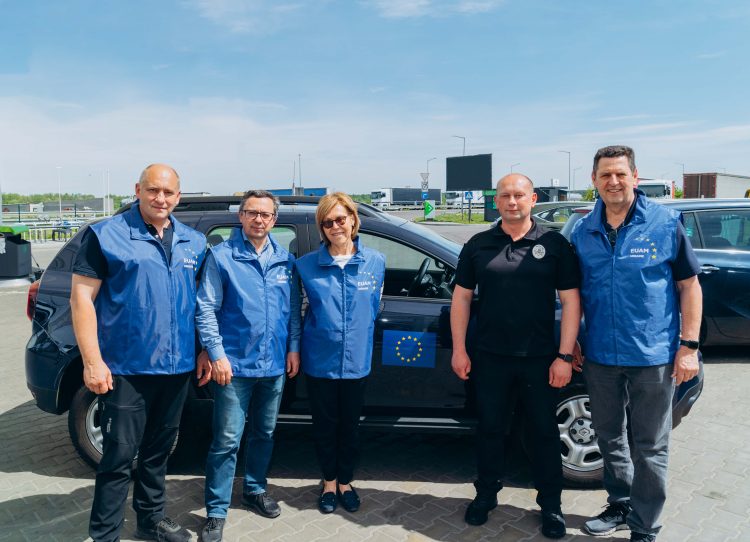 EUAM Head of Operations Udo Moller and representatives of the Mission's Field Office Lviv at the border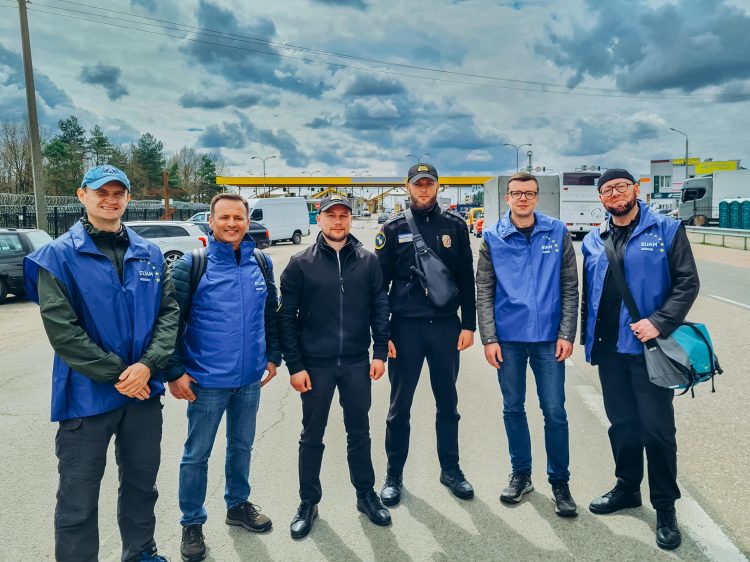 Productive meeting of EUAM team with members of the State Service of Ukraine for Transport Safety in Volyn region
Tackling 20-km truck queues at the border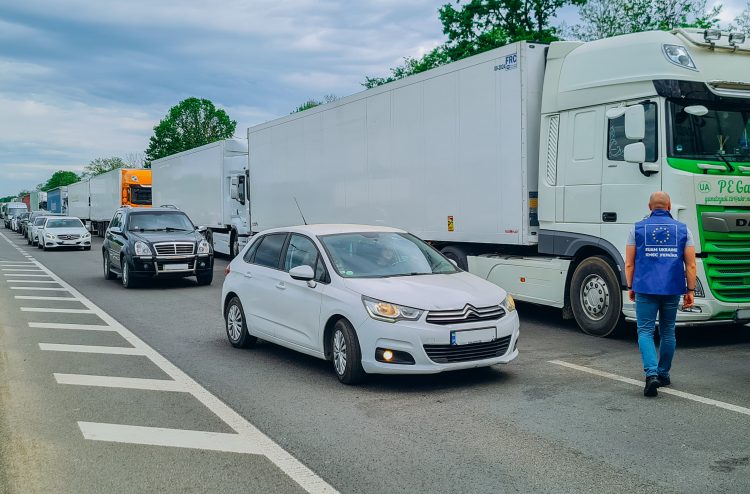 Long queues at the border in the focus of EUAM
"When we notice significant problems, e.g. long lines of trucks at the certain border crossing points sometimes over 20 km, resulting in 3-5 day waiting times, we try to explore  solutions to such jams. In some cases, these are related to veterinary control, in others to procedural issues or the need to establish priority lanes or coordinate traffic queue before the BCP," explains Joerg Einemann.
The EUAM team gathers an account of the situation through official channels and meetings with interlocutors and speaking to people on the ground – e.g. truck drivers or customs brokers. Assessments and recommendations are later shared with the Ukrainian border guards.
EUAM Ukraine is ready to tackle challenges on the borders as long as its Ukrainian counterparts need.