With the war raging on, EUAM advises Ukraine on the challenges on its western borders
September 05, 2022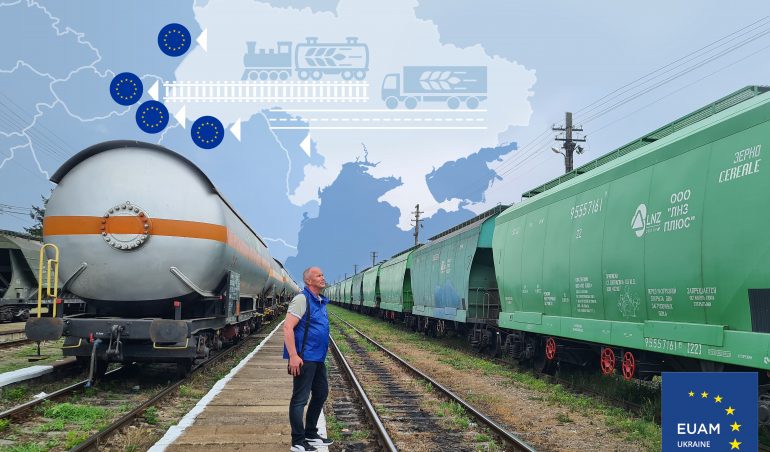 EUAM continues to adapt its Border Support Activity and focuses on advising Ukrainian border guards and customs officers
Six months of unjustified Russian aggression have showed the war's devastating impact on human lives as well as its negative social and economic effects. One such consequence is the overloaded western border of Ukraine, as most of the trade flows were redirected there once Russia blocked traditional maritime routes. Even after the UN-backed deal partially reopened three seaports in the Odesa region for grain shipments, Ukraine's major land and railway transport corridors remain a bottleneck. To tackle these challenges, the EU Advisory Mission Ukraine (EUAM) continues to adapt its Border Support Activity and focuses on advising Ukrainian border guards and customs officers.
Development of the Border Support Activity
EUAM's Border Support Activity (BSA) experts deployed in March to the borders of EU member states Poland, Romania and Slovakia, in line with the tasking by the Council of the EU. At that time, EUAM was the only international organisation working on the border on the Ukrainian side. With the high number of refugees from war-torn areas of Ukraine, the Mission focused on exchanging data and reporting on humanitarian problems, passing it to different EU bodies and refugee hubs, notably in Poland and Slovakia.
Facilitation of donations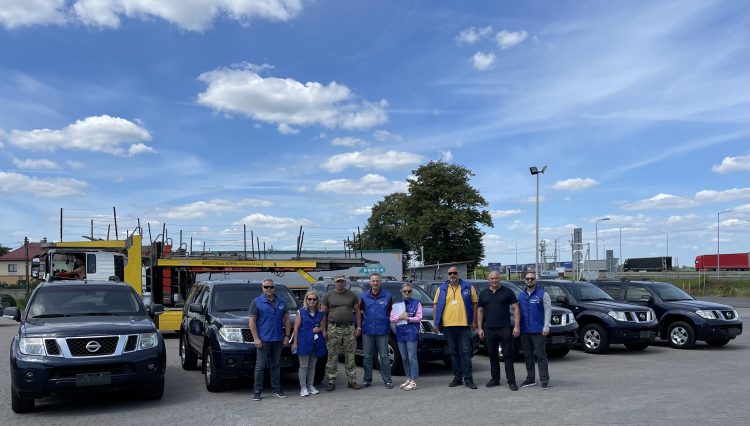 EUAM team near Krakovets-Korczova BCP during the vehicles donation to border guards
Another pillar of EUAM's border support activities centred on the facilitation of donations. They ranged from private initiatives by EUAM's team members to collect medicine, food rations etc., to coordinated assistance organised by the Mission through its emergency budget to procure first aid kits, bullet vests and much more for law enforcement agencies (LEAs). In addition, the BSA team assisted EU countries that were sending vehicles, equipment, etc. to help the Ukrainian people.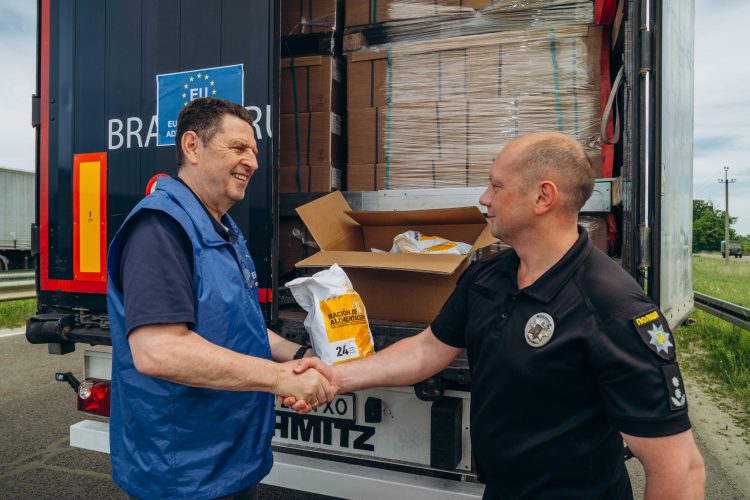 EUAM Head of Operations Udo Moller and representative of Ukrainian police during a donation handover at the border
"Our concern was that the bad guys would make a business of selling the goods intended for the police or security services. Therefore, we offered to the EU bodies and other actors to facilitate the handover directly to law enforcement. In addition, we passed to the EU various requests from our Ukrainian counterparts with specific needs, e.g. communications equipment or uniforms," notes Joerg Einemann, EUAM Head of Integrated Border Management (IBM) unit, who is leading the Mission's Border Support Activity. "I cannot even count how many transports with donations we guided across the border in the last six months. We were visible at the BCPs, reducing customs clearance to a few hours instead of 3-5 days. Naturally, we will continue to facilitate future donations as well."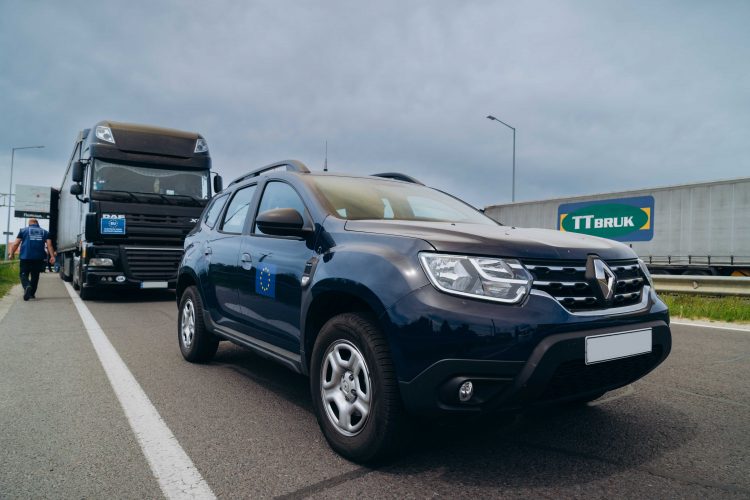 EUAM team escorting truck with a donation across the border in Lviv region
Combating human trafficking
Fighting trafficking in human beings has constantly been a focus of the Mission. At the start of the war, BSA teams saw a significant rise in alerts that human traffickers at the EU borders were looking for Ukrainian women travelling alone. Usually, they were telling them nice stories and promising safety. The real intent, of course, was to put vulnerable persons under their control and force them to do illegal work. To raise public awareness of such dangers, EUAM helped international organisations and NGOs distribute leaflets at the border and in IDP hubs and encouraged Ukrainian border guards to share trafficking prevention materials for women and kids.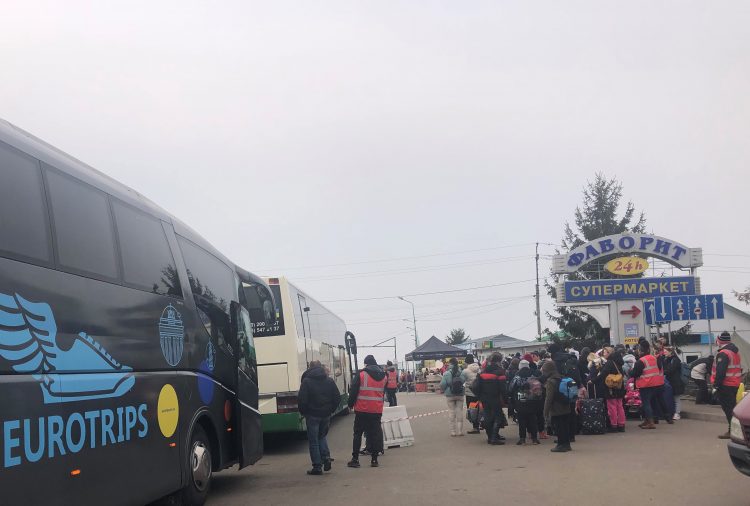 Scores of displaced persons, mostly women with kids, waiting to cross the border in March 2022
Seeing the reality on the border, EUAM started to facilitate information exchange on missing persons (e.g. someone who went abroad to escape the hostilities but has not contacted the relatives ever since) between relevant Ukrainian and the EU authorities. This vital cooperation is still ongoing.
"Solidarity lanes" implementation continues
In March, EUAM received a new task from Brussels – to help get 20 million tons of grain out of Ukraine to alleviate a global food crisis. Called "Solidarity lanes", this action plan aimed to establish alternative logistics routes, ensuring uninterrupted agricultural export from Ukraine and import of strategic goods such as fuel when the Russian military obstructed maritime routes.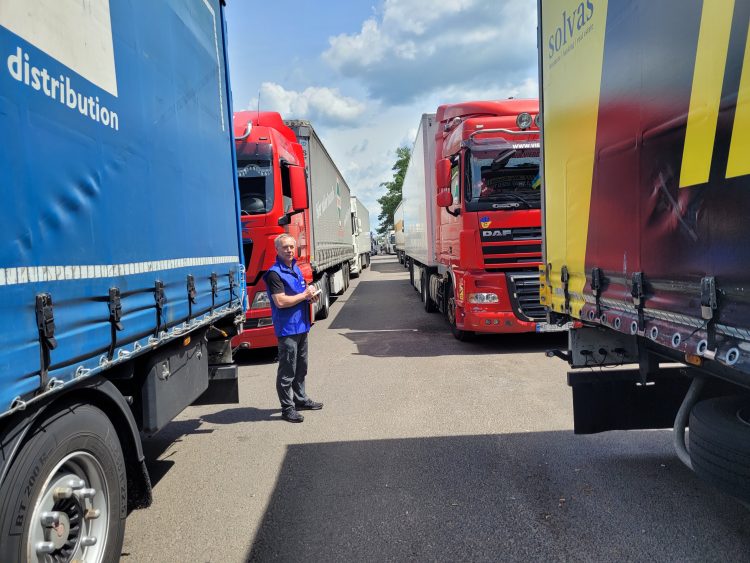 Queue of over 1000 trucks at Yahodyn-Dorohusk border crossing point in the Volyn region, resulting in 6-8 days of waiting time to cross the border to the EU
At first, EUAM teams started to check the land transport corridors. They reviewed the capacities of the border crossing points (BCPs), possibilities to assign special lanes for priority export, speed up customs clearance and phytosanitary checks, and explore ways to organise traffic inside and near the BCPs to reduce waiting times.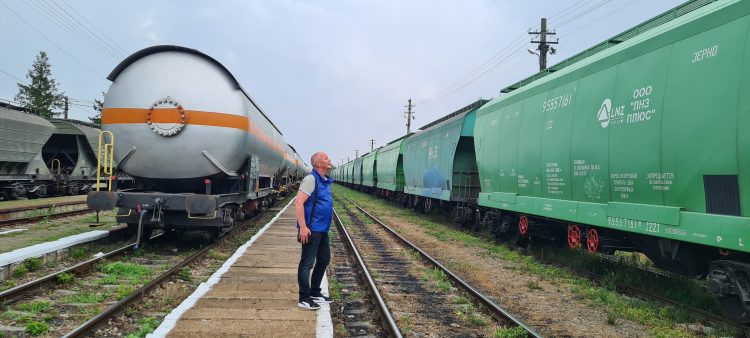 EUAM expert observes the railway capacities for grain trains at the Ukrainian-Romanian BCP
Later EUAM experts began to assess railway border crossing points, identifying those with enough space for a smooth loading of cargo from Ukrainian to EU wagons. Due to the difference in railway track size, for now, it is impossible to load the train with grain in Ukraine and let it go directly to Baltic countries. An alternative is to use the old Soviet railway track still left in some neighbouring countries. For example, based on the EUAM proposal, in August, Ukraine and Moldova reopened an updated railway section, "Berezyne – Basarabska", that has not been used since 1999. Now it is expected to transport 10 million tons of cargo per year.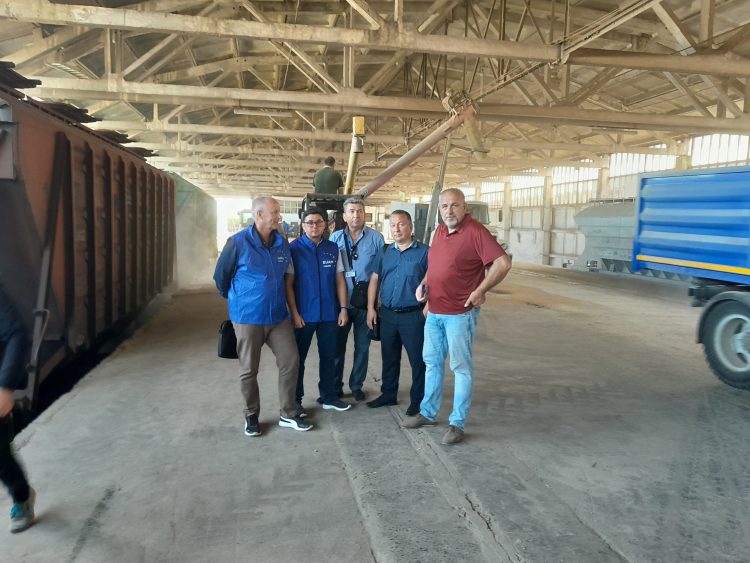 EUAM team and Zakarpattia Custom's representatives check the transfer of grain from Ukrainian to EU wagons at Chop railway border crossing point
While the UN-backed grain deal reached in July brought a glimmer of hope for agrarians, the capacities of Odesa, Chornomorsk, and Yuzhnyi ports are still insufficient to free up Ukraine's grain silos. During August, the country exported 1.7 million tons of agricultural products, aiming to reach five million tons per month at some point. Therefore, EUAM's focus on alternative land and railway transport corridors remains relevant.
EUAM's achievements recognised
Consequently, the EUAM's analysis of the bottlenecks at the border and recommendations received recognition in Brussels and the Ukrainian Government. In particular, the European Commission's Directorates-General for Mobility and Transport (DG MOVE) and Migration and Home Affairs (DG HOME) as well as the office of the Ukrainian Deputy Prime Minister for European and Euro-Atlantic Integration praised EUAM BSA for their reporting on the "Solidarity Lanes". The EU and Ukrainian institutions expressed interest in EUAM's first-hand expertise and proposals on how the problems at the border should be solved.
Future of the Border Support Activities
As of September, the modus operandi of the BSA will change. Instead of five teams on both sides of the border, advice on Integrated Border Management (IBM) will be led by EUAM headquarters in Kyiv with EUAM experts operating from Chernivtsi, Uzhhorod and Lviv. They will continue to visit the border crossing points, engage with different IBM actors and provide strategic advice to the Ukrainian State Customs Service and State Border Guard Service. For example, in Chernivtsi, they already facilitate a highly successful bilateral working group of border guards and customs officers from Ukraine and Romania.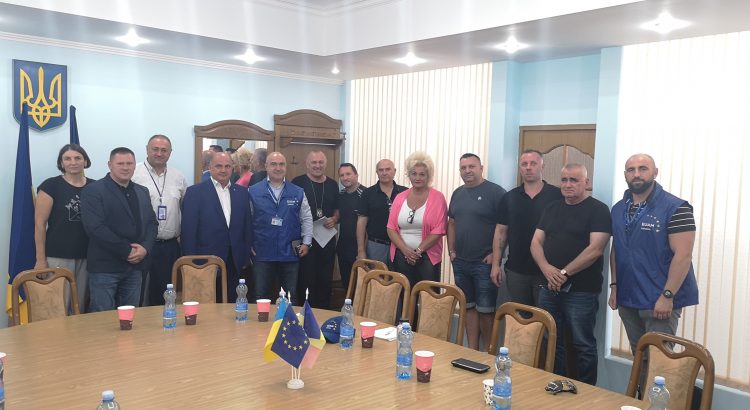 A meeting between the Ukrainian and Romanian customs officials and customs brokers, facilitated by the EUAM in August 2022
Mission experts in Uzhhorod have agreements to visit all BCPs in Zakarpattia and provide advice on how to improve them. IBM experts in Lviv will continue to engage with regional customs and the Western Regional Directorate of State Border Guard Service, which is responsible for all western borders.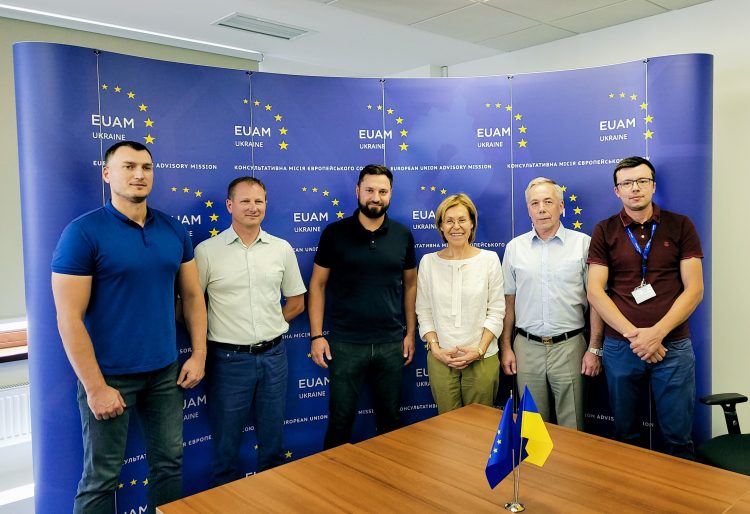 EUAM Field Office Lviv welcomed representatives of Lviv Customs to discuss how to speed up the agricultural export in the region
Modern equipment for border guards and customs officers
Among the priorities for the IBM unit in the near future is to introduce modern technology to Ukrainian counterparts, used in EU countries to detect weapons, forged documents, drugs, smuggling of people (e.g. hidden in the vehicle) and organising training of trainers to use this equipment effectively. EUAM furthermore plans to facilitate the training of canine units and customs officers operating X-ray machines.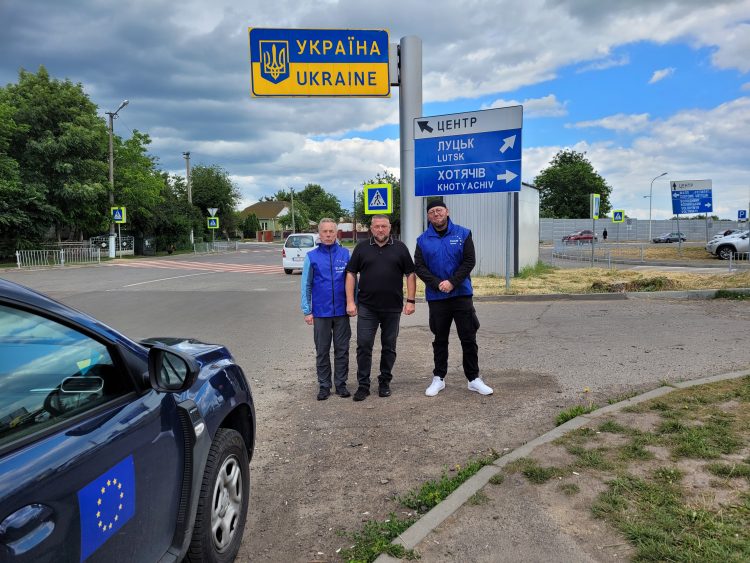 EUAM team and the head of customs post in Volyn region exchange on equipment used by customs officers
"EUAM's Border Support Activity has proved its added value and significance. The work is far from over, and we will continue engaging with our Ukrainian counterparts," promises Joerg Einemann.