Effective and reformed Ukraine's law enforcement sector is a precondition of country's success
September 26, 2022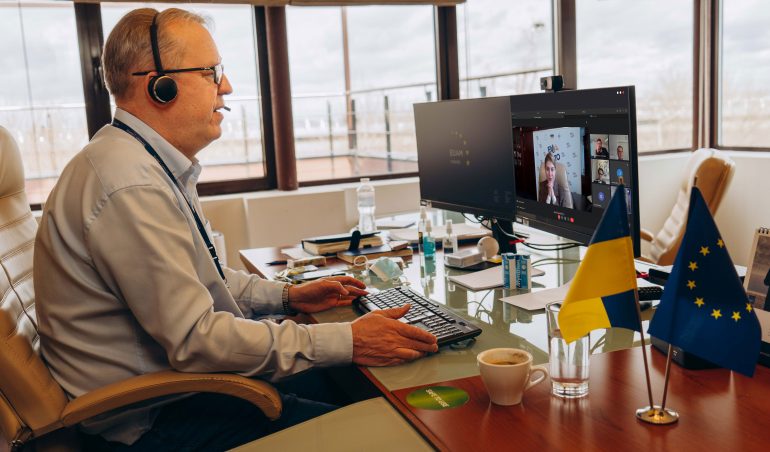 How to enhance resilience of Ukraine's law enforcement sector and align its development with the country's candidate status to EU – these topics were in the focus of a meeting between Head of EUAM, Antti Hartikainen, and Ukraine's Deputy Prime Minister, Olha Stefanishyna.
EUAM is ready to support Ukraine's government on the elaboration and implementation of an overarching strategic plan for the reform of country's law enforcement sector (OS) in close coordination with the EU Directorate-General for Neighbourhood and Enlargement Negotiations and the EU Delegation to Ukraine. This document is among key recommendations of EU following the decision to grant Ukraine candidate country status. As a first step, EUAM suggested to establish a joint working group in order for OS to be well coordinated, efficient and coherent.
"Ukraine needs to pursue further reforms despite the ongoing Russian war of aggression. An efficient and resilient law enforcement sector is an essential factor in overcoming country's internal and external threats", said Antti Hartikainen. "EUAM is ready to provide assistance in order for this overarching strategic plan to be realistic and operational. Successful implementation of OS will be a milestone in brining EU membership perspective closer to Ukraine".
Olha Stefanishyna from her side also stressed the importance of EUAM further support to the 'Solidarity Lanes' initiative, ensuring uninterrupted agricultural export from Ukraine.
The 'Solidarity Lanes' action  plan is aimed at facilitating Ukraine's agricultural export and bilateral trade with the EU when maritime transport corridors are obstructed by the Russian military. EUAM is playing an important role in the 'Solidarity Lanes' implementation. The Mission has been also facilitating the flow of humanitarian aid with its expert teams deployed to the borders of Poland, Romania and Slovakia since March 2022.