Police in Donetsk region receives instructions on usage of donated first aid kits
February 24, 2021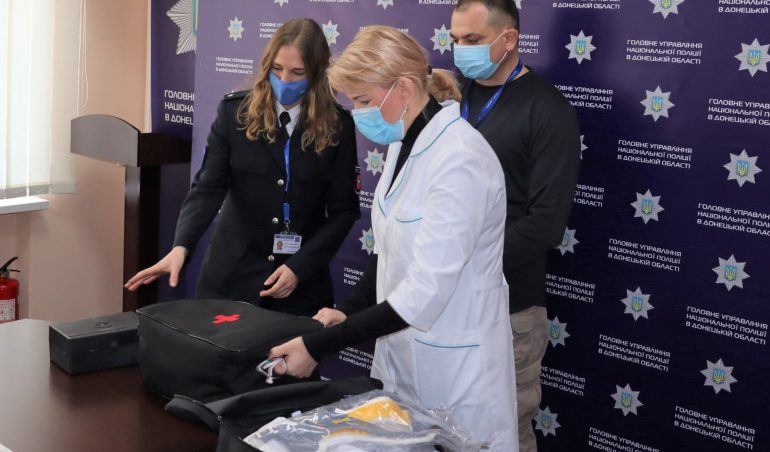 The National Police (NPU) in Donetsk region will receive over a thousand medical kits in the upcoming weeks within the PRAVO Police project. This equipment, regular and specifically designed for emergency situations, will enhance the capacities of the police to effectively administer first aid for citizens and officers when needed.
The first aid kits will be handed over to police officers serving at checkpoints, the Patrol Police Response Teams, police special units, district and other police officers engaged in providing public security.
The acting Head of the Main Department of the National Police in Donetsk region, Artem Kysko, thanked international partners for support and highlighted the effectiveness of bilateral cooperation.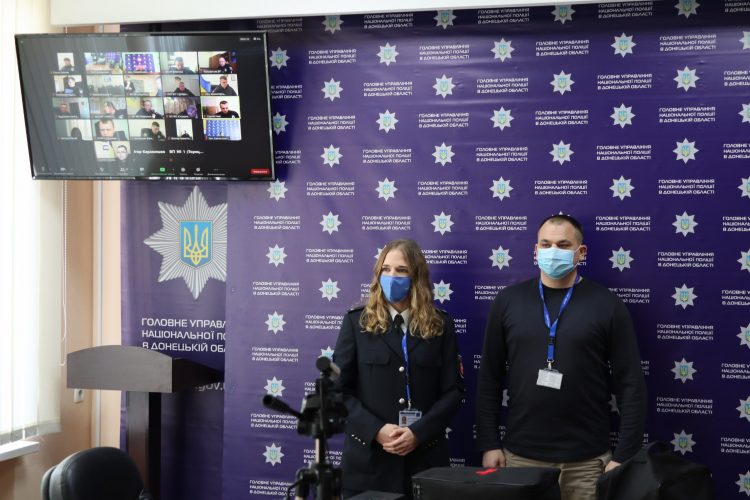 The European Union Advisory Mission (EUAM) Advisor/Trainer on Community Policing, Kristina Weiss, noted that police officers are among the first to respond to emergencies. Medical kits can be  crucial for saving lives in many cases.
"In many emergency and crime response situations, police officers are often first on scene and must be  prepared to provide immediate life-saving first aid.  We are proud to be working together with the National Police and the European Union to provide the law enforcement officers working in conflict-affected areas  with the first aid kits compliant with the highest international standards" noted Fran O'Grady, PRAVO Police Senior Programme Manager.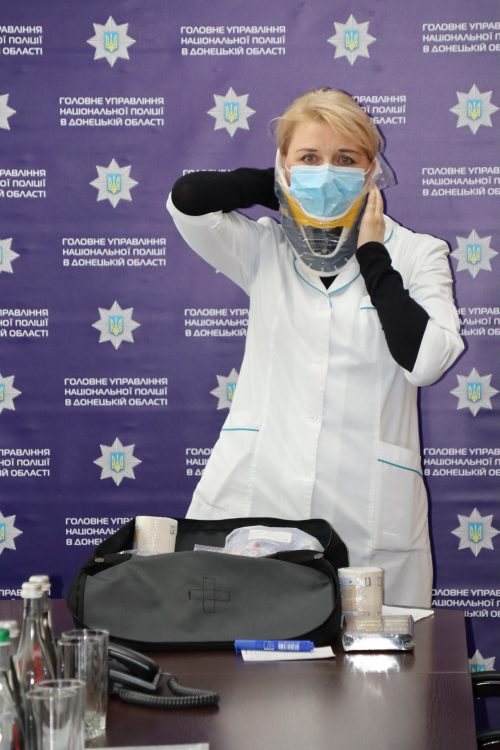 Lyudmyla Biryukova, a doctor from the clinic of the Ministry of Internal Affairs in Donetsk region, acquainted police officers (off/online) with the content of medical kits and their  usage.
The medical kits are delivered within the framework of the "Support for Rule of Law Reforms in Ukraine in the Areas of Police and Public Prosecution and Good Governance" (PRAVO Police) programme funded by the European Union and UNOPS in close coordination with  EUAM  Ukraine.
The overall objective of the programme is to contribute to promote the rule of law in Ukraine and to align its functioning with the best European Union and international practices.