Olga Aivazovska, Opora: Ukraine 'needs to strive for building strong legal institutions'
February 15, 2021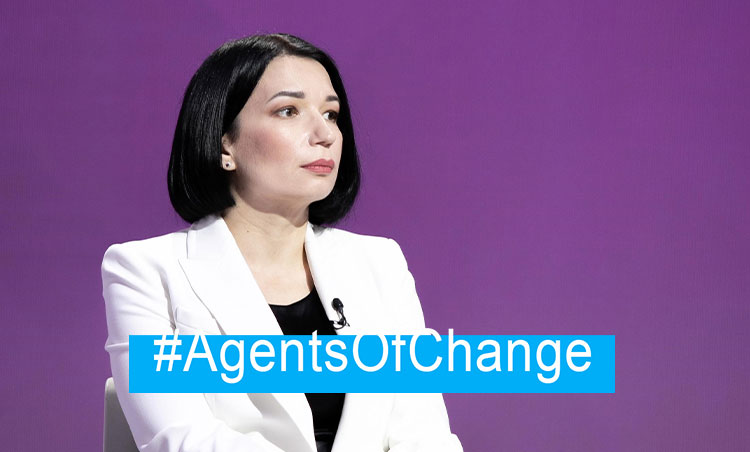 Ukraine's vibrant civil-society sector plays a critical role in advocating for reform in the civilian security sector, and reform more generally. That is why the EU Advisory Mission (EUAM Ukraine) decided to launch the #AgentsofChange series, meeting with inspiring men and women who try to change the rules of the game in the country by carrying out inclusive projects and by taking action in their community. The Chairperson of the civil network Opora ("support" in Ukrainian), Olga Aivazovska, here shares her views on democratic progress and her commitment to electoral legislation reform in Ukraine.

Since 2014, she has been regularly included in the top 100 most influential women in Ukraine. Also head of the Board of the Global Network of Domestic Election Monitors and the International Renaissance Foundation, Ms Aivazovska is an active representative of civil society who even represented her country in a political subgroup of the Trilateral Contact Group (Ukraine-Russia-OSCE) to settle the conflict in Eastern Ukraine (2016-2018). For EUAM's portraits series, she answers a few questions as an international expert on electoral matters, parliamentary processes and the development of draft laws.
What is the story behind the civil network Opora?
Olga Aivazovska: Our organisation was founded in 2005 by proactive students and civic activists who had participated in the 2004 Orange Revolution. The street protests transformed into civic activism striving to enhance the role of civil society, non-governmental organisations and the inclusivity of national and local policymaking for its citizens. Since the Orange Revolution was caused by the falsification of the presidential election results, our closest area remained the monitoring of the elections.
The areas we presently tackle include openness, publicity and accountability of the Parliament and people's deputies, the reform of the legal framework on elections, political parties and finance in this domain, the law on the referendum and popular rule, local self-governance and publicity of its performance, open data, disinformation in social media, social and economic development of territories. We are also active in these areas internationally and are members of the relevant partner networks.
EUAM trains police officers who work in polling stations. What is the main feedback from your collaboration with the police?
O.A.: EUAM cooperates with the National Police of Ukraine (NPU) on a systemic level. On our part, we are helping to find the optimal role for police officers in the course of elections. Our activities started when the Russian Federation committed aggression against Ukraine in 2014. The presidential elections had to be organised in uncertain settings: we did not know where the voting was going to take place and whether ballot papers could be delivered to certain territories in the Donbas. In this period, within our capacity, we initiated coordination meetings between various agencies on the platform of the National Security and Defence Council.
Since 2015, we have first established the Emergency Response Centre for Electoral Fraud, based at the Ministry of Internal Affairs. In 2020, Opora also developed an online course for police officers: 'How to Identify and Respond to Electoral Fraud.' Over 60,000 police officers took it during the local elections.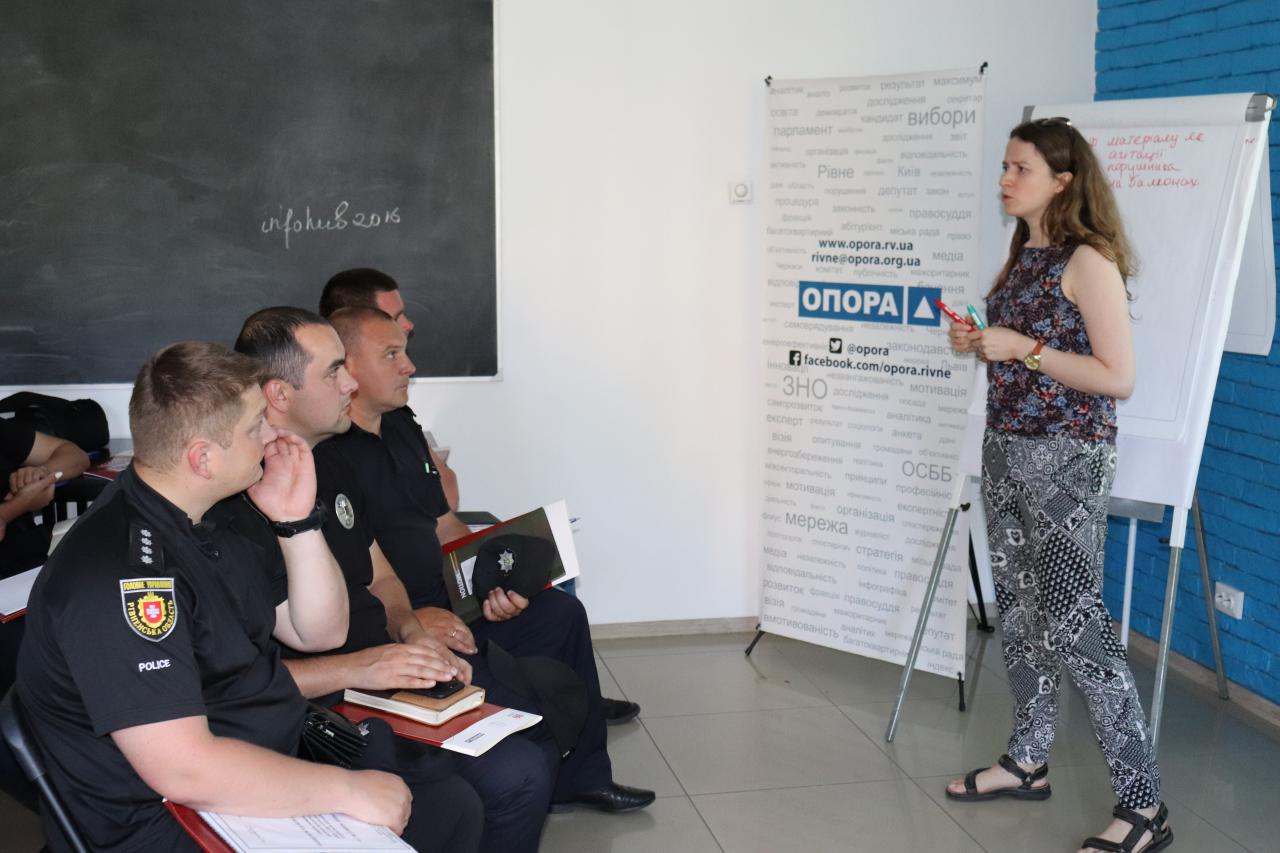 At the beginning of 2020, we also managed to open the first 'Model polling station' in Ukraine, in the Lviv State University of Internal Affairs. This practical training room will help law-enforcement officers put into practice the theoretical knowledge about the role of police during elections and about the response to electoral fraud. In 2021, Opora and EUAM are developing an activity for a dedicated higher education institution in Mariupol. It is important to keep an institutional memory. Therefore, in terms of elections, this will keep a number of trained staff and an elaborated academic course.
How does Opora cooperate with NPU in the different stages of the electoral process?
O.A.: We joined our efforts with law-enforcement staff to analyse their actions and court practices, and to develop changes that would bring to justice persons guilty of violating voting rights or procedures. The dialogue was not easy to handle and took over two years. However, in 2017, a draft law was brought forward and registered in the Parliament. It proposed the imprisonment of up to two years for unlawful use and disposal of ballot papers, for breaking the secrecy of voting by an election commission member, by a candidate, or by an observer, and for receiving benefits by voters for the exercise of their active or passive rights. In addition, the sanction for voter bribery is suggested to be replaced by six years of imprisonment, rather than three.
This bill was adopted along with other changes to the election legislation in 2020. The Electoral Code that Opora contributed to also includes certain novelties on the openness of police operations. Thus, a day before election day, NPU must inform on its website the number of registered reports on the violation of the electoral process. Within 10 days after the election day, it must inform on the number of opened criminal proceedings. 
What is your point of view on the situation in Ukraine on electoral legislation?
O.A.: Electoral law moved to a new level with the Electoral Code adopted last year. It includes huge progress in voting rights for internally displaced persons, for internally mobile groups, gender quota, the exercise of voting rights for persons with disabilities. However, the document needs significant improvement in procedures. Therefore, Opora has started developing its expert proposals and amendments for a dedicated committee in parliament. However, the Code is more compliant with international standards than the legal framework we used to have before.
Having said that, the election system at the local level is highly politicised. The weakly developed parties in Ukraine is another challenge, as is the simultaneous introduction of the monopoly for party organisations to nominate candidates to local councils in communities with over 10,000 voters. I sincerely hope that these procedural changes will be approved soon in the Verkhovna Rada.
What are the main obstacles to completely free and fair democratic elections? Are misinformation and fake news a new challenge?
O.A.: In today's world, it is hard to think of an absolutely fair and free election without social media and the freedom of communication they build. Presently, anyone may become an influential blogger and a self-sufficient source of information feeding conventional media. Certainly, the lack of regulation in social media leads to abuse and creates conditions for unsanctioned personal data collection, for political engineering of the information space and for creation of communication bubbles. In the era of post-truth, some voters will search for their own truth rather than for truthful information. That is why the political party-ruled television channels pose such a problem here. The trend is common not only in Ukraine but also in the West.
"In the era of post-truth, some voters will search for their own truth rather than for truthful information" (Olga Aivazovska, Opora NGO)
At the same time, there remains an unresolved issue of shadow funds at elections. It is not conducive to the exercise of equal rights for candidates or for fair rules of play. Last but not least, any offence committed against voting rights must be punished, and this calls for a high-quality and independent law-enforcement and judiciary. Ukraine is a democratic state, but it needs to fight new challenges continually, and it needs to strive for building strong legal institutions.
What can your organisation do to make things change at the decision-making level?
O.A.: We are consistently working with areas such as legislation and police. Besides that, we are running our own independent monitoring of political advertisements on social media. For example, Facebook, according to our data, deleted pages with fake aggressive opinion poll findings. Moreover, we are accumulating an array of data on the issues. Owing also to our efforts, human rights and progressive positions in protecting them are reflected in the Electoral Code. The Code accounted for the recommendations of our observation campaigns. We cannot stop at this stage and must actually increase our efforts in truthful reporting of financial data in the election reports.
What would be your message for people who want to support your organisation?
O.A.: Support should be comprehensive and systemic. In order to convince MPs or government officials of the need to introduce a politically sensitive legal provision, it takes years of awareness campaigns and a fully-fledged social demand to fight the problem. However, if on the other hand citizens show tolerance towards breaking democratic election standards, this contributes to unfair activities.
*The views expressed here are the interviewee's alone and do not necessarily reflect the position of EUAM.