The European Union Advisory Mission Ukraine changes its visual identity
April 25, 2023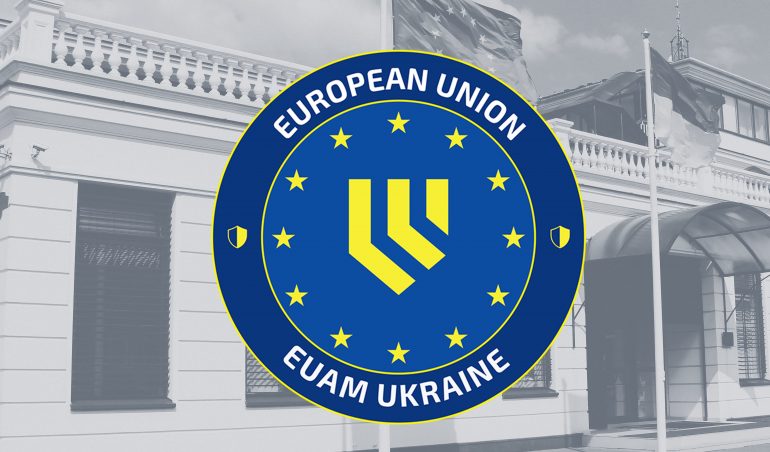 Since it was established in 2014, European Union Advisory Mission Ukraine (EUAM Ukraine) has been recognized by its square logo.
Now, the sharp-edged blue visual is being replaced with a new circular insignia. This happens today when the Mission officially launches its new visual identity. The new insignia appears with rounder and softer shapes. In the centre, it depicts a shield in the colours of the Ukrainian flag stylized from the Ukrainian national symbol – the trident. The shield represents EUAM Ukraine's continued commitment to support Ukraine's efforts to strengthen and reform its civilian security sector. It is encircled by 12 gold stars on a blue background resembling the flag of the European Union. The new insignia also includes the names of the 'EUROPEAN UNION' and 'EUAM Ukraine'.
Uniform design for all EU missions and operations
"The work on our new visual identity has been underway for almost six months. We aspired to include a more visible affiliation with Ukraine", explains Johannes Rueger, Head of EUAM Ukraine's Press and Public Information Division. "With the insignia's new circular appearance, we align the Mission's brand identity to the ones of the EU's 21 Common Security and Defence Policy (CSDP) missions and operations. In this way, our uniform appearance contributes to visual consistency and brand recognition worldwide."
The introduction of the new visual identity coincides with the adoption of EUAM Ukraine's revised mandate, which reflects the Mission's expanded work scope following Russia's unprovoked and unjustified military aggression against Ukraine in 2022 and Ukraine's aspiration to become a European Union Member State.