Citizens need to hold power to account because 'even an angel can turn into the devil'
July 02, 2020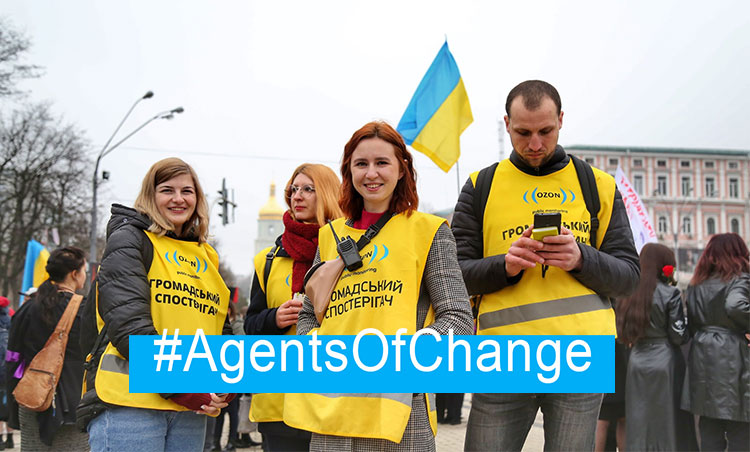 Since 2007, Oleksandra Matviychuk has been Head of the Board of the Centre for Civil Liberties, a human rights NGO whose activities include the OZON volunteer movement to monitor law enforcement institutions. All around Ukraine, those volunteers follow peaceful assemblies and courts – they are easily identifiable with their yellow jackets. Their task? Observing how the police fulfil their duty of protection towards protestors, and courts abide by rule of law standards.

From her professional background in the private sector, Oleksandra Matviychuk decided that she would concentrate her work on civil society. "I made up my mind under Yanukovych time. For having criticised government's banking policy, the President of the Association of Ukrainian banks received a million-hryvnia fine from the tax police. I suddenly realised that there were no future for business in Ukraine, my goal was to defend human rights." A few years later, Ms Matviychuk received two awards: the 2016 Democracy Defender Award from the OSCE missions, and the 2017 Ukraine's Woman of Courage Award from the US Ambassador to Ukraine. Today, this young human rights defender is one of the most active #AgentsofChange in the country's democratic transition. For EUAM Ukraine's portraits series, she shares her commitment to keep involving ordinary people to change the system.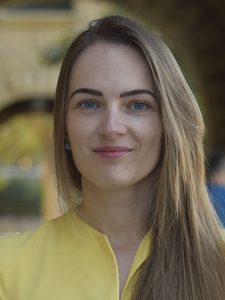 What is the story of the OZON groups? How did this initiative start?
Oleksandra Matviychuk: Our initiative started in January 2013, even before the Euromaidan events. For this project, the Centre for Civil Liberties was inspired by the work of the Russian NGO "OGON" that operates since 2012 in Russia. Our main task was to instil in Ukrainian society the habit to have a civil oversight on power. With our Soviet past, Ukrainian people, and especially the older generations, have a passive attitude. Power has often been regarded as sacred. But there can be no democracy without the involvement of ordinary people. Since Ukraine restored its independence and started strengthening its democracy, it remains crucial to change this attitude towards power in our society. Indeed, our representatives are paid with our taxes. In a way, those in power are hired by Ukrainian citizens to serve and protect them.
The OZON groups started with the civil oversight of the police. Then we started to cover the courts and the local authorities. Our groups of volunteers made of ordinary citizens are now attending the different peaceful assemblies and court hearings happening in Kyiv, Lviv, Odesa, Kharkiv, Dnipro and other cities. They allow us to observe and monitor how the police act while conducting public order activities. The civil oversight of power is an essential habit in democracies, it should be considered as normal as brushing your teeth in the morning. In the future, we plan to cover all interactions between the citizens and the representatives of the State.
Can you describe your work with the law-enforcement agencies on this issue?
O.M.: We have a good experience of organising seminars in the regions with the local police on the freedom of peaceful assembly. As part of our Kyiv School of Democracy and Human Rights project, we also conduct training on human rights, organise film screenings followed by discussions between the police and civil activists. Of course, they may have different points of view on peaceful assemblies. Often, we play the role of mediator. Our objective is to strengthen the link between the law enforcement sector and the civil society and help them to start a dialogue with each other.
"Ukraine has a serious issue with impunity" (Oleksandra Matviychuk)
Last October, for example, Kharkiv organised a Pride march. Our monitors shot a video in which a policeman was beating a participant of the opposing gathering who was already on the floor. We wrote a report, sent it to the Kharkiv police. We asked them to identify this man, find out what happened and sanction the misconduct. Unfortunately, he answered that the culprit could not be identified – even if his face was clearly showed on the video. We then sent the same report to the State Bureau of Investigation (SBI), which opened a criminal case. Only in May 2020, we received the information that the policeman was identified and that a criminal procedure had started.
Ukraine has a serious issue with impunity, which is not recognised as such by the system. For this case, it took more than six months to initiate the process and identify the culprit. This explains why ordinary people do not even try to defend themselves if something happens to them.
How can ordinary citizens contribute to your monitoring of human rights?
O.M.: We are rather open for those who want to be part of power oversight. For this reason, we conduct training so that anyone, regardless of age and occupation, could identify obvious violations. We work with many supporters on social media. They share with us important live information. For instance, it is thanks to our volunteers that we were able to keep track of the police activity during the COVID-19 restriction measures in Ukraine. One could also join OZON on an ad hoc basis if someone is interested in monitoring certain peaceful assemblies, namely peaceful assemblies and opposition gatherings that take time simultaneously on the Victory Day for example.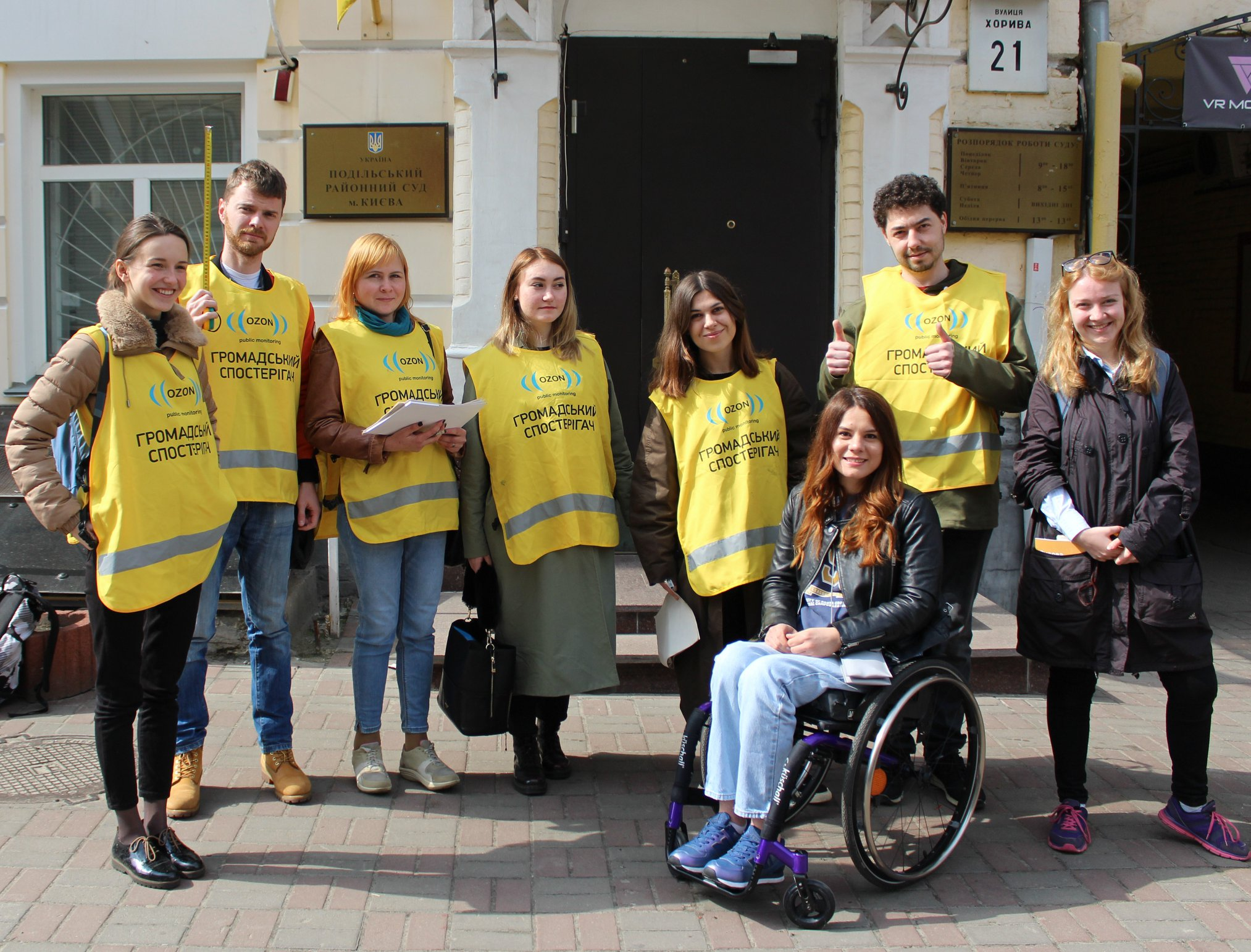 At last, we have OZON official mappers. They can be identified by their yellow jacket and a membership card. This is the level of expertise that we believe allows those people to monitor police activities independently. Nonetheless, they are not experts in jurisprudence or any other technical field. To remain open to all, we use a very simple methodology. It is very important to preserve neutrality and act impartially: our members on the ground should never take side with demonstrators or the authorities. We are only here as objective observers to monitor the respect of human rights and to give an objective picture of what is happening. Such monitoring allows us to identify systemic violations, which we reflect in our reports and communicate with the authorities. And some of our recommendations are implemented. Sometimes it can be hard not to interfere, but our mappers are trained to keep on monitoring without taking part in what may happen in the protest. Otherwise, we would become participants. 
What is the current situation with freedom of peaceful assembly in Ukraine? Is it getting better?
O.M.: After the 2014 Revolution of Dignity, the situation got better in Ukraine. But systematic problems remain. First, there is still a discriminatory approach towards peaceful assemblies, and especially during the Pride marches in the regions. In Kyiv, where many ambassadors are present, the police do indeed defend the participants. But in other cities, LGBT events face many threats and the police fail in their duty of protection – which is usually exacerbated by the fact that many policemen do not understand the importance of respecting human rights regardless of someone's sexual orientation, political views etc. In a democratic country, this situation is not tolerable. On the other side, we still observe a disproportionate use of force by the police during some protests. That can be explained by the fact that they might not always be trained and qualified enough. Often, they cannot separate some aggressive people from the rest of peaceful protestors, so that other participants could exercise their right to peaceful protest. 
What are the main obstacles to eradicating violent protests?
O.M.: The situation in Ukraine is not comparable with what is happening in France or in the United States, where some protestors loot shops or damage administrative buildings. However, we still observe an increase in the level of tolerance to violence in Ukraine. Above all, we believe it is linked to the negative impact of war. In any society at war, people's level of pain tolerance increases. The State has the obligation to only defend peaceful assemblies. Protests turning violent have no protection.
"In any society at war, people's level of pain tolerance increases" (Oleksandra Matviychuk)
When people see that the police use disproportionate force, they become more radical. That is why it is the police's duty not to provoke people, to prevent the violence from escalating. The police should know how to communicate with mass event organisers, understand crowd mentality and duly exercise soft power.
What can your organisation do to make things change at the decision-making level?
O.M.: Thanks to our monitoring volunteers at peaceful assemblies and in court hearings, our experts from the Centre for Civil Liberties have very detailed information on the systematic problems in Ukraine. With this information, we can produce consolidated reports and recommendations detailing what needs to be done to improve the situation. But it is often not enough to write reports, so we organise meetings with the authorities to persuade them to listen to our advice. We already met with the Minister of Internal Affairs (MoIA), the Prosecutor General, the Head of the Council of Judges, and other structures to discuss burning issues and share our view on the ways to solve them.
We managed to achieve some strategic changes. For example, in 2014-2015, we provided a civil observation of court hearings on the Euromaidan cases. Many people wanted to attend those hearings, but the room was too small. One of our recommendations was to start video broadcasting of the hearings. Our recommendation was approved and quickly implemented by the Council of Judges. In order to build sustainable democratic institutions, the Centre for Civil Liberties believes in civil oversight of power. It is thus concerning that the police reform has stopped for several years now. As a direct consequence, we observe more and more human rights violations in the field.
What would be your message for people who want to support your initiative?
O.M.: I would remind them that we need to tackle issues ourselves if we want to solve these systematic problems. That is why the civil oversight of power is crucial. We live in Ukraine, not in Belgium or in Switzerland where people can fully rely on their democratic institutions. Even if you elect an angel, they will turn into a devil if they know that their actions are not scrutinised by the public.
"I don't support the idea to fight an injustice with another injustice" (Oleksandra Matviychuk)
It is important to set your priorities right. Our fight is not against police and courts, but to make them duly perform their tasks and served the people. I don't support the idea to fight injustice with another injustice. History proves that this can only lead to even more injustice. Some say that all police should be liquidated. This could be a nice slogan, but from my point of view, this is a quite irresponsible opinion. I witnessed what can happen at a peaceful assembly, when there is basically no police, as it happened in the Crimea and Donbas in early spring 2014. We need to be more ambitious and demand the police reform to make it a public service, that serves the people by protecting public order and human rights. For everyone's interest, we need to fight together for our democratic institutions that should serve the people.
To discover more about the OZON project or to become a volunteer, click on http://ozon.monitoring.tilda.ws/
*The views expressed here are the interviewee's alone and do not necessarily reflect the position of EUAM.