#AgentsofChange – Valentyna Kukurudzhiak, Prosecutor at Chernivtsi Regional Prosecutor's Office
October 19, 2022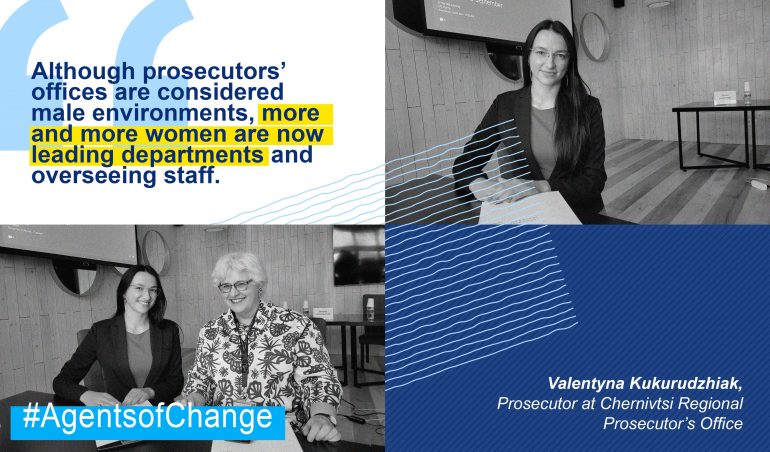 "I am the Head of the Preventing and Combating Corruption unit in Chernivtsi. My focus is on administrative offences, for example, conflicts of interest, which could be about inappropriate gifts or combining two jobs. Minor cases can be prosecuted as administrative offences. My unit covers everyone employed by the State, civil servants, deputies and workers at municipal utility companies. 
I worked in Chernivtsi Regional Prosecutor's Office for twelve years, bringing to justice perpetrators of trafficking of human beings (THB) and crimes against life and health. It is something that I have been very passionate about. Previously, I was dealing with criminal proceedings but less so as the Head of the Unit now. The National Anti-Corruption Bureau has the lead in all corruption cases in Ukraine. Our unit, representing the state, attends the court hearings of the first and appeal instances.  
On a typical day, I go to court and oversee other lower-level prosecutors, mainly communicating a lot all the time. I also look at protocols presented by the National Police. 
In Ukraine, we have a system in which everyone who receives a salary from the State or city must declare their income and gifts until 1 April. This Register of Declarations is public, but it is not operational since the invasion on 24 February. The date for declaring income and gifts has been postponed from 1 April until three months after the war's official end.
This means that documentation and registration of gifts just do not occur, and the level of corruption is thus likely to be higher. Even if civil society organisations come to us and report, for example, a second inappropriate income of a public official, we have no possibilities to go after that. We cannot prove lateness or omission of registration or violation of guidelines or laws. Our control is minimised —you can be sure corrupt people know this. There may be more cases of public officials hiring relatives as contractors or deputies voting for land to be transferred to relatives.
In my view, we should take a few extra steps, like lifting some legal restrictions and strengthening the role of civil society representatives, including in court hearings. That would strengthen our fight against corruption in Ukraine.
Although prosecutors' offices are considered male environments, more and more women are now leading departments and overseeing staff. Some units are still considered 'female', like those dealing with juveniles or representing state interests in court on civil administrative and economic cases. Criminal investigations or oversight of the police are considered 'male' units. But things are changing. When I applied for my job twelve years ago, the head of human resources said: "We are not happy with women here, we hire them, and then they just go on maternity leave". I don't think that could be said aloud now. In my function, I also deal with the police, and the police tend to be majority men and have a very male working environment. I have learned that I need forcefulness when dealing with them. You just use the power of words, speak forcefully, and get through to them!"
*Share your own story by writing to stories@euam-ukraine.eu (500 words maximum).