#AgentsofChange – Ove Pettersson, EUAM Adviser and Trainer on Community Policing
September 06, 2022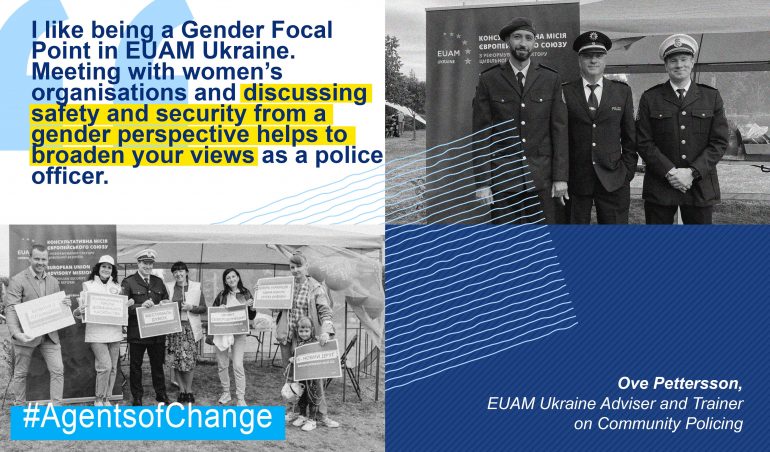 "In my previous job experience in an international Mission, we once had a flat tyre. The two men changed the tyre, and the two women waited. I was thinking: 'Wouldn't it be more equal if one man and one woman would change the tyre?' We were all from different EU countries, and I understand that not everyone has the same ideas as we have in Sweden about gender equality!
I worked in the EU Advisory Mission (EUAM Ukraine) Kharkiv Field Office as a community police officer. Since the war started, I have been at the Lviv Field Office, but we maintain good contacts with all our counterparts from Kharkiv. The other week, we met online with the Sphere NGO, an organisation that defends the rights of the lesbians, gays, bisexuals, and transgender (LGBT+) people in Kharkiv. They are open to cooperating and participating in training for the Ukrainian law enforcement agencies that would be interested. Last year, I facilitated the contact between the National Police (NPU) in Kharkiv and the Pride March organisers, which included Sphere. Last year, I attended the LGBT+ event myself to observe how our partners implemented the new Public Order concept. It entails working with crowds and respecting people's freedom of assembly in a safe way for all, without anybody breaking laws. It went very well in Kharkiv. There was a counter-protest, which was handled very professionally by the police officers in Kharkiv as well. Both parties could express their views the way they should.
Sweden has a long history of democracy and the understanding that the police is working for the people, not the State. Ukraine has a different history, and the police gradually switch to this people-focus. What is different is that in the Swedish police, we have many women in leading positions. Not yet 50%, as compared to the number of police women in the force, but getting there. It is considered normal. While training in Kharkiv, I noticed that the male police officers were always interested in the Swedish experience for new mothers and fathers, especially in our parental leave system. We just shared the Swedish police practices with the Ukrainian Association of Women in Law Enforcement (UAWLE) as they are making a comparison between countries.
I like being a Gender Focal Point in EUAM Ukraine. Meeting with women's organisations, as we have been doing here in Lviv this week, and discussing safety and security from a gender perspective helps to broaden your views as a police officer. The discussions reminded me that mentality and culture are important factors, in addition to structures."
*Share your own story by writing to stories@euam-ukraine.eu (500 words maximum).