#AgentsofChange – Vadym Fursa, Senior Lecturer of the Tactical Special Department of the Dnipro State University of Internal Affairs (DSUIA)
January 27, 2022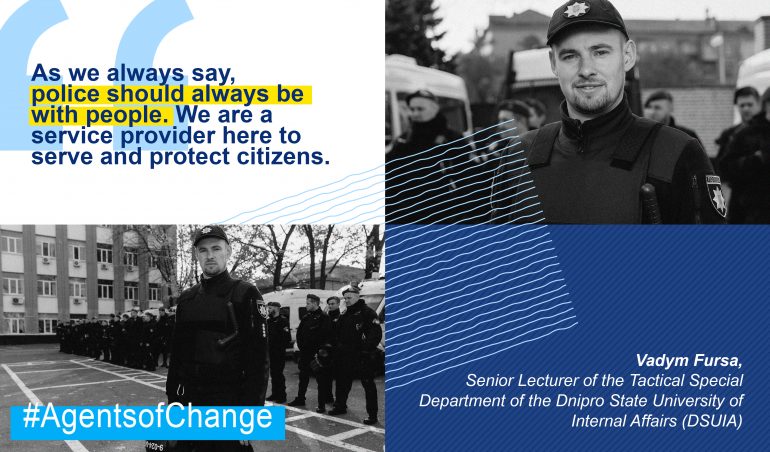 "Since my very childhood, I have wanted to become a police officer. I wanted to serve citizens, and I always was for good guys. I used to work for Dnipro District Office, and then I joined the University in 2011. Since then, I have seen generations of cadets coming and going, and I have witnessed the evolution in the people we enrol. This year, for instance, the University received more than 51 % of girls, and it is a premiere. Girls want to serve in the police, even in the Prevention Faculty, which deals with public order and now counts more than 50 % of girls. 
The work of the University is central for cadets and police professionals who should always keep on moving forward. In the police, continuous learning and personal development are essential, including in sensitive areas like public order. Little by little, we are transferring to a new "Scandinavian" system of ensuring public order in Ukraine. Our objective is that every police officer, whether graduates of our institution or patrol police officers, act as one organism.
Recently, we concluded a new "PRAVO Police" training to better implement this new concept and develop the relationship between citizens and the police. Experts from the EU Advisory Mission (EUAM) delivered it with the UN Office for Project Services (UNOPS)'s support. This training included security tactics like dispersion tactics, complex manoeuvres and evacuation, but also crowd psychology and team building.
As we always say, police should always be with people. We are a service provider here to serve and protect citizens. Police officers and civilians must interact as equal human beings without any discrimination. On the ground, we are still evaluating the citizens' attitude towards this new public order concept. Last year, we already conducted full-size testing of this system during mass events. It was complex as it involved both the patrol police to ensure public order while the dialogue police worked with the crowds. And the concept proved itself positive. We used to call it "Scandinavian", but now we want it to be the new "Ukrainian" concept!"
*The views expressed in #AgentsofChange do not necessarily reflect the position of EUAM. Share your own story by writing to stories@euam-ukraine.eu (500 words maximum).