#AgentsofChange – Tetiana Kapys, Head of Public Relations, Lviv Patrol Police
October 11, 2021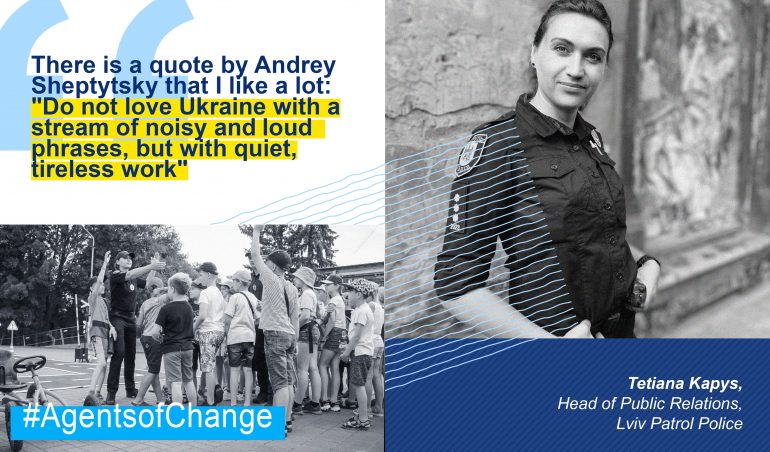 "I am still new to this Police system, but I have worked with the Patrol Police in Lviv for six years. Before that, I used to be a professional handball player, and I represented my country in many competitions. Everything started in 2014 after the Euromaidan events happened. Like many friends and colleagues, this wave of patriotic feelings swept me. I wanted to serve the people of Ukraine. I did not go to Kyiv, but I supported the movement with all my heart. Therefore, when the patrol police initiated its activity, I had no doubt I wanted to enrol. To my surprise, they accepted me!
I never had anything to do with law enforcement agencies, so everything was very new for me. When I joined the police, I was very optimistic and maybe a bit naive. However, very quickly, the reality instead hit me. After my first year, I understood what the Police system means. Nevertheless, over the last six years, I have been trying my best to build capacity, and I feel optimistic that what I am doing is helping improve this system.
I started working at the patrol police as a coordinator and a school police officer. But I was progressively introduced to this "community policing" philosophy. Usually, people go to the police when they have a problem. Community policing means establishing a better link between citizens and law enforcement. Very quickly, I understood it was the most progressive way to work on security issues. For the last four years, our unit has been working along with the local community. Moreover, I have seen many positive initiatives.
Many times, we see that community members are ready to cooperate with us. Thus, we can even address issues shelved for quite a long time. Here in Lviv, we implemented a project to allow them to identify anonymously drivers who are under the influence of drugs or alcohol. It had a very positive and direct impact on road traffic accidents security.
Our unit works on bringing awareness among the local communities, among children or the elderly. In schools, we can even prevent youth crime by making them mindful of their legal responsibility. In general, legal literacy is very low among people. We make sure they know more about their rights and responsibilities.
It may sound a bit too philosophical, but there is a quote by Andrey Sheptytsky that I like a lot: "Do not love Ukraine with a stream of noisy and loud words, but with quiet, tireless work". It also applies to the way we work at the service of people. Whether you work in the police or emergency services, you should always follow your heart, remaining honest and professional at all times, and do your duty."
*The views expressed in #AgentsofChange do not necessarily reflect the position of EUAM. Share your own story by writing to stories@euam-ukraine.eu (500 words maximum).