#AgentsofChange – Saer Ammar, EUAM Adviser/Trainer on Rule of Law
September 15, 2021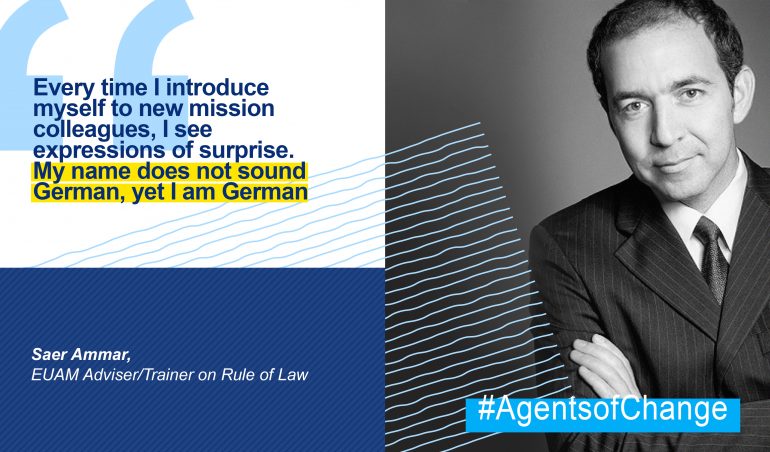 "'Hello! My name is Saer Ammar, and I come from Germany.' Every time I introduce myself to new mission colleagues, I see expressions of surprise. My name does not sound German, yet I am German and have chosen to represent my country in different international peace missions. In Sudan and South Sudan with the United Nations, in the United States with the Organisation for Security and Co-operation in Europe (OSCE), in Kosovo with the EU Rule of Law Mission (EULEX) and now in Ukraine with the EU Advisory Mission (EUAM). This may seem confusing for some, but this is the manifestation of a policy based on tolerance, diversity and inclusion in modern Germany.
I was born and grew up in Syria in a diverse society where different ethnic and religious communities lived in coexistence side by side, largely peacefully but sometimes not. I studied law at the University of Aleppo and graduated in 1998. As in many countries in the Middle East, equality of rights did not apply to everyone. I still remember one of my study colleagues was denied the right to employment because he was stateless. Later, he ended up working as a barber instead of a lawyer — although he was born in the country.
After graduation, I started my career as a lawyer at the district court of Latakia. I worked for almost four years on different criminal cases and became familiar with the everyday procedures of the judicial system. I saw cases of persons held in indefinite detention for several years without being put to trial, and other inconsistencies with what you would expect in a rule-of-law-based judiciary. When reflecting on my observations, an experienced judge then told me, 'You can change yourself, but you cannot change the system'. While this statement certainly holds some truth, I was unwilling to accept its consequences for me. I started to wonder how to tackle these legal challenges effectively and where to gain the needed skills. That was when I decided, long before the war in Syria, to move to Germany and join a PhD programme in Human Rights and International Law, hoping that someday I would apply this obtained legal knowledge in my native country.
History took its course, and my hope is still alive. I have made it the central point of my professional life to promote human rights and the rule of law. In the meantime, I am honoured to have been seconded by the Center for International Peace Operations (ZIF) to serve in EUAM as Adviser on Rule of Law, supporting Ukraine to improve its criminal justice systems. I am eager to learn and look forward to the right time and opportunity to go back to Syria and follow my initial plan."
*Share your own story by writing to stories@euam-ukraine.eu (500 words maximum).