#AgentsofChange – Olha Svetlichna, Adviser to the Rector of Donetsk State University of Internal Affairs on gender issues
October 21, 2021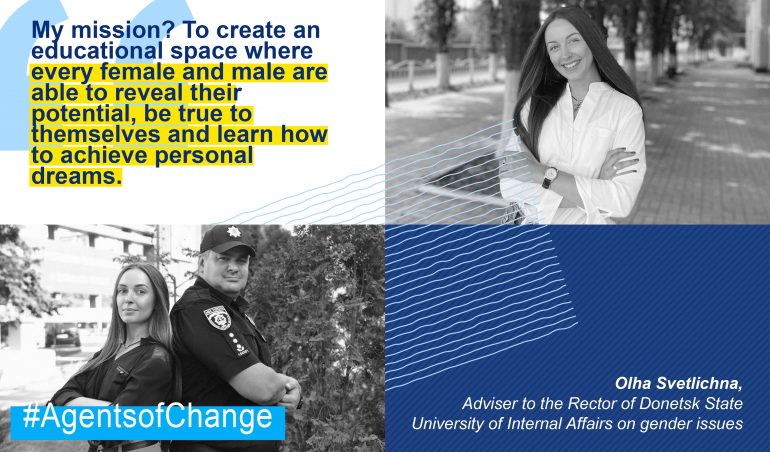 "Hello, my name is Olha Svetlichna and I am the advisor on gender issues in the Donetsk State University of Internal Affairs. I am a happy person, as all my life I have been working in the human rights sphere. Deep in my heart, I firmly believe that the world free from violence and stereotypes can be our reality and I am able to contribute to making it happen. My mission? To create an educational space where every female and male are able to reveal their potential, be true to themselves and learn how to achieve personal dreams by confidently breaking gender stereotypes and overcoming any other barriers in order to jointly improve the world around us for the wellbeing of all people.
Together with my colleagues, we have developed the Comprehensive Gender Mainstreaming Strategy until 2030 for our University. According to the Strategy, the gender equality principle is the basis for all areas of our activity, in particular the education process, partnership and cooperation, scientific work, communications and administrative activity. I am particularly honoured and proud to take part in implementing innovative educational projects such as the establishment of the first Community Policing Expert Centre in Ukraine, where very soon we will launch our unique training course. It will have a special module on human rights and gender equality as an integral part of community policing based on partnership. However, our mission is not only to teach others, we strive to inspire and develop a person, who is conscious and confident in himself/herself. This year, to celebrate International Women's Day, we organised the All-Ukrainian Forum of Female Leadership "Be a Woman. Be a Leader. Be Yourself". Famous Ukrainian female and male leaders from the security and justice sectors, legislative bodies, public sector and international community shared their inspiring stories of changing the society with cadets and students from all over Ukraine. 
The fact that this year our cadets in their last year of education took part in the mini-projects competition organised by the EU Advisory Mission (EUAM) to improve police operations is a good result of our work. A distinguishing feature of all projects was their focus on raising security by establishing cooperation and dialogue between police and community residents. I saw conscientious young men and women with leadership qualities who respect one another believe in their power to make this world safer together with people and for people. This is our victory and something that is worth working for."
*The views expressed in #AgentsofChange do not necessarily reflect the position of EUAM. Share your own story by writing to stories@euam-ukraine.eu (500 words maximum).