#AgentsofChange – Nataliia Horbach, Prosecutor at Kharkiv Regional Prosecutor's Office
September 20, 2021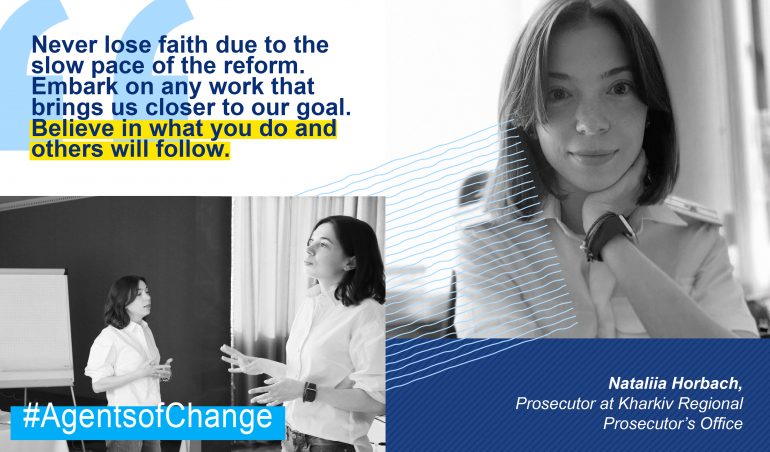 "I joined the Public Prosecution Office because I believe that defending human rights and restoring justice is my calling. In my personal experience, I learnt the real value of these ideals and the real cost that one could pay to preserve them.
Because of the events in Donbas in 2014, my life has completely changed and become a life "before" and "after". During those first few months of the war, when I still lived in Luhansk, I realised that it would be better to leave for the unknown with just one suitcase rather than stay and live in "jail". So, having left everything behind in Luhansk, my family and I moved to Kharkiv. It was then that I realised that freedom is of ultimate value to human beings. I learnt that respecting one's right to life, dignity, freedom of speech could be very fragile, that is why one must protect these rights and fight for them.
I am not a millionaire, a politician or an activist. I am just an ordinary lawyer. What can I do? Thanks to cooperation with the EU Advisory Mission (EUAM), I have a chance to be useful, to share my knowledge and ideas. I was lucky to participate, as a trainer, in a #DomesticViolence project run by EUAM Kharkiv Field Office. As part of this programme, a series of training sessions were conducted for law enforcement officers who were supposed to answer one question: how do you effectively respond to domestic violence cases to prevent them from repeating, to help victims and prosecute perpetrators?
In reality, we had to start by dealing with prejudices. Unfortunately, there are stereotypes that normalise domestic violence. The law enforcers are part of society, so some may share those stereotypes and prejudices. Unless such diminishing perceptions of women, children and roles in the family are eradicated, even perfectly drafted provision of the law shall be a "dead" provision, as law enforcers, due to their inner beliefs, will not provide duly care for victims.
It is impossible to change overnight one's beliefs that formed in one's conscience for years. However, expect failure and disappointment if you are counting on an immediate result. Fundamental changes cannot happen quickly. We can waste our energy complaining that nothing changes in the country. Or we can act, moving one step at a time, to see the desired effect.
I am happy to be part of these changes for the better. I believe in the absolute value of human life. I want law enforcers to arouse respect and gratitude, and not fear and disgust, among fellow Ukrainians. Never lose faith due to the slow pace of the reform. Embark on any work that brings us closer to our goal. Believe in what you do and others will follow."
*The views expressed in #AgentsofChange do not necessarily reflect the position of EUAM. Share your own story by writing to stories@euam-ukraine.eu (500 words maximum).