#AgentsofChange – Liliia Maliarchuk, EUAM Parliamentary Liaison Officer
November 23, 2021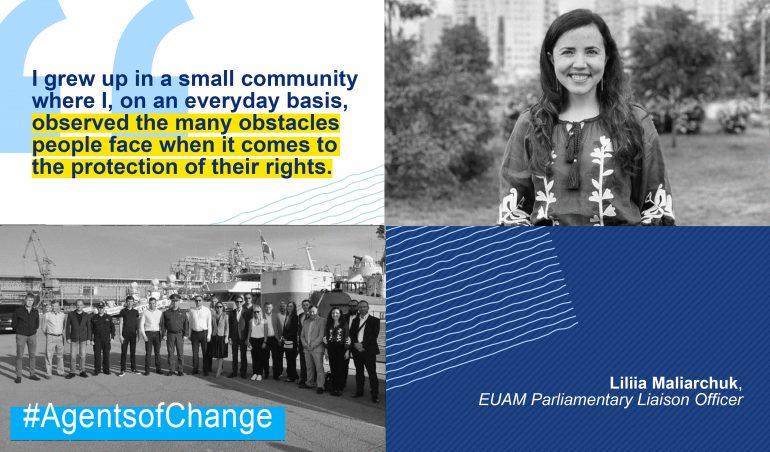 "I grew up in a small community where I, on an everyday basis, observed the many obstacles people face when it comes to the protection of their rights. Many people from my community either did not know their rights or faced severe unfairness with the State trying to exercise them. It all contributed to inequality, despair and loss of trust in the institutions overall.
I made two important conclusions from these observations. First, I understood the power of knowledge regarding your rights and general well-being and decided to study hard and learn as much as possible throughout all my life. Secondly, I chose to pursue the legal profession as I associated it with justice, human rights and the rule of law. I also had an understanding that this profession will equip me to contribute to the change process the Ukrainian legal system needs to undergo to ensure that the human being is really at the centre of every institution. Therefore, I chose to focus on constitutional law and the rule of law, good governance and human rights. This led me to work on the parliamentary reform, decentralisation, and now, the civilian security sector reforms with EUAM, all of which contribute to better governance in Ukraine.
There were many memorable moments for me at my work, and I can elaborate on one such moment from my current position at the EUAM. One of my first significant tasks after joining EUAM was implementing the project, which included a joint visit of the Parliamentary Committee on Law-Enforcement and EUAM to the Odesa region. The purpose of the visit was to strengthen the parliamentary oversight and identify existing legal gaps to address. This visit of the Committee was a premiere, focusing a lot of attention. I was responsible for the organisation of the visit, coordinated with the partners from the Parliament and various departments in EUAM. Overall, the visit was a great success, and the project will be replicated with more working visits planned in the upcoming months.
My message would be to stay strong and committed to the principles of the rule of law, democracy, and human rights. These principles should be the foundation upon which we must build the civilian security sector reform. Whether they work in the government, business, international bodies or NGOs, every person has a valuable contribution to make, and I am convinced that only through combined efforts we can ensure the progressive developments and changes in our country."
*Share your own story by writing to stories@euam-ukraine.eu (500 words maximum).