#AgentsofChange – Lesia Yaroshenko, Communications Manager, Ukrainian Women's Fund
November 25, 2021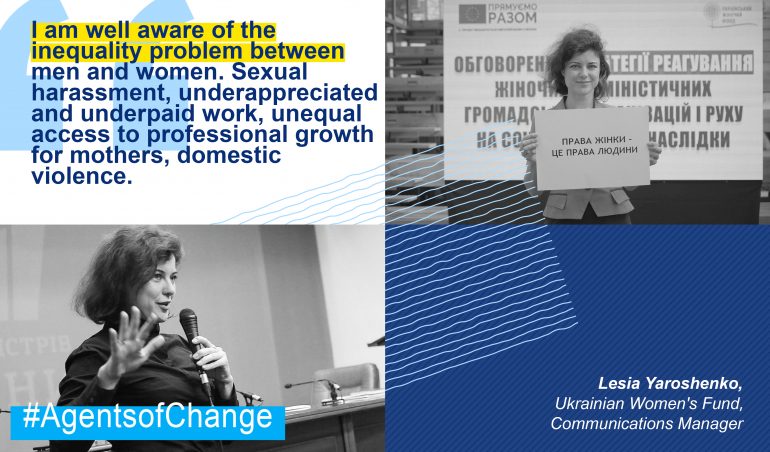 "When I was 9, I published my first newspaper – single-copy, hand-written and hand-drawn – about stories that took place in my class one day. Later, I started sharing my notes with a children's newspaper. There, one staff member gave me an IREX leaflet on journalistic investigations. The hero of the publication, an American journalist, was working undercover collecting proofs of the company's violations. The story caused a riot and affected public opinion. So, I thought it would be great to have similar "fourth power" in Ukraine someday. However, my personal "bubble" that I used to call "Well, what can you do about it…" was reading predominantly criminal stories, alternative health advice and horoscopes.
I went to study journalism and joined a local newspaper already in my freshman year. I once wrote a story about a doctor's family who lived in a studio together with his wife, five kids, a piano and a violin. Shortly after, the family was given a larger apartment. A series of stories about voters that voted "as asked", in exchange for buckwheat and beer, about members of the electoral commissions that "edited" election results, about police officers that destroyed proofs of the electoral fraud, had been my contribution to what became the 2004 Orange Revolution. At the time, I organised a strike committee at my university. We managed to force the management to come up with the official statement promising not to persecute students who had decided to join peaceful protests. Together with law students, we launched a hotline for the students and the faculty that had suffered from political persecutions. We published a newspaper with the latest protest updates in a funny manner. One news agency agreed to print 5,000 copies every day in exchange for our volunteers providing Ukrainian, Russian and English translations of the agency's newsfeed.
Ten years later, my "bubble" transformed into "What do I do?", with opinion leaders mainly representing civil society organisations. They were thinking and acting differently: "You want changes? Start with yourself!". I wanted to be part of that community, continuing my journalistic work. That is why I began conducting media monitoring of electoral campaigns. I was collecting facts of information distortion and unequal access to media for the candidates, and I was analysing manipulation techniques used by the media. These materials were later used as a foundation for media literacy training and publications, thanks to which the audience could better tell the difference between information and propaganda.
Later, after the Revolution of Dignity, followed many exciting projects. There were awareness-raising campaigns about responsible charity urging people to double-check that contributions go to a good cause, not crooks, campaigns about tax-free SMS-charity that allowed to quickly mobilise immense resources in just a few days, as well as about volunteering 'in word and deed' that helped to collect millions to treat children, as well as thousands of litres of donor blood to save lives. We recorded audiobooks for people with sight impairments, helped install mobile communication to the smallest villages, and helped remove illegal construction sites in Kyiv.
At first, you fight for everything you believe in and want to change. Then you realise that it is more effective to concentrate on systemic issues and join a force with the strategy for changes and resources to implement them. I am well aware of the inequality problem between men and women: sexual harassment, underappreciated and underpaid work, unequal access to professional growth for mothers, domestic violence. I joined the Ukrainian Women's Fund team that changes these perceptions with and for women, contributing to the promotion of the women's movement on its path to gender equality that all will benefit from."
*The views expressed in #AgentsofChange do not necessarily reflect the position of EUAM. Share your own story by writing to stories@euam-ukraine.eu (500 words maximum).