#AgentsofChange – Carlos Berrocal, EUAM Public Order Specialised Team Deputy Leader
September 29, 2021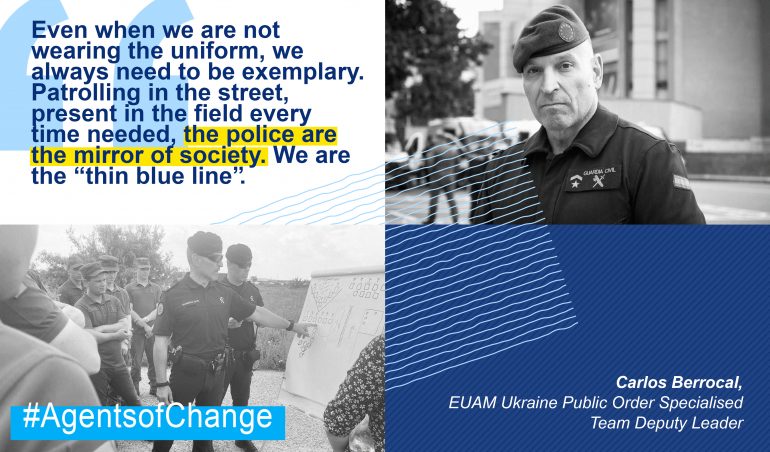 "After serving in the military, I decided to join Spain's Guardia Civil in 1993 and started to specialise in public order activities in 2005. I chose this specialisation for both professional and personal reasons. First, as a police officer, working on mass events requires a higher degree of management skills.
Though it is very challenging, physically and psychologically, it also allows you to take an active part in all the phases of the police work. Second, as a citizen, I consider it of utmost importance to ensure people's rights, including the right to protest and be heard by the public authorities during mass gatherings and demonstrations in public spaces.
A few months ago, I arrived in Ukraine with seven other experienced trainers from Guardia Civil to implement a new public order concept with the National Police (NPU) and the National Guard (NGU). Before EUAM Ukraine, I already worked in many countries: in Bosnia and Herzegovina with the EU Force (EUFOR)'s Operation Althea, in Afghanistan with the North Atlantic Treaty Organisation (NATO) and lately in  Colombia with the UN Verification Mission.
My main job is to give training on public order as an expert. With my unit, they deploy us to perform training activities across Spain as well as international settings. We have developed proper public order tactics and procedures based on three golden principles: non-confrontation, conflict de-escalation and dialogue. If the use of force is required, we usually follow stringent protocols on the ground.
With the EUAM Public Order Specialised Team, we already have trained 210 police officers in Ukraine (with three long sessions of 12 days). It is challenging because it requires a high level of coordination in many aspects (e.g. logistics, personnel) and because more than 80% of our activities are practical and performed outside. But it is also gratifying to see how our trainees are eager to learn, understand, and improve.
In terms of public order, I believe things are changing and that we are going in the right direction, especially in Ukraine. During demonstrations, most people have peaceful intentions, and they must be protected at all times. That is why the police always need to be able to differentiate at any time between peaceful groups and violent individuals.
As police officers, we are public servants. But to be a good professional, you need to be well trained, well equipped and (of course!) well paid. We also are normal citizens who need to face extreme situations sometimes. When I do not train people, I also serve as an operative back in Spain, and I took part in multiple protest events myself, some peaceful and some quite violent.
In 2012, I covered the Asturian miners' strike, an industrial dispute that involved thousands of protesters. We were few units from the Guardia Civil to open a roadblock on the highway. But the job was tough; we were facing daily attacks organised by some violent individuals. Our job was to re-establish order with the minimum force, and it was a challenging time, physically and mentally.
This episode reminded me of the importance of police values. It is more than a uniform; it is more than a job: it is a mission. No matter your religion, skin colour, or language, we are here to serve and protect you. Police are needed 24/7. And we remain the police even during the time off. Even when we are not wearing the uniform, we always need to be exemplary. Patrolling in the street, present in the field every time needed, the police are the mirror of society. We are the "thin blue line"."
*Share your own story by writing to stories@euam-ukraine.eu (500 words maximum).