#AgentsofChange – Carla Costa, EUAM Senior Adviser on General Policing
December 17, 2021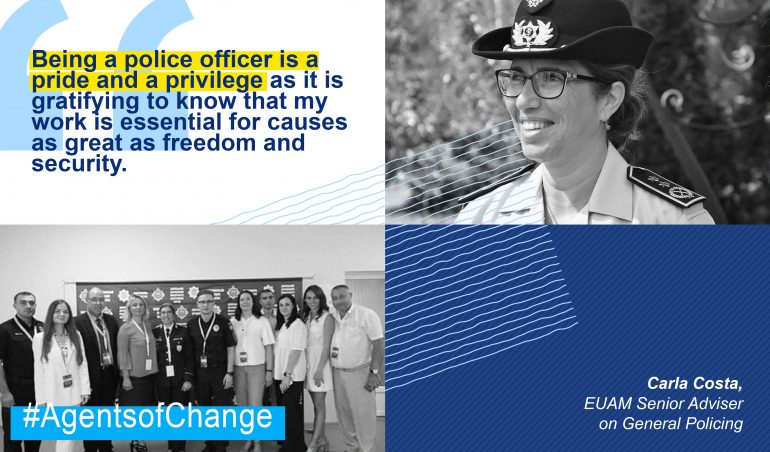 "I am a Senior Police Officer from Portugal, and my country seconded me to work in the EU Advisory Mission (EUAM) as Senior Advisor on General Policing since June 2021. I joined the Polícia de Segurança Pública (PSP; Public Security Police) in 1994 and graduated from the Instituto Superior de Ciências Policiais e Segurança Interna (Higher Institute of Police Sciences and Homeland Security) in 1999.
From an early age, I have decided to join the Police because I realised that the police mission is essential to ensuring the safety and rights of citizens, and I wanted to play an active role in society. Being a police officer is a pride and a privilege as it is gratifying to know that my work is essential for causes as great as freedom and security. I have always been a person who likes challenges, seizing opportunities and always trying to be better and help others.
Being part of EUAM and working at the Field Office in Mariupol makes me very happy and fulfilled. It represents a personal challenge and an opportunity to share experiences and support the development of Ukraine's civilian security sector. Before that, I also had international technical police cooperation experience with the Republic of Mozambique and the National Police of Cape Verde. Recently I performed as an International Observer in a hostile security scenario in Yemen with the UN Mission to support the Hudaydah Agreement (UNMHA).
As a Police Officer in Portugal, I performed my duties mainly in crime prevention, domestic violence and community policing. In the Portuguese city of Évora, I led a team that aimed to improve the safety and security of the population. The police built an environment of trust and close cooperation with the community, the city public authorities, NGOs and other relevant stakeholders. To achieve and maintain a safer and more protected society, the involvement between the police and the community is always essential.
On domestic violence prevention and combat, I worked on developing a national plan to involve all the different sectors sustainably, from the public authorities (e.g. justice, internal administration, education, health) to national and non-governmental organisations. This multisector approach created new intervention methodologies and defined new cooperation procedures in a network environment by creating a support structure for victims, reinforcing information campaigns and training of professionals, among other measures.
The values I highlight the most are discipline, dedication, courage, responsibility, and honesty. It is in teamwork that I find my motivation. Together with the EUAM team and in partnership with our counterparts, it is through dialogue and respect that I aspire to contribute to developing projects in the security sector in Ukraine. For the safety and rights of Ukrainian citizens."
*Share your own story by writing to stories@euam-ukraine.eu (500 words maximum).