#AgentsofChange – Andrii Kruhliak, Senior Sergeant in the National Guard of Ukraine
January 21, 2022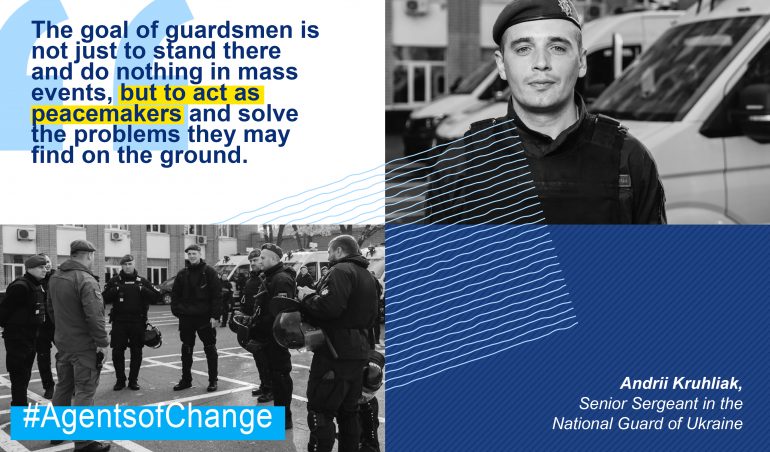 "My name is Andrii Kruhliak, and I work as a Senior Sergeant in the National Guard of Ukraine (NGU). I chose to become a guardsman in 2015 after the country called me for my military service. I started working in Kyiv and, back then, there were mass gatherings almost every day. I was taking part in public order management, and it was a baptism by fire for me. For instance, I was there when a grenade exploded outside the Parliament on 31 August 2015 and killed one guardsman.
In 2017, I moved to Dnipro, still working with NGU. Recently, I participated in a series of training organised in the Dnipropetrovsk State University of Internal Affairs (DSUIA) by the EU Advisory Mission (EUAM Ukraine). Along with many police officers from the special forces, we guardsmen participated in this basic training to learn about new public order and security tactics during protests and mass events.
They call this new concept "Scandinavian", and it is very innovative and different. In the old system, guardsmen were only used as barriers to block streets or other accesses, and we just had to stand and wait. And there were no orders on the ground, and we were only serving as a thin blue line to contain the events. With this new public order concept, the guardsmen are expected to contribute much more on the ground. And cooperate more with the police.
In general, we expect the National Guard to cooperate very tightly with the National Police of Ukraine (NPU), especially when we are patrolling. We often patrol jointly with police officers. On this level, our cooperation is excellent. But NGU and NPU work and operate according to different articles and legislations, and Guardsmen do not work with the same public order concept. In general, our actions are more restricted. For example, we cannot arrest people during mass gatherings, as the police do, only to detain them.
But I think NGU and NPU are destined to work more closely in the future in managing public order, and this type of Scandinavian training shows the way. Indeed, police and guardsmen do not use the same tactics. But I see in this training that we are getting there. Before, we only had a few training sessions between NGU and NPU. But right now, there are common tactics established between the two for the benefit of society.
In this training, we learnt how to de-escalate the violence and minimise the provocations some counter-protestors may create. We need to separate regular protesters from possible violent counter-protesters. And maintain the peaceful protest open and non-violent. We should also try to use less and less our shields to decrease the feeling of aggression from the crowd.
I think involving the National Guards really is beneficial to manage public order better. From my experience, the civilians also feel more peaceful with guardsmen. Maybe it is the military dimension. But I think we are more trusted and respected. For me, it makes complete sense that the goal of guardsmen is not just to stand there and do nothing in mass events, but to act as peacemakers and solve the problems they may find on the ground."
*The views expressed in #AgentsofChange do not necessarily reflect the position of EUAM. Share your own story by writing to stories@euam-ukraine.eu (500 words maximum).