New performance evaluation system for Ukrainian prosecutors takes step forward with trip to Latvia
May 03, 2017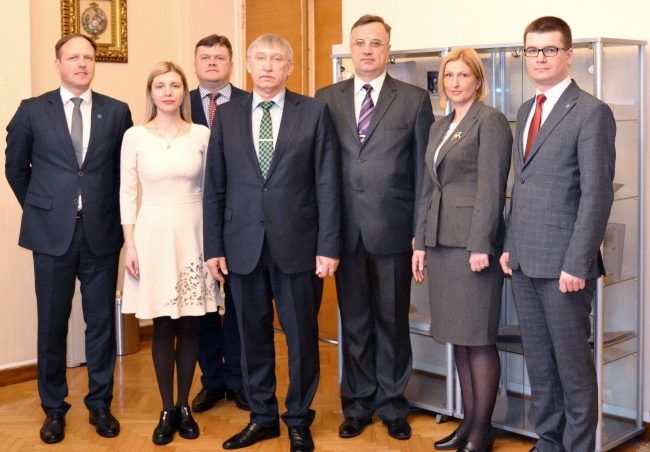 Ukrainian delegation and Latvia Prosecutor General Ēriks Kalnmeiers
The European Union Advisory Mission Ukraine (EUAM) organised a study visit to Latvia last week for a delegation of senior Ukrainian prosecutors and representatives of the National Academy of the Public Prosecutor's Office of Ukraine.

EUAM has been providing advice to the Ukrainian prosecution system to develop a new framework to evaluate the performance of prosecutors and the aim of the trip was familiarise participants with the system used in Latvia. 
 "The current prosecutorial performance evaluation system in Latvia has been in place for the last 4 years and the performance of all Latvian prosecutors is assessed on regular basis. EUAM advocates for the launch of a similar performance evaluation system in Ukraine as it will enhance the transparency, integrity and professionalism of prosecutors," said EUAM Senior Adviser on Prosecution, Gatis Doniks.
 As well as presentations on performance evaluation, the visitors also had a chance to familiarise themselves with the main professional requirements to become a prosecutor in Latvia, the education system for prosecutors, the country's electronic document and criminal case management systems, as well as the framework for conducting internal audits. Finding ways to encourage cooperation between prosecutors, the police and courts was also on the agenda.
 The Ukrainian delegation was composed of Anzhela Stryzhevska, Deputy Prosecutor General of Ukraine; Yurii Servuk, Vice Rector of the National Academy of the Public Prosecutor's Office of Ukraine; Yevhen Pikalov, Head of the Department of International Legal Cooperation, PGO of Ukraine; Ievgen Chernikov, Head of the Reforms Division, PGO of Ukraine; Yurii Danylchenko, Chief Prosecutor of the Kharkiv region and Oleg Zhuchenko, Chief Prosecutor of the Odesa region.