Eurovision fans add colour to celebration of European unity in heart of Kyiv
May 14, 2016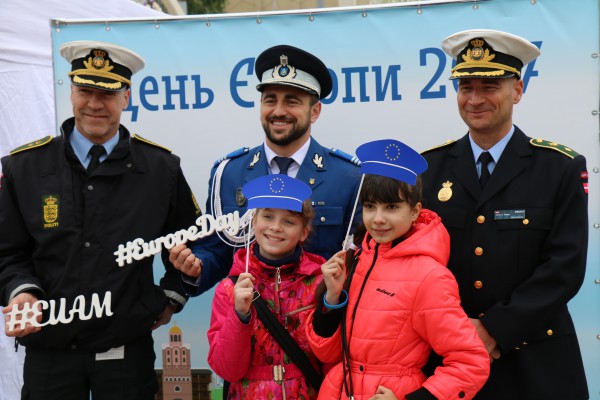 Thousands of Kyivites, visitors and even some bleary-eyed Eurovision fans gathered today in St Sophia's Square in the heart of Kyiv to celebrate European unity alongside representatives of the EU in Ukraine and Ukrainian officials.
To the sounds of songs chosen from each of the EU's 28 Member States, adults and children were able to enjoy activities put on by over 10 EU embassies and national cultural institutes as well as the EU Delegation to Ukraine and meet EU police officers from the EU Advisory Mission Ukraine (EUAM). The Italian Embassy even brought authentic Italian ice cream.
 EU Ambassador Hugues Mingarelli at the opening of Europe Day festivities in St Sophias square said "We celebrate Europe Day in Kyiv and across Ukraine a symbol of our common history, our shared values and our strong commitment to ever closer association. After all, we are Stronger Together! Several weeks from now, our people-to-people and business links will get a fresh boost. All Ukrainians who are the holders of biometric passports will be able to travel to 30 European countries visa-free. It is a well-deserved achievement and speaks volumes about the pace of reforms in Ukraine."
"In terms of celebrating Ukraine's European links, the past few days have been extraordinary," said EU Head of Mission Kęstutis Lančinskas. "Kyiv has welcomed thousands of guests for Eurovision and now we are standing in one of the most historically significant parts of Europe, St Sophia's Square, enjoying our common heritage. I believe that the process of European integration is a powerful incentive for reform and the adoption of best practices and I am proud that the EU Advisory Mission is supporting Ukraine transform its civilian security structures to make them more responsive to the needs of Ukraine's citizens".
 The Europe Day event was organised by the EU Delegation to Ukraine, EUAM, the Ministry of Foreign Affairs of Ukraine and the City of Kyiv. The event was opened at 12:00 with speeches by Vice Prime Minister on European and Euroatlantic integration Ivanna Klympush-Tsintsadze, Kyiv Mayor Vitaliy Klitchko, and the Head of EU Delegation to Ukraine Hugues Mingarelli.