EUAM carries out conference to foster dialogue between state bodies and civil society
May 17, 2018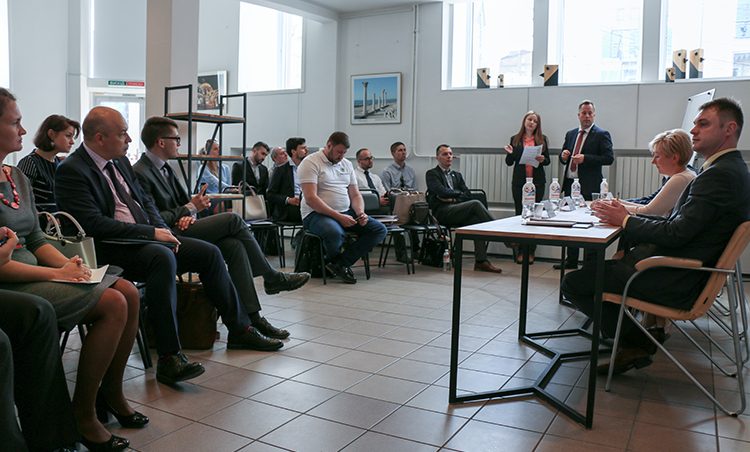 The EU Advisory Mission Ukraine (EUAM) gathered together representatives of Ukrainian governmental institutions and NGOs for a conference titled 'Accountability for Human Rights Violations – the Roles of Civil Society and State Bodies of Ukraine' in Kyiv on 16 May.
After welcoming speech by the Head of EUAM Kęstutis Lančinskas and brief introductions by the first panel speakers, who represented Ministry of Justice (MoJ), Ministry of Internal Affairs (MoIA) and Ombudsperson's Office of Ukraine, the conference participants discussed accountability mechanisms and their interaction with civil society.
"While it is our primary goal to bring changes," said Vladyslav Vlasiuk, Director General of the Ministry of Justice Directorate on Human Rights, Access to Justice and Legal Education, "we should not seek to solve all the issues by introducing new laws. We should try and find other tools."
Talking about civil society and accountability during the second panel discussions, Valeriia Lutkovska, former Ombudsperson and Programme Director of the Ukrainian Institute for Human Rights, remarked that civil society should initiate open dialogue with the management of law-enforcement agencies. "To voice such readiness alone is not enough, however, as civil society must be prepared to share responsibility for what is taking place in the country," said Ms Lutkovska.
EUAM has been actively supporting the establishment and work of human rights offices of the Ministry of Internal Affairs, the National Police and Ministry of Justice and is preparing to support the Ombudsperson's Office of Ukraine. In addition, the Mission has been providing a dialogue platform between governmental institutions and civil society allowing genuine exchange of opinions and deeper cooperation.