#HeroesOfUkraine: the Border Guard officer who now returned to the front line despite previous injuries
April 15, 2022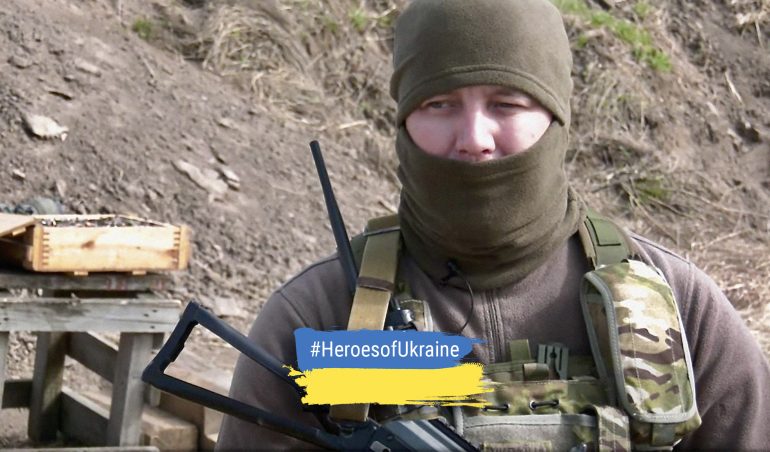 The EU Advisory Mission (EUAM) pays homage to the brave Ukrainian men and women who show remarkable resilience in defending their country from an unjustified invasion. The Mission      shares their stories, originally published on Ukrainian channels, giving voice to the #HeroesofUkraine.
For fifteen years, Oleksandr served in the State Border Guard Service (SBGS), a key law enforcement agency counterpart for EUAM. In 2014, he was seriously injured while defending the Ukrainian border from Russian forces in Donbas. His femurs were shattered when he and his colleagues tried to stop the enemy from blowing up a bridge in the Donetsk region. Despite being wounded, he continued to lead his team and made sure all his subordinates got into the armoured vehicle and headed to safety.
It was a long path for Oleksandr to recover. And he will never go back to normal life due to his wounds and disabilities. Nevertheless, he decided to rejoin his colleagues  shortly after the Russian army invaded Ukraine in February 2022. He got back to the front line on the fourth day of the Russian aggression. Oleksandr believes that he obtained valuable experience in the Donbas back in 2014, which comes useful now.  He continues his service despite serious problems with his health.
Among his colleagues, Oleksandr is known as a professional and caring team leader. He is content to be back with his fellow Border Guard officers defending his country. Now, Oleksandr dreams of the day when the enemy has withdrawn from Ukraine, and he will be reunited with his family, who are counting the days for him to come back home – when Ukrainian victory has been achieved.    
Source: The State Border Guard Service