EUAM trains and donates equipment to forensic experts in Donetsk region
February 25, 2020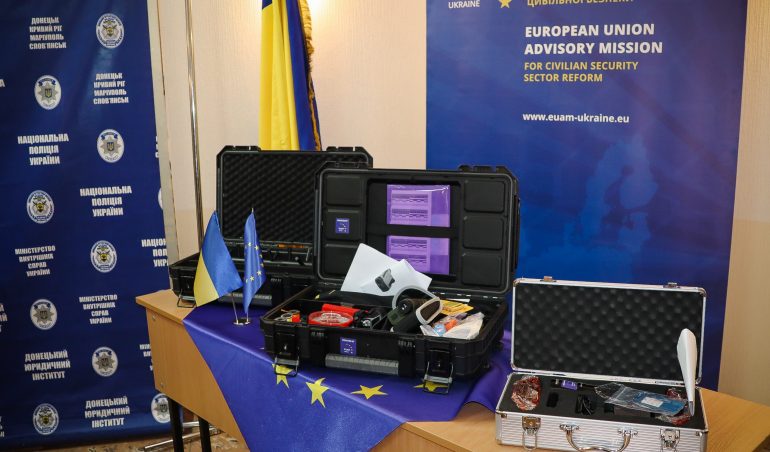 Forensic inspectors at the National Police in Donetsk region were the recipients of forensic equipment from the EU Advisory Mission (EUAM) in Mariupol last Friday, following a four-day forensic training, the aim of which was to increase the effectiveness and efficiency of police's criminal-investigation capacities.
During the practical training session, participants were acquainted with new approaches to crime-scene inspection, as well as techniques for conducting photography with the use of alternative light sources.  The latter allows officers to detect and store invisible traces of biological origin and DNA samples. The participants also practised the retrieving and transporting of evidence.
At the end of the course, EUAM handed over the forensic equipment: comprising of a ballistic kit, a light source kit and a magnetic rake that helps to detect metallic evidence.
"The key to effective investigation is the quick and thorough inspection of a crime scene by a responsible police officer who arrives first to the spot. We will continue to assist the National Police in Donetsk region to enhance criminal investigations capacities there," said the Head of EUAM's Operations Department, Mr Udo Moeller.
"The cooperation with the EU Advisory Mission provides the police support in carrying out its work more effectively, and improving criminal investigations," concluded the Head of the National Police in Donetsk region, Mykola Semenyshyn.