EUAM Head calls on law-enforcement staff to 'step up' in promotion of equality
December 03, 2019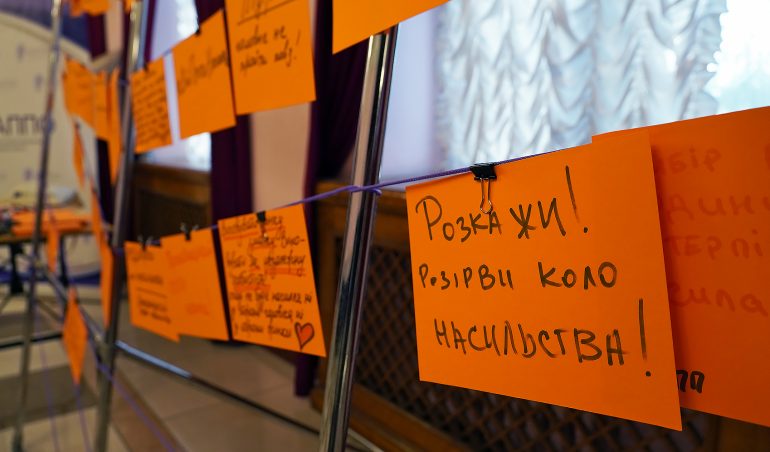 Today, a delegation of the EU Advisory Mission Ukraine (EUAM) participated at the second annual conference entitled 'Leadership: striving for Balance. Inspiration. Empowerment. Integrity', as part of 16 days of activism against gender-based violence. The conference, attended by over 300 participants, was organised by the Ukrainian Association of Women in Law Enforcement (UAWLE) in partnership with EUAM, Canada-Ukraine Police Development Project (CUPDP), UNOPS, and ICITAP.
Established in early 2018, today UAWLE includes around 250 members coming from the National Police, Patrol Police, Border Guard Service, National Guard and Emergency Service of Ukraine, as well as MoIA university students.
"Leadership is critical in advocating gender equality," remarked Antti Hartikainen, EUAM Head of Mission, during the 'Striving for Equality: The Role of Men' panel. Mr Hartikainen called on participants to become gender responsive leaders and not to be afraid to step up and team up in promoting equality in law-enforcement institutions.
Speaking about gender stereotypes, the panellists agreed that it is still an issue in Ukraine. It takes time to fight these stereotypes and the way to do this, they said, was through leading by example. That is why male leaders should act courageously to not just promote gender equality, but also advocate for equal opportunities for both men and women.
UAWLE, whose slogan is 'Individually strong, powerful together', promotes equal opportunities for men and women in law-enforcement. EUAM is a strong supporter of such endeavours, and remains committed to supporting gender equality as part of overall civilian security sector reform.