EUAM expands its activities to the Donetsk region with a fourth Field Office in Mariupol
September 25, 2020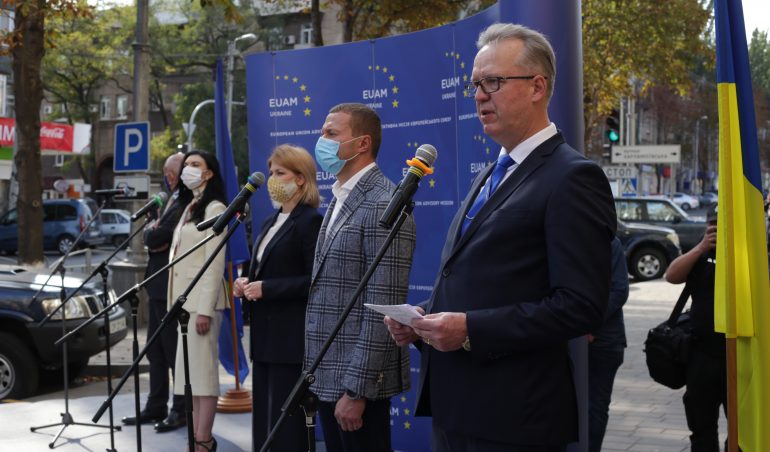 Today, the European Union Advisory Mission for Civilian Security Sector Reform (EUAM Ukraine) inaugurated its new Field Office in Mariupol. The inauguration marks the formation of the fourth EUAM regional presence in Ukraine since the Mission was established in December 2014. EUAM's other three Field Offices, in addition to its headquarters in Kyiv, were created in Kharkiv and Lviv in 2016 and in Odesa in 2018.
The new Field Office in Mariupol is an integral part of the EU's continued commitment to supporting Ukraine on its path toward reform. The Field Office will support regional Ukrainian authorities in the Donetsk region to achieve reform of the Civilian Security Sector. The support will be provided through strategic advice, training, mentoring, and equipment donations. EUAM works closely with the Ukrainian ministries of Internal Affairs and Justice, and institutions such as the National Police, Prosecution, Security Service, State Border Guard Service, and Customs Service, as well as the judiciary. Sharing European best practices with EUAM's Ukrainian partners represents the core of the Mission's work.
"Building an effective law enforcement system that enjoys public trust takes commitment, time, resilience, and resources", said Antti Hartikainen, EUAM Head of Mission. "The decision of the EU Member States to expand our outreach to the south-eastern part of Ukraine was driven by the determination of the EU to show its support and to assist strengthening resilience across Ukraine's regions. Ukraine can now further its law enforcement system here, which our Mission is equally committed to assisting, topping the resources and contributing to resilience with strategic advice".
The EUAM Field Office in Mariupol is composed of more than 20 experts representing 10 countries (Belgium, Bulgaria, Croatia, Czech Republic, Estonia, Finland, Germany, the Netherlands, Romania, and Ukraine). Experts from the European Union will assist local counterparts in building their capacities through strategic advice including supporting the development of strategies, targeted training, and delivery of equipment.
The inauguration of the new EUAM Field Office took place in presence of the Deputy Prime Minister for European and Euro-Atlantic Integration of Ukraine, Olha Stefanishyna, the Deputy Minister of Internal Affairs, Tetiana Kovalchuk, and other key local dignitaries, representatives of international organisations and embassies. 
The official ceremony was followed by an open-day event in the Theatre Square in Mariupol organized by EUAM in conjunction with its local law enforcement partners. The activities entertained the many guests and visitors and provided an opportunity to describe the Mission's cooperation with the Ukrainian authorities to achieve sustainable law enforcement and rule of law reforms. Local COVID-19 preventive measures were adhered to.
Earlier the same day, EUAM donated equipment to the Police Training Center in the Donetsk region. The donation, which included classroom furniture, visual presentation equipment, and first aid training equipment, will enhance the professional level of training conditions for the police, bringing them closer to EU standards.