EU deepens support to Ukraine's regions through new EUAM field office in Mariupol
October 09, 2020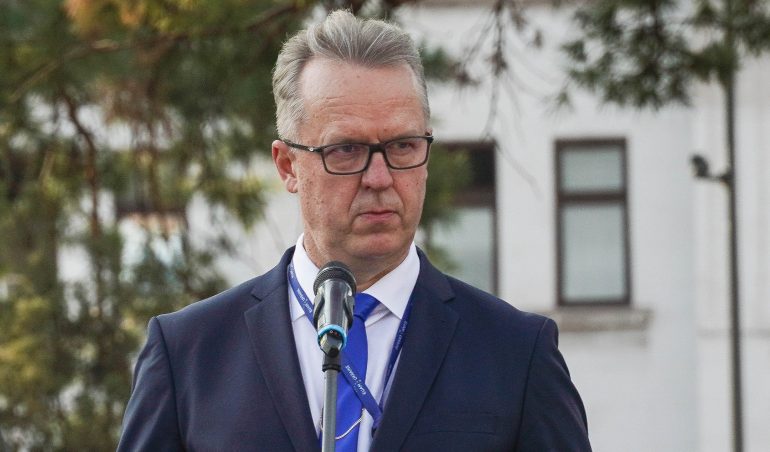 With the international media spotlight on Ukraine and its relations with the European Union this week, it was very much time to draw breath, step back, and take stock of EU-Ukraine affairs at the summit in Brussels.
The EU has not wasted any time in stepping in to provide emergency support to Ukrainian government agencies and health workers caught up in tackling COVID-19, an initiative that the European Union Advisory Mission (EUAM) has also contributed to over recent months. More broadly, the overarching issues that frame the relationship – the Association Agreement and support for further reform measures – will continue to be the main focus for the European Union in the short and medium term, and for EUAM that means continuing to push for reform of the Civilian Security Sector.
EUAM has gradually expanded both its range of activities and geographical reach since commencing work in Ukraine in 2014. Over 300 international and Ukrainian professionals staff our headquarters in Kyiv and four field offices nationwide. Just two weeks ago, the mission opened our fourth field office in Mariupol, an event alluded to the joint EU-UA statement that was issued following the summit last Tuesday.
With the COVID-19 pandemic providing a worrisome background throughout 2020, this was a huge demonstration that not only has the crisis failed to drive us backwards, but we have in fact increased our commitment towards our Ukrainian partners and the reform process. The Mariupol Field Office opening is of huge significance for EUAM itself, but also for the entire EU family in Ukraine, and for the government institutions that we support locally and nationally.  
Mariupol is Donetsk oblast's second city – its proximity to the eastern conflict zone, and its port-city status, mean that both symbolically and in practical terms the EUAM presence there carries immense weight. There is hardly a more important place in Ukraine to be able to fly the EU flag, and the opening of a EUAM field office there is an explicit expression of EU resilience that we are deeply proud of.
The decision by EUAM to carry out a public Open Day on Theatre Square in conjunction with our official inauguration ceremony on 25 September, and on the same weekend as the Mariupol City Festival, was deliberate on our part. Doing this in spite of COVID-19 – while obviously ensuring that health and safety protocols were fulfilled – was our own little statement of resilience, and it was gratifying to be able to connect directly with members of the public.
We realise that ultimately it is Ukraine's citizens who we serve, and that success will be measured in terms of citizenry sentiment and levels of trust towards the institutions EUAM supports: such as the National Police, Prosecution Service, State Border Guard and Customs services, Security Service, the judiciary and the ministries of internal affairs and justice.
We were extremely honoured to welcome Ukraine's Vice Prime Minister Stefanishyna and Deputy Minister Kovalchuk to Mariupol for the opening events, where they joined the Donetsk oblast Governor, Mayor of Mariupol, and the Ambassador of the European Union to Ukraine, Matti Maasikas. The fact that so many embassies of EU member states also sent their ambassadors to Mariupol for the occasion showed just how big a deal this is for all of the EU. When it comes to support for Ukraine, and particularly its eastern regions, we are united and steadfast in our outlook.
EUAM had already been active in Mariupol and the surrounding region before the opening of our field office, but on a sporadic basis. Now, we have made our presence there permanent, with a staff complement of more than 20 experts from nine different EU member states, as well as from Ukraine. They will be provided strategic advice and support to state institutions on areas such as community policing, public order, criminal investigation, and prosecution. Of huge importance to EUAM is forging ties between these government bodies and civil society, so that the community has a real say in how local civilian security bodies operate and ensure security for citizens.  
Our experts in Mariupol have hit the ground running, and already taken steps to create a Community Safety Strategy for the region. The Community Safety Strategy is a model based on cooperation between state and civil structures that EUAM has previously piloted in other parts of Ukraine – we hope this will offer a template for success in Mariupol too.
You might think that all of our ambitions for Mariupol – and for Ukraine – are complicated by the troubled situation in Donbas, and by the COVID-19 pandemic, and there is some merit in that argument. But the Maidan revolution and subsequent turmoil in eastern Ukraine are what triggered the invitation for EUAM to set up in the country in the first place. These crises are a signal to step up, not to step back. Ukrainian people have proven themselves to have remarkable reserves of endurance. EUAM takes inspiration from that, and we fully realise we need to replicate such endurance as we continue on the path to reform in Mariupol and other regions of Ukraine.
Antti Hartikainen
Head of the European Union Advisory Mission
This opinion piece was originally published in Ukrainska Pravda on 08 October, 2020