EU COVID-19 support: the latest batch of personal protective equipment to aid regional bodies
July 29, 2020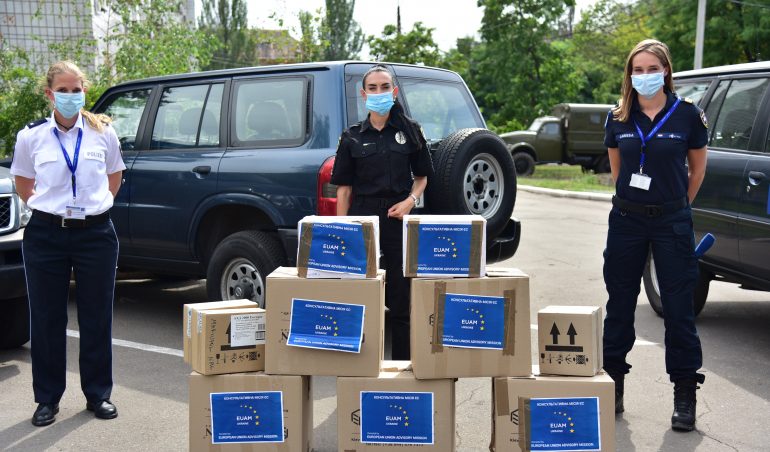 The European Union, through the European Union Advisory Mission (EUAM), this week reached out to its partners in Ukraine's regions with equipment donations designed to assist them to deal with the ongoing COVID-19 pandemic.
EUAM partner agencies in Kyiv, Kharkiv, Lviv, Odesa and Mariupol will receive personal protective equipment to lower and mitigate the risks they face in the line of duty. In order to ensure safety and protective measures are observed, EUAM is handing over gloves, FFP3/FFP2 respirators, thermometers, and disinfectant-sanitizers to counterparts including the National Police,  the Court Security Service, the State Customs Service, the State Security Service,  and the Prosecutor's Office.
"The COVID-19 emergency cannot be solved by going it alone. This fight has created unprecedented tasks and requires immediate response. Only by pulling our efforts together can we beat the virus and limit its consequences," said EUAM's Head of Mission, Antti Hartikainen. "Police officers and other law enforcers risk their lives for the safety of citizens. This donation is a small act of solidarity with our Ukrainian partners. It is important to protect each other if we want to protect ourselves."
The donation is the latest part of a EUAM assistance package worth approximately €120,000 – it follows the delivery of equipment to central-level partners in early May.
More broadly, the EU has already announced a €190 million support package for Ukraine. This is part of the EU and its Member States' global #TeamEurope COVID-19 response package. These funds are being spent on supplies of medical equipment, medical staff training and mitigation of the COVID-19 economic impact. On top of the existing support, the EU and its partners will help small and medium-sized enterprises, small farms, civil society and the conflict-affected regions in Ukraine's east and south to beat COVID-19.