Woman Police Officer shares her views on Community Policing and Inclusiveness
January 27, 2021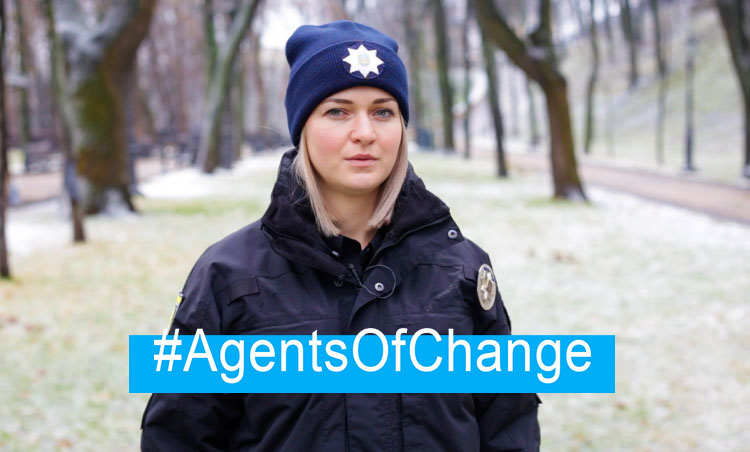 Ukraine's vibrant civil-society sector plays a critical role in advocating for reform in the civilian security sector, and reform more generally. That is why the EU Advisory Mission (EUAM Ukraine) decided to launch the #AgentsofChange series, meeting with inspiring men and women who try to change the rules of the game in the country by carrying out inclusive projects and by taking action in their community. Deputy/Assistant of the Head of the Main Department of the National Police of Ukraine (NPU) in Kyiv, Olha Yuskevich here answers to the questions of Brendan Harkness, EUAM General Policing Adviser.

My name is Brendan Harkness and I work as a General Policing Adviser for the EU Advisory Mission in Ukraine. Today, we will talk about Community Safety, a multi-stakeholder approach for public security and one of EUAM's priorities in the country. For that, I am meeting with Captain Olha Yuskevych from NPU and representative of the Ukrainian Association for Women in Law Enforcement (UAWLE). As an agent of change, she will answer our questions on the active participation of women in the civilian security sector that the Community Safety approach implies.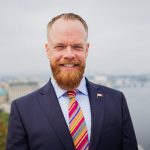 How to explain what the Community Safety approach consists of?
Brendan Harkness: The definition is in the name, it is all about community. This involves many different people and components of society. It is a wonderful model that allows each and every community to make decisions about their safety, that allows everybody to feel safe and secure. It is founded on community policing, on communication and on mutual respect for everybody in the society.
Olha Yuskevich: Briefly, Community Safety is when everyone feels safe, that there is no threat to their life, freedom, family and property. This includes safety in the street and in public places, as well as the possibility of safely getting to school, work and leisure. Every Ukrainian has equal rights. A human being, their life and health, honour and dignity, inviolability and security are deemed the highest social values in Ukraine. We, representatives of the security sector agencies, should ensure that these rights are fulfilled.
What is the role of EUAM in promoting Community Safety?
O.Y.: I would like to thank EUAM for their continuing support. EUAM's role is vital, with so many projects implemented with EUAM support and so much more projects ongoing. Thanks to EUAM, we have the opportunity to learn and incorporate best practices. EUAM experts provide comprehensive support to the law enforcement institutions by providing training, advice and equipment. I represent Kyiv police, so it is easier for me to remember what has been implemented in Kyiv. EUAM has played a significant role in implementing Dialog Policing project that is oriented towards conflict prevention and resolution. The dialogue policing officers are always at the front line during mass events, they communicate with the citizens, providing explanation and [psychological] support. Thanks to this approach, public events, even the largest ones, take place peacefully and without conflicts.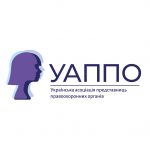 What motivates your commitment to the Ukrainian Association for Women in Law Enforcement?
O.Y.: I was one of the founding members of UAWLE. We wanted to unite our efforts in achieving common goals. UAWLE unites like-minded people, both men and women, who strive for equal rights for men and women in law enforcement. In UAWLE, I found many new friends, I feel support, as well as confidence that one can rely on getting support and that one is not unique in their challenges and needs. The association is primarily a platform for dialogue and exchange of opinions. Serving in the police is not an easy duty, but when you have those who share your views around you, it helps you to move forward and reach new professional and career heights.
What is your feeling about the participation of women in the security sector in Ukraine?
O.Y.: I pay more attention to the staff's professionalism and efficiency, regardless of whether they are men or women. What I need to do to be like that and help others realize themselves. There are criteria, standards, requirements and duty. If these are not empty words for you, then it does not matter whether one is a man or a woman. Society demands quite a lot from the law enforcement officers, but still, I have never encountered anyone who makes one's choice based on sex and not competencies.
"No one can deny or replace police's role in the society. Woman or man, if you are a police officer, people need you." (Olha Yuskevich, Assistant of the Head of the Main Department of the National Police of Ukraine in Kyi)
The main challenge for us is to conquer our fears, doubts and stereotypes. These doubts level the benefit that one could bring, destroy dreams. It is important to learn to overcome this. It is so important to believe in oneself and one's calling. So, if you want to serve in the police, stop doubting yourselves and move towards your goals. Yes, it can be difficult and this job is not just about being a hero, it is about human pain and grief. It is difficult to work with grief. And that is only one side of serving in the police. There are many positive things that really motivate. The most important for me is that people need assistance and protection. And no one can deny or replace the police's role in society. Woman or man, if you are a police officer, people need you.
Did you ever feel you had an added value as a woman officer?
O.Y.: Does it help that I am a woman? I do not measure my professionalism by gender. I believe that what defines me is what kind of person I am, my character, experience and people around me. Considering my work through the gender and stereotype lenses that are imposed on women, I recall one incident that took place during one of my first shifts on duty back in 2015. I and my partner Alexandre were on duty in one of the districts in Kyiv. We received a call about a man, a former military I guess, with a grenade. Having arrived at the scene, we called all relevant units, secured the perimeter and started a negotiation with the man. There are such things as "dialogue officer" and "cover officer" in the police. I was a dialogue officer. In the end, I think the man agreed to talk to us because I was a woman. But I know many male police officers who are excellent negotiators, as well as female officers who can cover your back as equally good as any men. All of these things are very subjective.
What is your message to Ukrainian citizens who want to make things change?
O.Y.: Believe in yourselves, trust yourselves, your partners and in our beautiful country. If you want to change something – start with changing yourselves. Everyone is welcome at the police, in our friendly team. You are also welcome to join UAWLE, where you will find fun, intense life and an awesome team of like-minded people who will support you, on your way to your dreams.
*The views expressed here are the interviewee's alone and do not necessarily reflect the position of EUAM.