PRAVO and EUAM conclude series of seminars explaining role of new prosecutorial body
November 09, 2018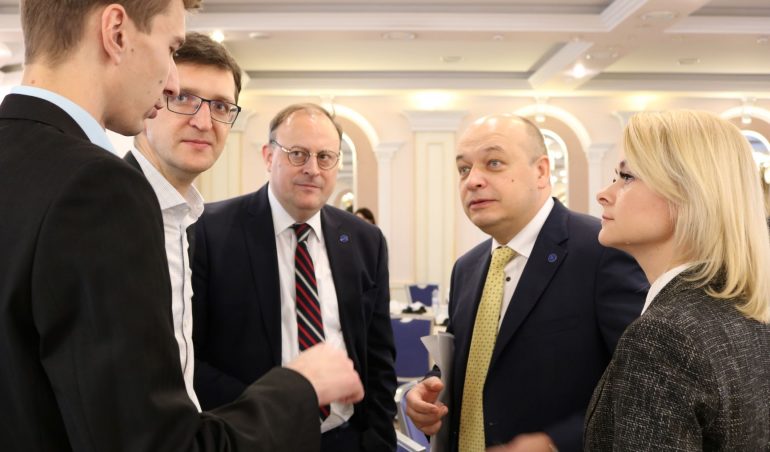 The EU Advisory Mission and the EU-funded project 'Support for Rule of Law Reforms in Ukraine – in the Areas of Police and Public Prosecution and Good Governance' (PRAVO-II) today carried out a closing seminar in Kyiv – the final in a series of four seminars across Ukraine – on career management and disciplinary processes in Ukraine's prosecutorial system.
The seminars were created to raise prosecutorial awareness of the work of the Qualification and Disciplinary Commission of Prosecutors (QDCP), an independent authority established in May 2017 that is responsible for selection of candidate prosecutors and conducting of disciplinary proceedings against prosecutors.
Seminars in Odesa, Lviv and Kharkiv preceded today's event. The QDCP is a key part of Ukraine's prosecutorial reform but its role up until now has not been well understood, even for senior prosecutors. The seminars have allowed prosecutors to discuss issues they are facing in the ongoing reform process, and address these concerns face to face with QDCP members. The direct exchanges between the QDCP and prosecutors that stemmed from the seminars are also expected to result in a number of proposed changes to the Law on Prosecutor's Office.
Among the progress it has made since May 2017, the QDCP has enforced a new legal procedure that has allowed 309 successful external candidates to join local prosecution offices, promoted prosecutors to higher offices based on fair competition, and opened up disciplinary complaints against prosecutors to the public.
PRAVO-II is implemented by the United Nations Office for Project Services (UNOPS) and supported by EUAM, both of whom will continue to support the QDCP in its bid to develop institutional capacities, and increase the effectiveness and transparency of the Prosecution Service.