#OrangetheWorld: EUAM turns orange to support #16Days of Activism against Gender-Based Violence
December 02, 2020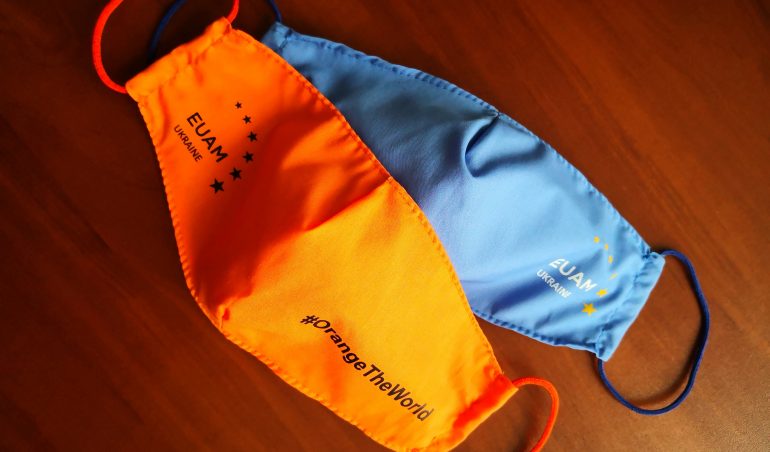 This year again, in support of the global campaign '16 Days of Activism Against Gender-Based Violence' that takes place from 25 November, the International Day for the Elimination of Violence against Women, until 10 December, Human Rights Day, the EU Advisory Mission (EUAM) Ukraine has decided to turn orange. Working in the Mission premises or from their 'home offices', EUAM staff decided to adopt the orange facemasks and ribbons or to dress in orange to join the #OrangetheWorld movement and show solidarity with victims of gender-based violence.
On 25 November, the Mission released a statement reaffirming, jointly with the EU Delegation to Ukraine and the Council of Europe in Ukraine, its commitment to defending the rights of women and girls. The same day, the Mission delivered a webinar on domestic violence to the cadets of the Ministry of Internal Affairs (MoIA) Academy, redefining the legal framework in Ukraine and abroad, and sharing EU standards and practices.
On 8 December, in cooperation with MoIA, EUAM will carry out a '360 forum' on domestic violence, broadcasted live in a Facebook event, where two EU experts will deliver presentations on preventing and combating gender-based violence. Each of the mission's four field offices will also host an online discussion, #GBVtalks, between the police, local authorities and civil society to exchange on the local solutions to this global issue.
'Combatting and Preventing Domestic Violence' was also the topic of an International Forum held this week in Dnipro. The event gathered over 300 participants along with top-level experts in the field from Ukrainian and international institutions, including EUAM, academia and law enforcement agencies. The Forum, opened by the Vice Prime Minister for European and Euro-Atlantic Integration of Ukraine, Olha Stefanishyna, was part of the global campaign of '16 Days of Activism against Gender-Based Violence'. It was aimed at the development of practical recommendations and unified approaches in prevention and combating domestic violence for enhancing responding mechanisms towards this phenomenon and providing complex assistance to victims in compliance with international and national standards.