Still early days for public-order reform but Odesa events signal progress
June 18, 2018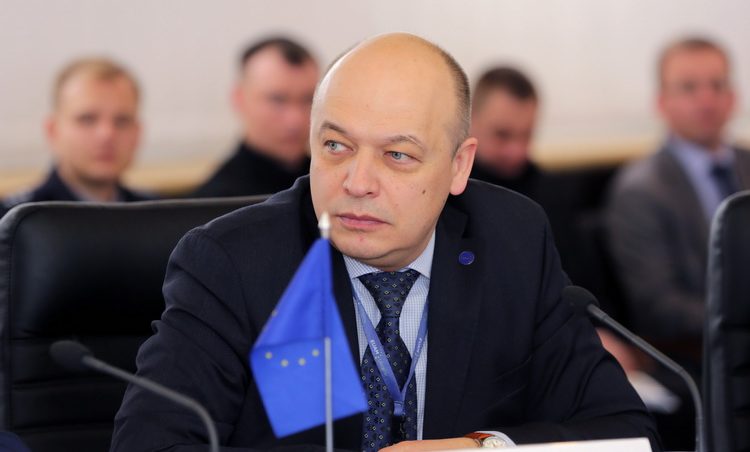 Whether we want to express our dissatisfaction with a particular government policy or simply enjoy a football match such as the Champions League Final in a crowd, the right to free assembly is fundamental to a democracy. With the 'March of Equality' taking place in Kyiv on Sunday, when thousands are expected to gather to celebrate equality and diversity and advocate for the rights of Ukraine's LGBT community, it is worth remembering how important it is for mass events to take place peacefully, without the fear of violence or disorder. 
The European Union Advisory Mission (EUAM) has been working closely with the NPU and other partners over recent months in trying to bring EU public-order practices to bear on real mass events in Ukraine, particularly in Odesa. What we have witnessed is a noticeable improvement in the approach to planning and management of mass events – a measure of progress some people thought was impossible. It is easy to forget that Maidan was only four years ago.
Those tragic events were in part a result of systemic failures in the law-enforcement and rule of law sectors and the subsequent collapse of public confidence in these sectors. That is why upon its establishment in 2014, EUAM made public order – facilitating the right to assemble peacefully at mass events in accordance with international human-rights standards – one of its priorities.
Odesa was another flashpoint four years ago, with dozens of people dying in the trade-union fire. Earlier this year EUAM opened a regional presence in Odesa, so we decided the timing was right to support our partners' preparation for mass events there on 10 April, 2 May and 9 May. While local authorities were in charge of operations, EUAM provided continuous advice in the run-up to the events. Our public-order and strategic communications experts were also on hand to give advice at mobile command centres during the events themselves.
We have been advocating for a European approach to public order, based on facilitation, de-escalation and a graduated approach. Facilitation is ensuring that the police and public authorities have a culture where their role is seen as protecting the legitimate rights of the public to assemble freely. A graduated approach means that the as a first step, the police should project a calm and peaceful atmosphere by not wearing helmets or shields. If force is required, it should be as a last resort, when all other measures have been tried.
One issue that does concern me a little – and our public-order experts noticed this in Kyiv during the Champions League weekend – is the sheer number of officers often deployed by police. There were thousands of police officers, including riot police, on the streets of Kyiv at the end of May. Now obviously the Champions League was a high-profile event, and obviously there have been historic problems with crowd disturbances among football fans, but at the same time the level of visible police presence should be proportional to the level of threat.
This is why a graduated approach is needed. Excessive police presence can actually cause tensions to increase rather than subside. An effective risk analysis system, which allows police to interpret intelligence and other data to decide upon the real level of threat in advance, can help to address this issue. Risk analysis is another area where there is lots of room for improvement, and since this sometimes depends on cooperation with law-enforcement agencies outside of Ukraine, EUAM is well positioned to assist in this.
I am also concerned that different units of the police have a different understanding of what approach to public order the police wants to implement. That is why an SOP on public order is necessary. SOPs, or 'Standard Operating Procedures', ensure that there is one approach to public order, and that all units within the police understand this approach. It ensures that all police officers 'sing from the same hymn sheet'. EUAM is relieved that the NPU senior management have committed to the European (or Scandinavian) approach to public order, but this needs to be reaffirmed through an SOP.
I cannot be too negative, however, because as I said we have witnessed excellent progress over a short space of time. If I were to choose two outstanding examples of this progress, the first of those would be the extent of the coordination between local authorities and civil society groups in the lead-up to the trade union commemoration in Odesa on 2 May.
This was unprecedented for Ukraine, and EUAM is proud to have helped organise the dialogue event that brought authorities and activists together on 25 April. I am convinced that this was one of the main reasons the commemoration then passed off peacefully – after all, face-to-face communication, and a willingness to listen to opposing views, is a measure of de-escalation in itself.
I should also commend the Ukrainian police for the manner in which they deployed dialogue police officers during the Odesa events. EUAM has been delivering a dialogue-policing training programme in Ukraine, and it gave us huge satisfaction to see dialogue police officers putting the theory into practice in Odesa. This is another manifestation of the graduated approach, ensuring that minor outbreaks of tension among demonstrators are addressed through communication rather than through force.  
This all points to improved professionalism within the NPU, but we are only at the beginning of public-order reform. Longer term, I dearly hope that best practices such as the dialogue with civil society becomes a permanent part of preparations for mass events in Ukraine. This will serve to deepen trust with law-enforcement authorities and therefore reduce further the risk of violence during demonstrations.
This Sunday, the police and the local authorities in Kyiv will be working with the organisers of the 'March of Equality' to help ensure that the event takes place peacefully and the rights of participants are protected. The EU of course supports the rights of all minorities, including the LGBT community, to be treated equally and not discriminated against in society. And after the March, as before, EUAM will continue to support its Ukrainian counterparts, as they build on their progress to date, and strike that difficult balance between preservation of freedom of expression and maintenance of public order.
This Op-Ed was originally published on Ukraiinska Pravda on 15 June 2018