Protecting the border during Covid-19: EUAM advisor and SBGS Head reflect
June 04, 2020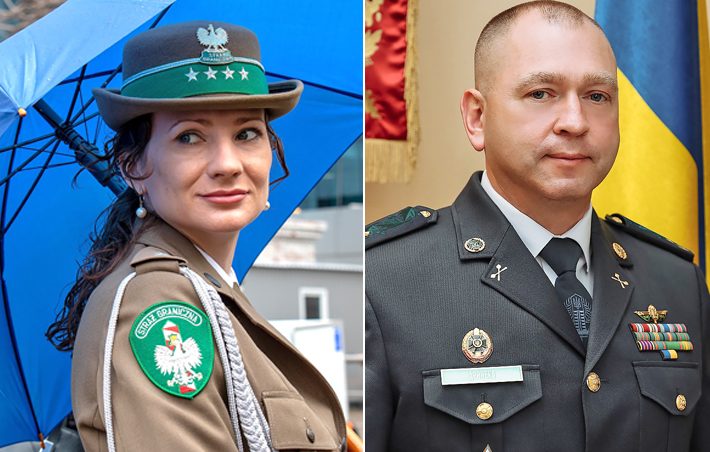 There is nobody untouched by Covid-19 or the restrictions imposed by it. Among those who needed to adapt quickly were the border guard services around Europe. Here we ask Marta Zarecka, Head of the Border and Customs Unit at the EU Advisory Mission Ukraine (EUAM), and Serhiy Deineko, Head of State Border Guard Service of Ukraine, how they have coped over the past few weeks of lockdown.
Could you please introduce yourself and tell us about your professional background?
MZ: My name is Marta Zarecka, I am Head of the Border and Customs Unit at the EU Advisory Mission Ukraine (EUAM). I am a captain at the Border Guard Service of the Republic of Poland where I have been serving for more than 15 years. My first assignment was as passport control officer at the International Airport in Kraków; I then transferred to the Polish Border Guard HQ in Warsaw. My first professional experience in Kyiv was in 2012, when for EURO 2012 football championship, co-organised by Ukraine and Poland, I was deployed to the Ukraine's State Border Guard Service (SBGS) Administration as a liaison officer in the framework of a Frontex joint operation. I moved to Kyiv in late 2013 and therefore witnessed the Revolution of Dignity, and since then have been closely following the reform attempts in Ukraine. In 2016, I defended my PhD thesis which focused on integrated security management at the Poland-Ukraine state border.
SD: My name is Serhiy Deineko, I am Head of the State Border Guard Service of Ukraine. I have devoted almost 30 years to military service and border protection. I was born into a military family and therefore becoming an officer was a childhood dream of mine. After graduation, from 1996 to 2011 I served in various positions from officer to deputy head of the border protection body in Zakarpattia, Lviv region, and a separate checkpoint "Kyiv". I then became head of the Luhansk border detachment and in 2014, our team faced Russian aggression, but the attackers felt the resilience of the border guards during our first combat experience. As Head of the SBGS, I am responsible for the implementation of state policy in the field of state border protection. Our priority is the reliable protection of the border and sovereign rights of Ukraine in its exclusive (maritime) economic zone. But of course our priority is also our people, because they are the ones who directly perform tasks at the state border and ensure its protection on a daily basis.
What are the specific tasks of border guards during Соvid-19?
MZ: The tasks and powers of border guards remain mainly the same as they were before, namely: protection of the state border, fighting cross-border crime, border traffic control, implementation of international agreements. The Polish Border Guard Service performs its responsibility to guard and protect both Polish and EU borders with special attention paid to the protection of safety and public order. Additional tasks introduced in the framework of Covid-19 include the temporary reintroduction of border controls at the Schengen borders, as well as monitoring of compliance of quarantine rules by people crossing the state border.
SD: The tasks of the border guards have remained the same as before Covid-19. For the SBGS that means the protection of the state border, border control of persons, vehicles and cargo at checkpoints, entry/exit control points in the area of ​​the Joint Forces operation, combating cross-border crime, illegal migration, smuggling, drug trafficking and trafficking in human beings. Together with other state bodies we also take measures to counteract the spread of Covid-19 in Ukraine. These include border control at existing checkpoints, temperature screening of persons, communication and operational cooperation with colleagues at the national and international level on the return of our citizens, registration of humanitarian flights, etc.
What has been the biggest challenge in adjusting to the new circumstances?
MZ: Nobody was ready for such a situation. The problem became global and turned out to be a serious world challenge. Nevertheless, I think that we have now adapted to the situation and "teleworking mode" is one of the results of that. Fortunately, we have advanced technologies at our disposal which make it possible to organise virtual conferences, lectures and meetings to stay in touch – which required me to become more advanced in IT skills. With regard to border management a true challenge is to find adequate balance between lawful facilitation of border traffic and protecting the safety and health of both officers and persons crossing state borders. In my opinion, the pandemic will change our way of thinking, working and communicating.
SD: It should be noted that given the scale and consequences of Covid–19, it has become a test not only for Ukrainian society and border guards, but also a serious challenge for the whole world. I believe that the first weeks were the most difficult for us, when with the epidemiological situation it was necessary to make informed decisions, to prevent provocations at the border and to save the lives and health of our people. The SBGS met this challenge and carried out the assigned tasks as instructed.
How is the control going at BCPs? How many BCPs are open currently?
MZ: All the relevant information is public, available form open sources and systematically updated. At present there are three border crossing points on the Polish-Ukrainian border operating: Korczowa-Krakivets, Dorohusk-Jahodyn and Hrebenne-Rava Ruska. Those BCPs are opened for road traffic (one can cross the state border by vehicle). Starting from last weekend an additional option to cross the PL-UA border is available, which is pedestrian crossing at BCP Medyka-Shegini, where one can cross the state border on foot only.
SD: On 16 March, the Government introduced a state of emergency in Ukraine (for 30 days) and introduced restrictions, including at the state border. Restrictive measures were tightened on April 6, and the quarantine was extended until June 22. Today, 56 of the 230 checkpoints and checkpoints across the state border, as well as all checkpoints on the demarcation line and administrative border with the Temporarily Occupied Territory of the Autonomous Republic of Crimea, have been suspended or restricted. Foreigners and stateless persons are temporarily prohibited from entering Ukraine. Temperature screening upon arrival was introduced. Currently, measures are being taken to control the consent to self-isolation using the electronic service "Act at home". Regarding changes in the procedure for crossing the state border, return of Ukrainian citizens and admission of foreigners, we have conducted an unprecedented information campaign together with the Ministry of Foreign Affairs.
How has Соvid-19 affected your partnership with beneficiaries and partners in neighbouring countries?
MZ: What we need to do now is to be better prepared for the future, remain united and develop crisis mitigation schemes ready to be used in possible similar circumstances. Despite the new challenges caused by COVID-19, our beneficiaries proved to be reliable partners that keep performing their tasks and functions in a professional manner. The use of modern IT technologies also facilitated the process of cooperation and made it possible to hold meetings through online platforms. EUAM is now looking into the possibilities to provide SBGS with additional equipment and tools to even better facilitate the process of cooperation and fulfilment of tasks.
SD: Due to the spread of coronavirus in neighbouring countries, quarantine and anti-epidemic measures are also being carried out. Entry of foreigners is prohibited or restricted, and self-isolation is mandatory for all those returning from other countries. In some countries there is a state of emergency (Hungary, Romania, the Republic of Moldova). But this did not affect our cooperation with foreign colleagues. All official issues and situations that have arisen at the state border have been resolved constructively and in an extremely short time.
Will Соvid-19 have long-term consequences for the work of border guards in the EU and in Ukraine? 
MZ: At this particular moment it is not easy to predict future developments, especially since the epidemic is still not over. Nevertheless, there are certain elements already visible, such as the urgent need to be better prepared for counteracting similar threats which, unfortunately, are likely to repeat in future. Border guards and medical professionals will be on the front line of future outbreaks. Things will never return to exactly how they were before. However, I hope that in the nearest future a vaccine will be developed and the lives of millions people saved.
SD: I believe that this issue is untimely, because today the whole world, including Ukraine, is struggling with a new challenge for humanity called Covid-19, the antidote to which has not yet been invented. I am sure that science will defeat this disease. And, like all of us, I have high hopes that this will happen soon. At present, the SBGS continues to perform its tasks and carry out measures to prevent the spread of the coronavirus.