102 Police Call Centre: a webinar to foster Lviv operators' communication skills
July 22, 2020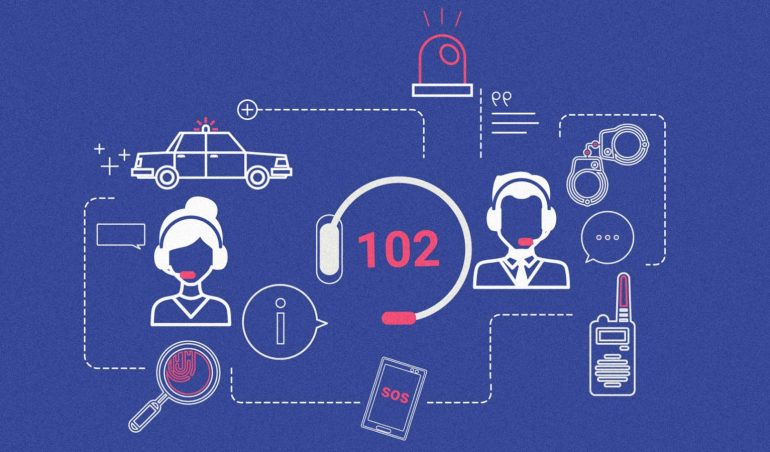 Based in Lviv, the regional 102 call centre of the National Police of Ukraine (NPU) covers an overall population base of 2.5 million people. Every day, these police operators receive 1,500 calls per 24-hour shift from citizens in situations of distress or emergency, that sometimes need immediate assistance. One of them, Olena Sakin, has already been working in this police department for two years and a half as a First Category Inspector. Thanks to EUAM's Lviv Field Office, she now attends a series of webinars with other colleagues to extend her professional knowledge and develop new tools and other soft skills related to communication.
How to guarantee clear communication over the phone with the citizens calling? And how to be sure to fully understand their message and immediate needs? It is the responsibility of the NPU's call centre 102 to respond to the need of all Ukrainians and to provide assistance and support. But how to improve this relationship with people through the telephone and only in situations of emergency?
Jan Danco and Patrik Akerlund, EUAM advisers and trainers on community policy, are now conducting practical training to support Lviv operators to develop their soft skills. This is an interesting way to develop the professional growth of EUAM counterparts and also to install a relationship based on trust between them and the citizens. Among the activity's beneficiaries was Olena Sakin, who shares her experience.
What is your general feedback on this online seminar (webinar) hosted by EUAM?
Olena Sakin: It is always interesting to get new knowledge and to have new experiences like this webinar. On the communication level, any caller that I have is a new experience because there are no replicated cases. When we are communicating with them, there are always new lessons to learn.
What is your daily routine as a call centre operator? What type of calls do you answer to usually?
OS: On a daily basis, I receive different calls from different people. Many calls concern women who need our help in cases of domestic abuse. We also have calls from people who are not very clear on why they are calling. Exchanging with them is very challenging in general because you cannot see who is talking to you. So, all the communication is without any body language.
What kind of skills do you need to develop to become a call centre operator?
OS: First of all, there should not be any communication barriers. You need to be able to design questions, to lead the conversation in a proper way but also to build up a constructive dialogue with your interlocutor. The information we receive can be of major importance. That is why you need to register this information properly in order to process it.
Sometimes, it is very difficult to sort out this information from the different emotions the caller can express. So, you need to learn to remain calm and to adopt almost a 'psychologist' approach to interrupt the person to double-check the information. But at the same time, you should be sensitive enough not to distract the person and receive the message they want to share.
What have you learnt from participating in this webinar? Can you give an example?
OS: I realised that in my work, it is essential to remain emotionally neutral. When emotions are shared, they can cover the information. You need to stay positive and give credit to every caller's dignity.
With some other people, communication techniques may not work because they already have a very difficult mindset. But our job is to listen actively and to receive the information the callers want to channel.
Do you know about the "verbal judo" approach? What do you think it could bring to your daily work?
OS: It is a very interesting tool, I never heard of this before. It is a communication technique to deflect verbally aggressive behaviour. For example, when someone yells at you over the phone, you can answer "I can hear you are upset, how can I help you?" Redirecting the aggression is a good option to understand what the caller needs without feeling invaded by negative emotions. I will try it at work.
Would you be interested in more practical webinars about soft skills?
OS: On behalf of my colleagues, I would like to thank EUAM staff for this interesting content and for the opportunity they give us to develop ourselves professionally. All those practical activities are always precious for us. If there is a chance to practise those skills and techniques, with scenarios, for instance, we would be very interested in pursuing the training.