War against corruption is a priority on Ukraine's way to EU membership
July 05, 2022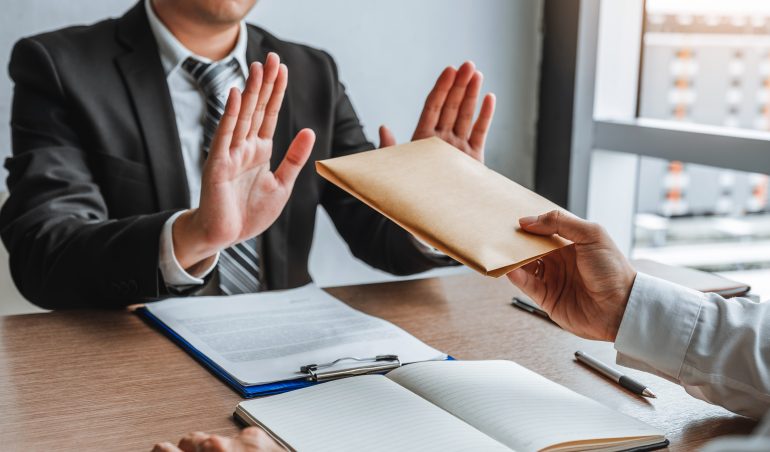 On 20 June 2022, the Verkhovna Rada, the Parliament of Ukraine, approved the National Anti-Corruption Strategy for 2021-2025. This comprehensive document provides many measures to reduce corruption in Ukraine. The EU Advisory Mission (EUAM) congratulates the Ukrainian Government on adopting this outstanding policy and is ready to support the implementation of the Strategy further.
Why is the National Anti-Corruption Strategy for 2021-2025 so important?
The National Anti-Corruption Strategy is an essential milestone in countering corruption in Ukraine and thus also on Ukraine's way to EU integration. It should boost the further improvement of the already created anti-corruption infrastructure, considering Ukraine has had no dedicated anti-corruption strategy since 2018. The adoption of the Strategy is a strong signal from the Ukrainian political leadership to reduce the level of corruption significantly.
Countering corruption has become even more critical since the aggressor can use it as a hybrid warfare tool to interfere with public institutions and destabilise the country. 
The adopted Anti-Corruption Strategy is a central document, but it must be implemented in practice. The Ukrainian Government thus needs to continue developing and implementing the relevant State Anti-Corruption Programme. 
Integrated Approach to Combat Corruption 
At the EU Delegation to Ukraine's request, EUAM provided comments and recommendations to the draft law in close cooperation with the European Anti-Corruption Initiative. In the last one and a half year, EUAM monitored furthermore the adoption processes. The main goal was to strengthen transparency and accountability in civilian security sector actors and enhance the integrity of the personnel, using best international practices.
Anti-corruption continues to remain EUAM's top priority
The Ukrainian government has already invited EUAM to advise on planning the State Anti-Corruption Programme, which the Government should approve within six months after the National Anti-corruption Strategy enters into force. This State Anti-Corruption Programme will implement the Anti-Corruption Strategy into everyday practice.
And the work does not stop there. EUAM will assist its counterparts in the civil security sector in adopting their own anti-corruption programmes based on the Strategy and the State Programme. To do this, EUAM experts will facilitate the corruption risk assessment of the respective Ukrainian government services as members of the Corruption Risk Assessment Commissions.
Corruption means essentially stealing from citizens. A modern society cannot tolerate corruption crimes. Countering corruption is thus essential for Ukraine on its European path and has featured as one of EUAM support priorities since the beginning of the Mission in Ukraine in 2014. EUAM will continue to support the enhancement of the anti-corruption capacity of the Ukrainian police, prosecution, judiciary and anti-corruption agencies.