The road to #URC2020: EUAM and Civilian Security Sector actors put thoughts together
November 20, 2020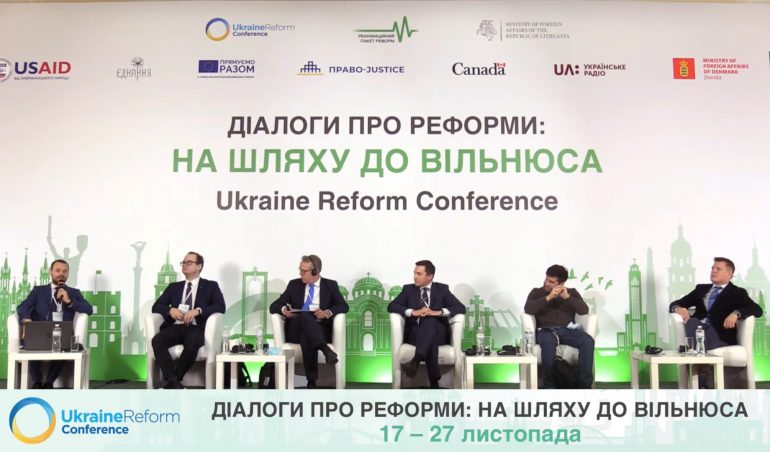 Yesterday, EUAM took part in the 'Dialogues About Reforms' online forum through Head of Mission Mr Antti Hartikainen, to talk about the law-enforcement aspects of reform along with other actors from the Ukrainian Civilian Security Sector. Organised in preparation for the next Ukraine Reform Conference (URC), planned for next year in Vilnius (Lithuania), this conference is the perfect opportunity to bring together high-level participants from the Ukrainian authorities, civil society and international partners to exchange views about the reform process and its sustainability beyond 2020.
Starting this week and for the next two weeks, the Reanimation Package of Reforms (RPR) Coalition has organised more than 23 panels discussions that are being broadcasted live on its YouTube channel. In a session focused on law-enforcement reform, Mr Hartikainen met with the MP and Deputy Head of the Parliament Committee on Law Enforcement Mr Andrii Osadchuk, the Head of the Department of Criminal Law Policy and Investment Protection of the Prosecutor General's Office Mr Oleksiy Bonyuk, Volodymyr Petrakovsky, Senior Lecturer at Department of Criminal and Criminal Procedure Law, National University "Kyiv-Mohyla Academy", and Mykhailo Kameniev, Executive Director of Human Rights Initiative.
Eugene Krapyvin, an expert at the Centre of Policy and Legal Reform (CPLR) and one of our #AgentsofChange, acted as moderator, facilitating the conversation on key issues such as challenges presented by the COVID-19 lockdown. He said he regretted what he called the slowing down of law enforcement reforms over the past three years.
For his part, Mr Hartikainen underlined the "considerable progress" made by the National Police of Ukraine (NPU) since 2014. He also reminded those present that EUAM Ukraine supports reform in many other law enforcement agencies in the wider civilian security sector: "Recently, we have for instance invested considerable resources in the provision of advice on the ongoing Prosecution Service reforms, on the upcoming Security Service reform, and on support for the Verkhovna Rada".