Regional SSU staff complete human-rights training in Kharkiv
April 14, 2017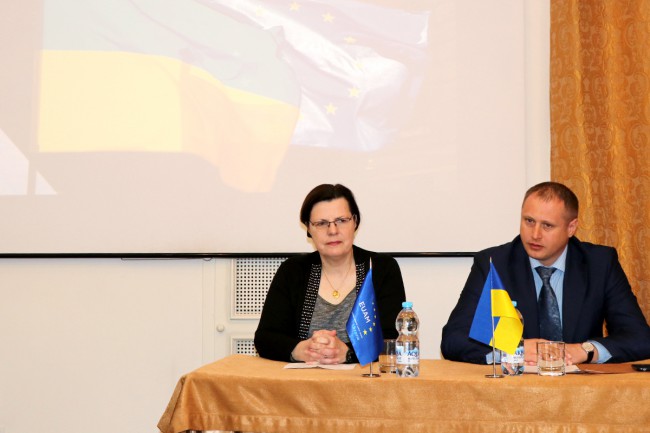 The European Union Advisory Mission (EUAM) today completed a second round of human-rights training for the Security Service of Ukraine (SSU) as a follow-up to the ground-breaking course launched in Lviv last October. A total of 38 SSU staff officers from Luhansk, Donetsk, Sumy, Dnipro, Zaporizhia and Kharkiv regions participated in this week's programme.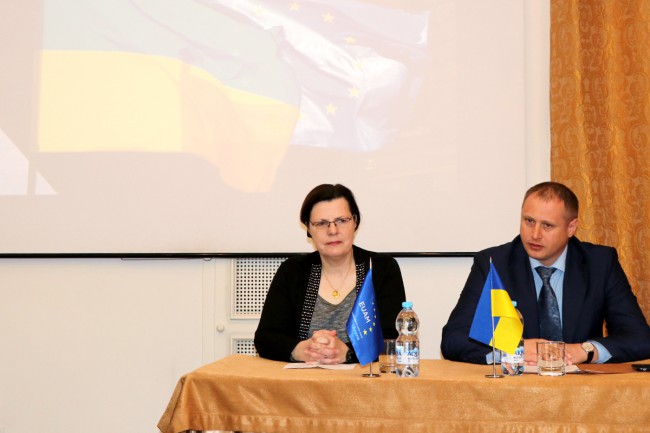 Deputy Head of EUAM, Joelle  Vachter and Deputy Head of Kharkiv regional SSU, Yuriy Riabukha
"Respect for human rights is essential for obtaining public support as well as for becoming a trusted partner in the European Security Services Network", said the Deputy Head of EUAM, Joelle Vachter, at the opening of the final training course in Kharkiv. "Human rights and international standards should not be just knowledge, but a tool for SSU officers to use in their everyday service for Ukraine."
EUAM was the first international organisation to conduct human-rights training for the SSU. The international and national frameworks of human rights, legislation practices, the right to a fair trial, prohibition of torture, right to liberty and security were among the key topics of the training. The third regional round of EUAM trainings will be held in Odesa in July and is expected to be followed by the SSU holding their own human rights training for its staff. 
The human-rights training in Kharkiv is just a part of EUAM's support for the SSU. The Mission supported the recent launch of the SSU annual report, in which human rights is specified as one of its organisational priorities. EUAM has also assisted the drafting of the Concept on SSU Reform.