Psychological health awareness: around 1500 participants join online event
November 08, 2022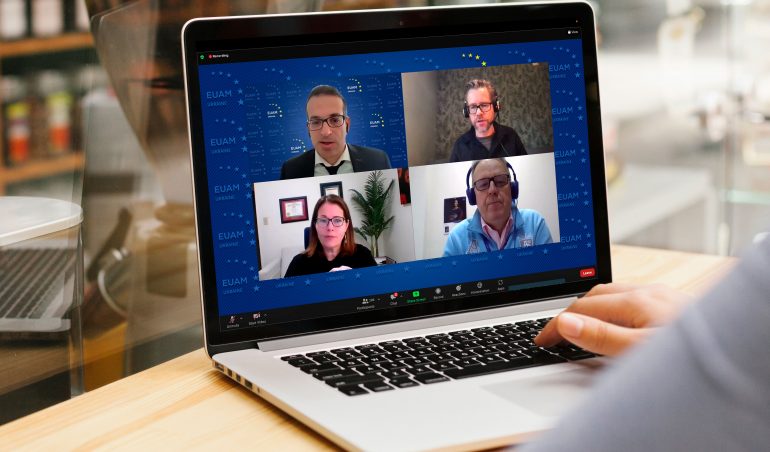 On 7 November 2022, EU Advisory Mission Ukraine (EUAM) held an online event dedicated to mental health. Broadcast live on various online platforms, including Zoom, YouTube, Vimeo and Telegram, the event gathered around 1500 participants from all over Ukraine, including Internal Affairs University cadets and law-enforcement and rule-of-law agencies (LEA) representatives.
Each year, 10 October marks World Mental Health Day. This year, EUAM initially planned to mark the day by conducting an online awareness session on October 10 to talk about stress and ways to cope with it. However, the event had to be postponed due to the wave of missile strikes, with one missile exploding close to EUAM Main Headquarters in Kyiv damaging it.
'Many Ukrainian civilian security sector agencies need to increase resilience of their personnel, and provide them with indispensable psychological help, which has direct impact on employees' efficiency', said Antti Hartikainen, Head of EUAM, in his opening speech. 'Let us reflect on this important matter and 'make mental health for all a global priority', as calls the slogan of this year's global campaign'.
The event brought attention to stress in LEA's daily work, as well as ways and skills that one needs to deal with it. The experts invited by EUAM that included Claes Tovetjärn, Lic. Psychologist from Sweden; Julie Devlin, a representative from Canadian Ukrainian Police Development Project (CUPDP); experts from the Centre for Mental Health and Psychosocial Support of the National University of Kyiv-Mohyla Academy: Yevgen Likarchuk and Oleksandra Burlachenko, provided advice on mental well-being, stress management, mental resilience, and first psychological aid.
'Knowing more about stress and trauma, and measures how to reduce its negative effects is important for our own health and well-being', said Kirsten Joppe, Head of EUAM Governance Component. 'It helps to understand other people, their reactions and behavior in different situations'.
With this workshop, EUAM enhances its cooperation with the National Academy of Internal Affairs and internal affairs universities with the aim to work more strategically with educational institutions in the civilian security sector.