"EUAM always answers to our most urging needs"
March 30, 2023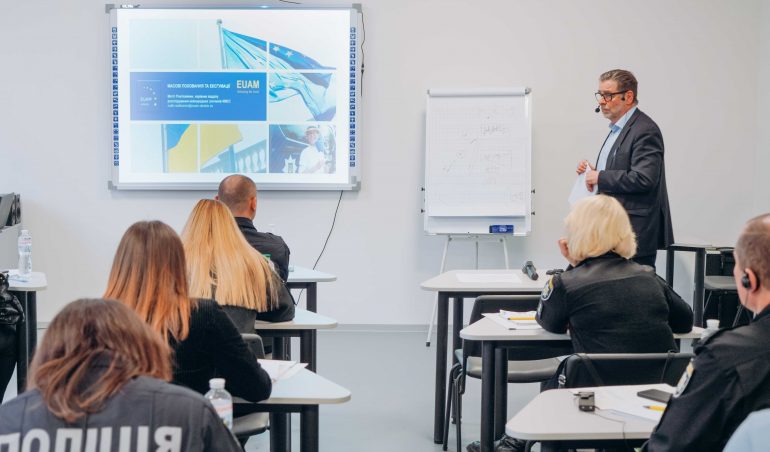 During the month of March, the EU Advisory Mission Ukraine (EUAM) delivered a series of training courses on International Crimes investigation together with the Academy of Internal Affairs (NAIA). To discuss the importance of such training, as well as current and future cooperation between NAIA and the EUAM, we talked to Volodymyr Cherniei, NAIA rector, and Oksana Kulchytska, director of the Learning & Science Institute #1.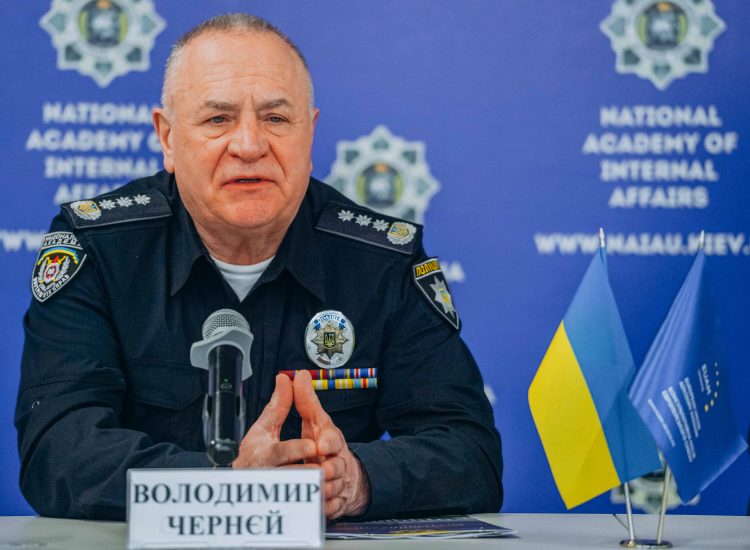 General Volodymyr Cherniei, Rector, NAIA
Mr. Cherniei, in the light of Russia's aggression, which challenges do you see in preparing future law-enforcement officers?
V.C.: Today's reality sets new requirements to security sector professionals' knowledge, skills and competences, especially those of commanders. In view of priorities set by the country's leadership and the new tasks of the Ministry of Internal Affairs (MoIA) and the National Police of Ukraine (NPU) that had been adjusted due to the war, the academy, supported by the EUAM, has started implementing trainings for police investigators and criminalists in a new and rather unexpected sphere –documenting and investigating war crimes.
What would you say about the new specialization for the police officers?
V.C.: Together with experts from the Main Investigation Directorate, criminal investigation departments and regional departments of the NPU, we have introduced modules on theoretical and practical specialized training for future law-enforcement officers; improved leadership training taking into account crime-scene management in relation to shelling, mass destruction, torture, mass murder etc. To a large extent, this has been complemented by the on-site visits to de-occupied areas (e.g. to Lyman in Donetsk region) and talking to the local police and witnesses of these horrible events. In reaction, we have set up specialized simulation polygons and training grounds with modern forensic equipment and sophisticated software to practice evidence collection and handling.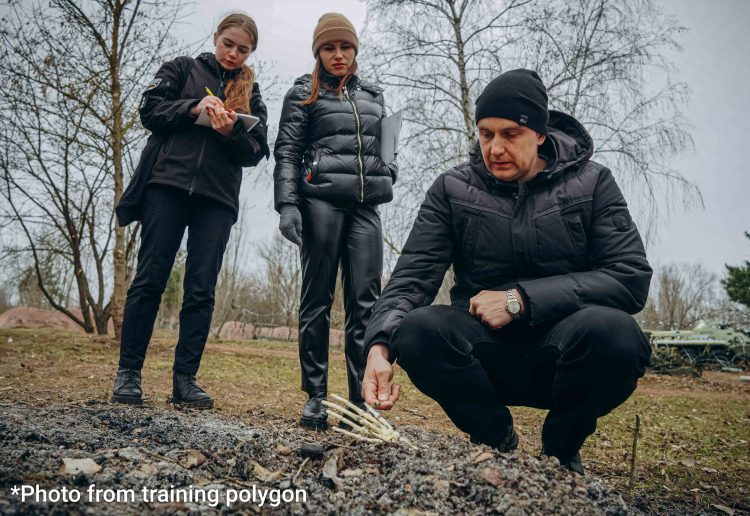 Participants of the training during the practical exercise
How does EUAM's advice contribute to the academy's work?
V.C.: We are grateful to EUAM for the continued cooperation and its assistance to tackling law-enforcement challenges, supporting security sector reform and contributing to country's defense capabilities, especially in light of Russia's unprovoked and unjustified invasion. Since February 2022, we have jointly implemented a series of educational, research and infrastructure projects engaging EU experts. The Mission's support leads to the implementation of best practices in training new generations of police officers that are capable of performing their duties at the highest level. For this reason, another series of EUAM training takes place on the NAIA campus involving representatives of all MoIA universities.
What are your expectations for further cooperation with EUAM?
V.C.: An important pre-condition of high-quality police officers training is that our faculty possesses modern innovative training equipment, to use real-life simulations and engage experienced practitioners and international experts. Global challenges and the need for digitalization prompted us to launch new specializations such as criminal analysis, operational & technical documenting, cybersecurity, explosives and demining, UAV use, domestic violence prevention, gender competence and emergency medicine. These lead us to expanding areas of cooperation introducing new topics for online and offline courses and disciplines in developing effective techniques for obtaining skill and safe use of the required equipment.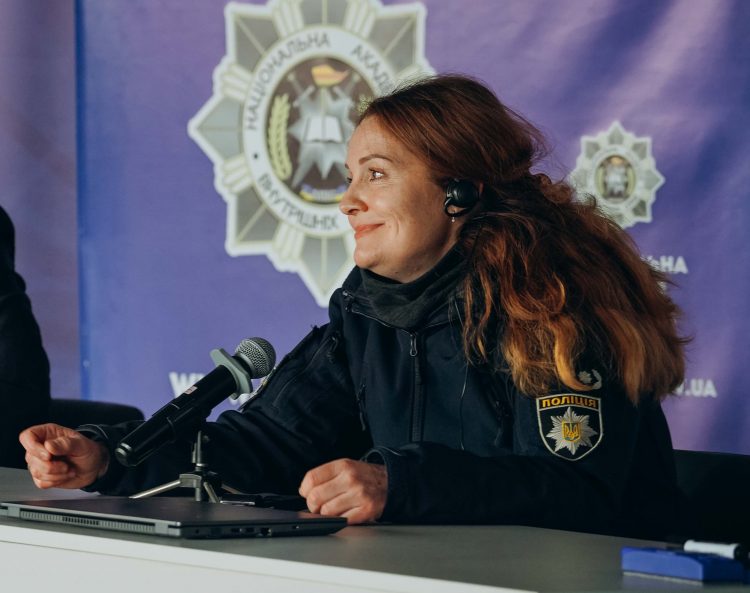 Oksana Kulchytska, Director of the of the NAIA Learning & Science Institute #1
Oksana, as you are directly engaged in organising today's International Crimes investigation training, which institutions have sent their experts to receive the training?
O.K.: As agreed with EUAM, MoIA has nominated its best practitioners for the training. They represent various MoIA universities. These are representatives of relevant departments of the universities, such as the department of criminal proceedings, criminal law, investigative activity, as well as departments of criminalistics and forensic medicine.
Are these trainers involved in the actual fieldwork on crime investigation?
O.K.: Our instructors regularly improve their qualifications. Every three years, they are placed with respective units to gain practical experience. In addition, there are a number of training grounds established at NAIA that allow obtaining required skills and improving ones' qualifications in various areas of law-enforcement activities, e.g. documenting crimes. Investigation simulations help obtain the necessary practical experience while studying, including war crime investigation.
Do you find Training-of-Trainers (ToT) format suitable for training law-enforcement professionals?
O.K.: This is the best-suited format to cover a large audience. Not only do our instructors train our cadets, they actively participate in various training courses, workshops etc., where they can share their experience with the participants. In addition, our seniors will soon start working in various police units already armed with skills and knowledge to investigate different types of crimes, including war crimes. That is why we believe that ToT model is the most effective.
How many people does one trainer train in a year?
O.K.: Considering that our instructors are not limited to the classroom and can participate in other events, such as conferences, workshops and training, one instructor can share his knowledge with 500 to 1000 people over the course of a year.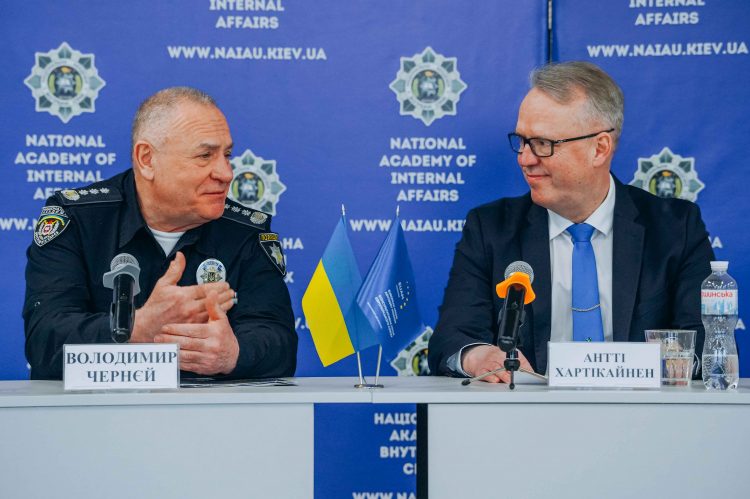 Gen. Volodymyr Cherniei, NAIA Rector (left) and Antti Hartikainen, Head of EUAM (right)
How would you assess the Academy's cooperation with EUAM?
O.K. Our cooperation with EUAM is based on the sensitivity of processes taking place in Ukraine. EUAM always responds to our most urgent needs. Take today's training for example. As soon as investigating and documenting war crimes became a priority, the Mission immediately responded to our request for such training. In the many years of cooperation, we are grateful to EUAM for their prompt response to our proposals and the opportunity to learn best EU practices shared by leading EU experts. We can't thank the Mission enough for the expertise it shares and the experience that we get. We hope for our fruitful cooperation to continue.