Mutual respect key if media is to build bridge between police and public, say dialogue-policing officers
April 25, 2018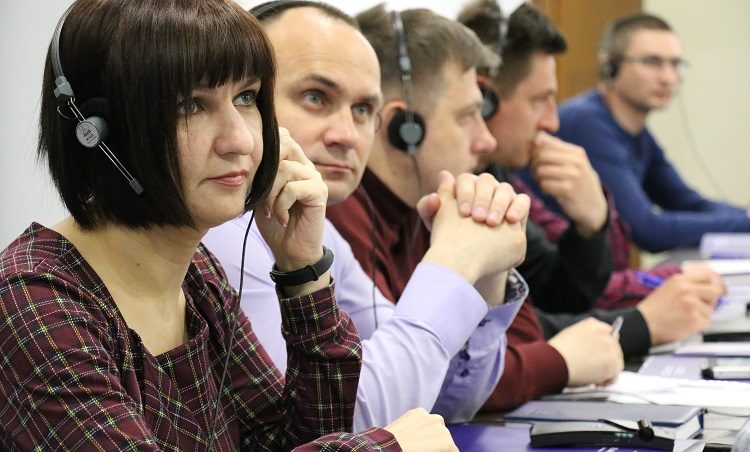 This week, dialogue policing officers from seven regions of Ukraine gathered in Kyiv to take part in communication and media training, organised by the European Union Advisory Mission (EUAM). The two-day programme was designed to develop techniques to establish clear lines of communication with the media before and during mass events such as public demonstrations, sports events and parades.
In Ukraine, dialogue police are usually the first officers on the ground before mass events, and they need to liaise with organisers, participants and media. However, relations between law-enforcement officers and journalists have often been strained, with the belief that the media contributes to a negative image of the police prevalent among police officers. But this week's training emphasized that the media have a right to report on such events, and indeed have a right to be protected. The training therefore focused on building good relations, protection of journalists during mass events, freedom of the press, legal obligations, media interview techniques and how to communicate police operational priorities.
The participants from Kyiv, Lviv, Dnipro, Zakarpattia, Kropyvnytskyi, Odesa and Sumy all agreed that mutual respect was key if both police and media were to work harmoniously at such events.
"Both media and police are serving the people of Ukraine. Media plays a key role in commutation of police activities to public," said Luciano Scambiato Licciardi, EUAM Strategic Communications Advisor. "Without mutual trust, respect of the law, rights and understanding of objectives of both police and journalists, it is impossible to build effective relations with the media. It directly effects the image of police as journalists are paying the role of a bridge between law enforcement and the public."
All of this week's participants are graduates of dialogue policing training conducted by EUAM over the past two years, and who now work as 'preventative communication officers' in their respective regions.