'More efficiency, less time': EUAM launches training for managers of regional detective units
May 21, 2018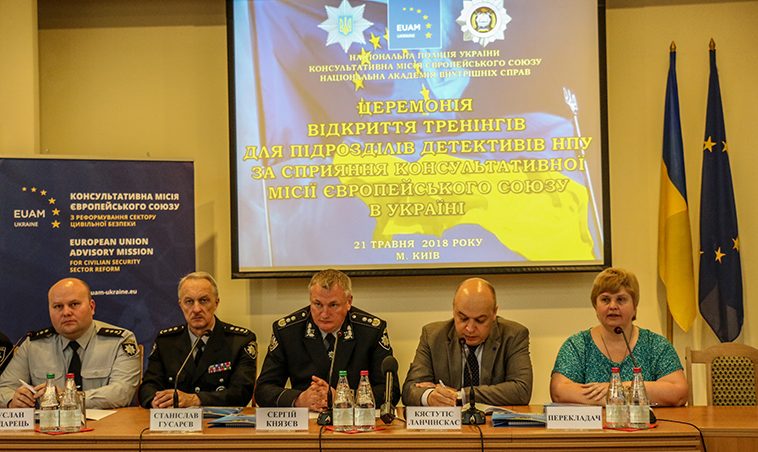 The Head of European Union Advisory Mission Ukraine, Kęstutis Lančinskas, and the Head of the National Police of Ukraine, Serhiy Kniaziev, spoke today at the launch of a training programme for managers of Ukraine's newly established detective units. The 36 managers, who come from all regions of Ukraine, are attending the two-week course on criminal investigations, management, leadership, anti-corruption, integrity and ethics training. Trainers from the National Academy of Internal Affairs will also contribute to the delivery of the training.
The objective of the training is to support a new way of working, which is aimed at reducing bureaucracy and increasing the efficiency of the criminal investigation process within new detective units, which merge the functions of operatives and investigators under one chain of command. EUAM experts will provide their Ukrainian colleagues with new tools for criminal investigations, as well as advice on how to effectively and professionally manage their teams, mitigate corruption risks and increase gender and human rights awareness.
"We believe that the merger of operative and investigative functions is one of the crucial steps for police reform in Ukraine and will make criminal investigations more effective and increase public trust," said Mr Lancinskas.
"More efficiency in less time. This is exactly what we are doing this pilot project for. Later, we are going to present the results of this experiment to the Parliament in order to make changes to the work of the Criminal Police of Ukraine," added Serhiy Kniazev.
EUAM has been supporting the National Police with the restructuring, improvement and optimisation of the police's criminal-investigation practices through the establishment of detective departments in eight police stations of Ukraine: Drohobych, Boryspil, Chuhuev, Kmelnytskiy, Myrhorod, Okhtyrka, Podilsk and Energodar. The Mission has also provided support for the project at regional and central levels in the form of trainings, strategic advice and equipment worth up to €300,000.