Member of European Parliament says example of Sambir must be followed up
May 17, 2016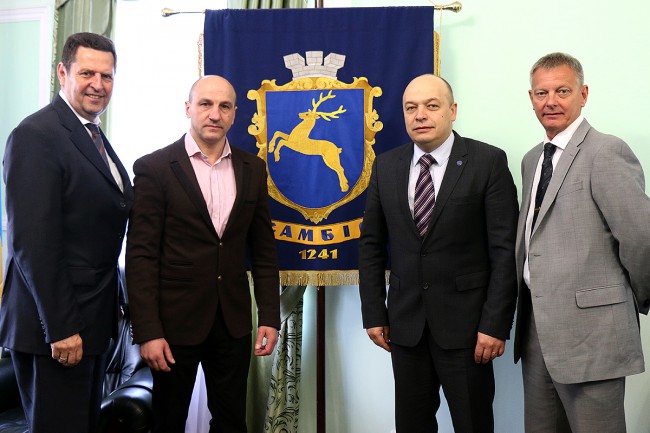 A delegation of four members of the European Parliament were in Sambir in the Lviv Region of Ukraine today to observe reform measures carried out by Sambir Police Station since last year. The Sambir project, supported by the European Union Advisory Mission (EUAM) Ukraine, has resulted in improvements in work practices and a reduction in response times by police in the region.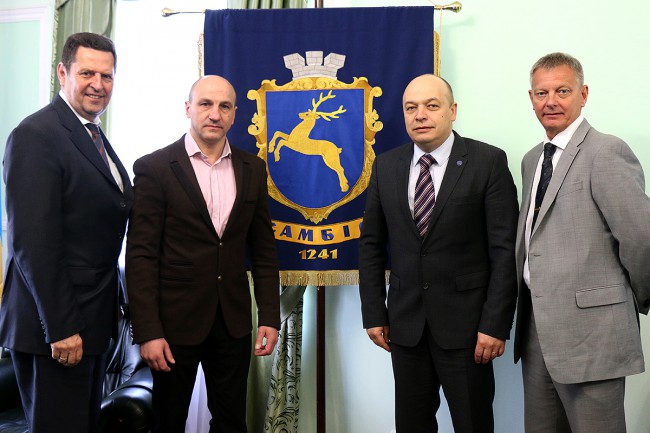 Udo Moeller, Head of EUAM Law Enforcement Agencies Component,  Yurii Gamar, Mayor of Sambir,  Kęstutis Lančinskas, Head of EUAM,  Mats Ljungwald, Regional Presence Coordinator
While complimenting the cooperation between Sambir police and EUAM, Ms Inge Gräßle – a member of the European People's Party – cautioned that this positive example of police reform was "just a first step" and needed to be followed up with sustainable action.
"The reform process in Ukraine needs to be strengthened," said Ms Gräßle. "This good work must continue and it can only continue if there is enough political will. We must strive to investigate economic crime, and EU efforts to support the reform process must ensure sustainability into the future."
Ms Gräßle is leading a delegation of the Budgetary Committee of the European Parliament on a four-day visit to Ukraine. The Committee's task is to examine and evaluate how EU money is being spent in Ukraine.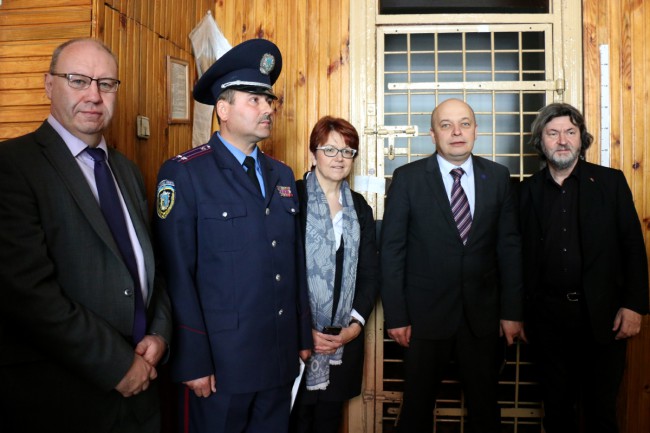 Mr Derek Vaughan Member of EP, Mr Vasyl Strashivskii, Head of the Sambir Police Station, Ms Inge Gräßle Member of EP, Mr Kęstutis Lančinskas, Head of EUAM, Mr Joachim Zeller Member of EP
The Head of EUAM, Mr Kęstutis Lančinskas, said that the challenge now would be to build upon the example of Sambir. He also said that the EU mission, officially launched in December 2014, has decided to base a number of its staff in Lviv on a full-time basis. 
"EUAM is delighted to be stepping up its activities in the Lviv region," said Mr Lančinskas. "The mission has already had a positive experience in the region through the Sambir project. We realise that there is strong demand among the Ukrainian people for reform, and that is what we are here to support." 
EUAM provides advice, training and equipment in order to assist with reform of Ukrainian law-enforcement and rule of law agencies such as the Ministry of Internal Affairs, National Police, General Prosecutor's Office, Security Service, and National Anti-Corruption Bureau. Basing staff in Lviv will allow the mission to deliver more sustainable support to its partners at a regional level.