Lviv's first bicycle patrol will bring police within arms reach of general public
December 08, 2017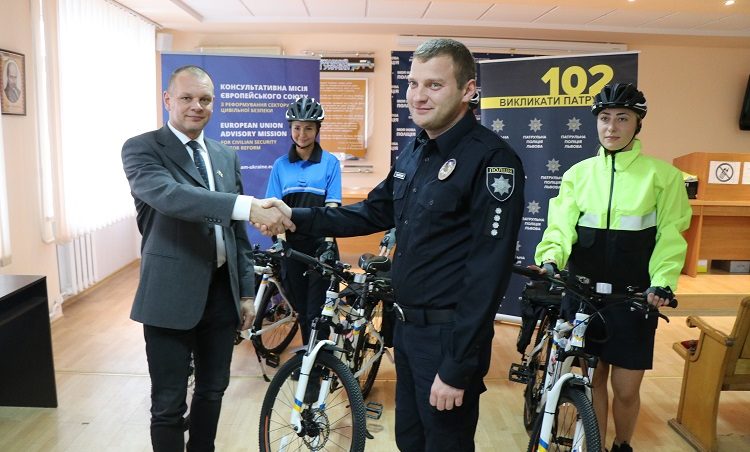 The European Union Advisory Mission (EUAM) today donated bicycles, uniforms and other equipment worth over 380,000 hryvnas (€12,000) to police in Lviv, which will see bicycle patrolling of the city for the first time next spring. Between now and then, a team of 40 bicycle patrol officers will undergo special training in order to prepare for the street patrols. This donation is part of EUAM's ongoing assistance to the National Police of Ukraine in implementing a community policing approach as one of the best European police practices.
Lviv bicycle patrols will now be trained by National Police trainers, who earlier underwent a train-the-trainers programme delivered by EUAM and Canadian Police experts. The new team will be tasked to patrol public places in Lviv in order to stay close to the citizens and to be easy for people to reach out to.
"It is not just about riding a bicycle in busy streets of Lviv. Convenience for citizens and quality service delivery is the key," said Max Staude, EUAM Adviser/Trainer on Community Policing (Lviv)  "Our aim is to make sure that police is easy to reach, that bike-patrols will be there where they are needed: in parks and in the crowded historical city centre. We should also not disregard heavy traffic conditions in Lviv, which make bicycle patrols indispensable."
Community policing is a philosophy that aims to strengthen the links between police forces and the community they serve. It is an effective crime reduction strategy, which among other things seeks to identify hot spots where crime or anti-social behaviour take place and develop integrated strategies for preventing it. Community policing also aims to devolve decision making to individual police officers as far as possible and empower them to make good judgement closer to the source of trouble spots. Police officers are first and foremost representatives of the communities they serve.