EUAM Regional Presence in Kharkiv brings key regional stakeholders together to enhance public trust in law enforcement and human rights protection
March 06, 2017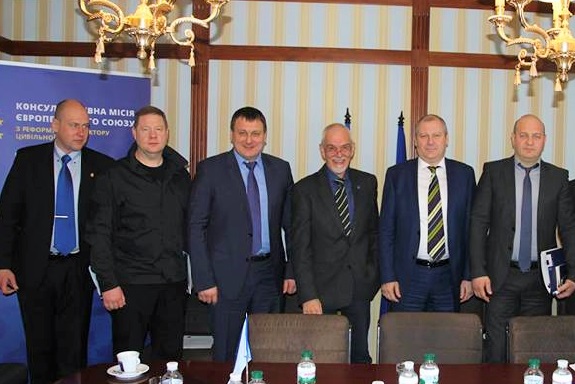 Two important meetings were hosted recently at the EU Advisory Mission Ukraine Regional Presence in Kharkiv, which form part of the Mission's efforts to enhance public trust in law enforcement institutions and support the protection of human rights in the Kharkiv region by bringing together the major stakeholders involved to develop common solutions.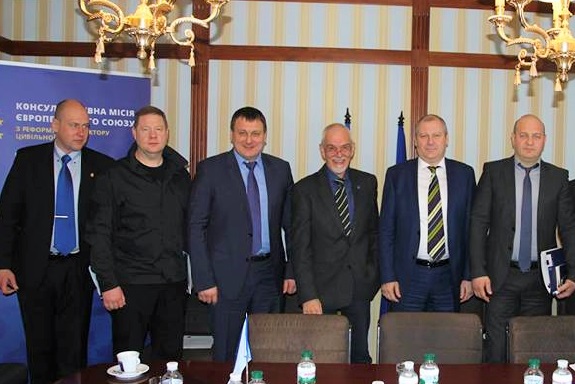 Meeting of the WG on the Annual Safety Programme on 27 January 2017. (From left to right), Oleksei Maksymov, Head of RSA Directorate on Law Enforcement Cooperation; Eduard Krytsen, Head of Kharkiv SSU; Anatolii Dmitriev, Kharkiv Police Commander; Gerrit Jan van Gelder, EUAM Kharkiv Regional Presence Coordinator; Yurii Danylchenko, Kharkiv Prosecutor; Oleksander Skakun, Vice- Governor of the Kharkiv RSA
On Monday 27 February, the Working Group on the Annual Safety Programme in the Kharkiv Region met to discuss upcoming projects designed to take the concerns of civil society into account and strengthen public confidence in law enforcement institutions. This group of law enforcement organisations has been meeting since October 2016 and brings together the National Police, Prosecutor's Office, State Security Service and Regional State Administration of the Kharkiv region.
The planned projects aim to increase transparency through better communication with the public, integrate community policing concepts into law enforcement activity, create a more service oriented approach and integrate public opinion into the development of strategies. The Mission is contributing to a comprehensive safety plan for 2018 which among other things will serve as a strategy for improving the relations of law enforcement institutions with the public.
On Wednesday 1 March, EUAM hosted the Working Group on Strengthening Human Rights Capacities in the Kharkiv Region, which forms part of EUAM's commitment to assisting efforts to improve human rights protection in the Kharkiv region. This Working Group brings together the Ombudsman's Office in Kharkiv, the Kharkiv Human Rights Group (an NGO), the Free Legal Aid Centre and representatives of the Human Rights Department in the National Police. It was agreed that the group would work together to design a training programme for police officers who are responsible for citizens taken into custody.
"Enhancing public trust in law enforcement and human rights protection must be top priorities for reform," said Harald Baumann, EUAM Adviser/Trainer on Rule of Law, based in Kharkiv. "Human rights protection is the foundation of all law enforcement activity, while without public trust, no public institution can be effective."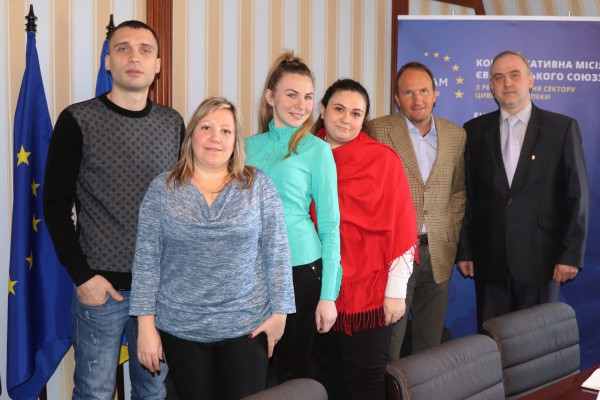 Meeting of the Working Group on Strengthening Human Rights Capacities on 1 March 2017. (From left to right), Andriy Bozhkov, Human Rights Commissioner in Kharkiv NPU; Olga Rodionova, First Deputy Head of the Regional Free Legal Aid Centre in Kharkiv and Luhansk Regions; Valentyna Veltsen, Regional Representative of the Ukrainian Parliament Commissioner for Human Rights; Maryna Budnyk, EUAM Regional Presence Assistant Kharkiv; Harald Baumann EUAM Adviser/Trainer on Rule of Law, Kharkiv and Anatoliy Borodavka, Head of the Regional Free Legal Aid Centre in Kharkiv and Luhansk Regions